Africa: Hunger crisis
Sub-Saharan Africa is experiencing one of the most alarming food crises in decades—immense in both its severity and geographic scope. Roughly 146 million people are suffering from acute food insecurity and require urgent humanitarian assistance. The crisis is driven by a range of local and global factors, including insecurity and armed conflict, extreme weather events, climate variability and negative macroeconomic impacts. Through this regional Emergency Appeal, the IFRC is supporting many Red Cross and Red Crescent Societies across Africa to protect the lives, livelihoods and prospects of millions of people.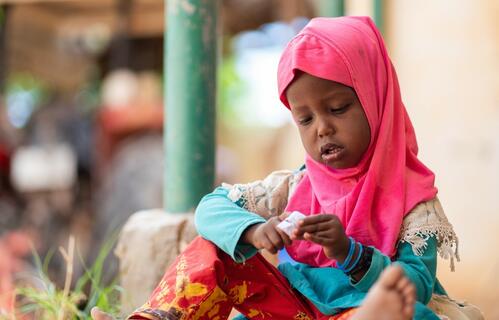 About this appeal
Given the scale of the hunger crisis in Sub-Saharan Africa, the IFRC and our members agreed to a response at a regional scale, encompassing 23 countries and their respective National Societies.
This regional appeal allows us to take one single, efficient operational approach to the crisis, streamline resources, and improve coordination among the IFRC network. 
Since launching this appeal, Red Cross and Red Crescent teams have increased food assistance and cash support to affected communities. They are providing agricultural support (seeds, tools, livestock), and much more to protect people's lives and livelihoods.
Despite the regional approach, this response is designed by the Host National Societies in their countries. They preserve their leadership role with the support of Partner National Societies and with facilitation by the IFRC secretariat.
We call upon all partners to prioritize this growing hunger crisis. We need urgent and massive action to scale up life-saving assistance to millions of people in dire need of assistance, but also to decisively address the root causes of this crisis through longer term commitments.
Note: Prior to launching this regional appeal, the IFRC had launched six emergency appeals for food insecurity in Angola, Ethiopia, Niger, Nigeria, Kenya and Somalia. It is still possible to donate to these specific hunger responses via these links.