Essential drugs and medical supplies policy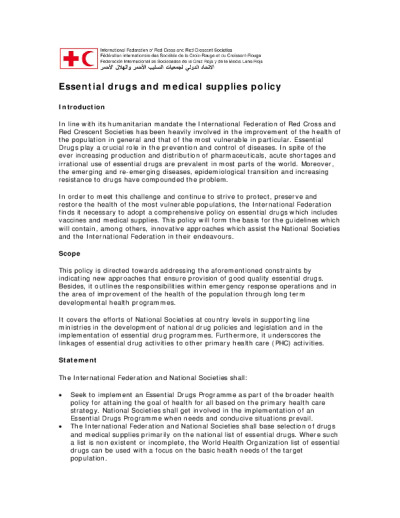 In line with its humanitarian mandate the International Federation of Red Cross and Red Crescent Societies (IFRC) has been heavily involved in the improvement of the health of the population in general and that of the most vulnerable in particular. Essential Drugs play a crucial role in the prevention and control of diseases.
In spite of the ever increasing production and distribution of pharmaceuticals, acute shortages and irrational use of essential drugs are prevalent in most parts of the world. Moreover, the emerging and re-emerging diseases, epidemiological transition and increasing resistance to drugs have compounded the problem.
In order to meet this challenge and continue to strive to protect, preserve and restore the health of the most vulnerable populations, the IFRC finds it necessary to adopt a comprehensive policy on essential drugs which includes vaccines and medical supplies. This policy will form the basis for the guidelines which will contain, among others, innovative approaches which assist the National Societies and the IFRC in our endeavours.