"When I drink the water, it tastes good, nothing happens to me."
These are the words of Joyce Oforiwah, a 47-year-old mother of three from Obretema in Eastern region, Ghana as she gives an enthusiastic double thumbs up. Her village recently became the proud host of a brand new, solar-powered water pump installed by the Ghana Red Cross to provide clean, affordable drinking water to her local community.
While access to safe water in Ghana has greatly improved over the past few decades, millions of people—especially in rural areas—still have to travel unacceptably long distances to collect it.
So, for the past few years, the Ghana Red Cross – in partnership with the IFRC, Nestle and the OPEC Fund – has been working to provide innovative and sustainable water and sanitation services in rural communities to improve people's lives and protect their health.
Greener, safer, easier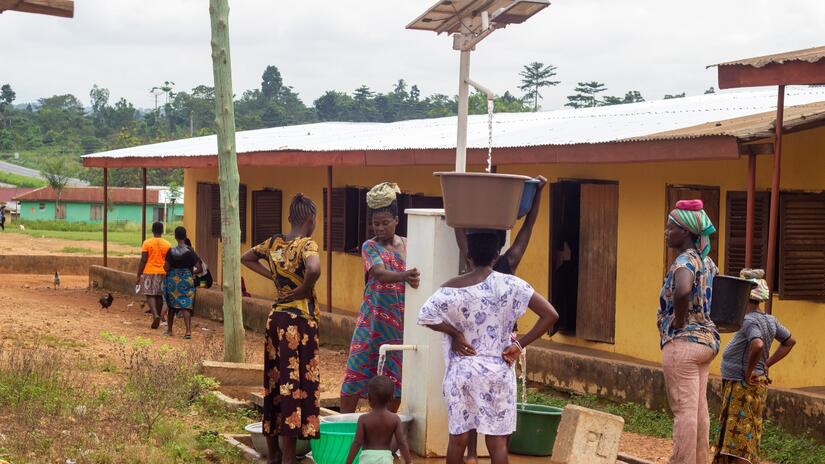 Photo: IFRC/Aduratomi Bolade
Joyce is excited that she's no longer forced to venture far from home for water or risk her family's health by resorting to unsafe water sources nearby.
This new pump, one of 19 installed in the past year, also makes her life easier in other ways.
The pump she previously used was locked at different times of the day and required an attendant to operate it, making it inconvenient for her and her fellow villagers. But this new pump uses a self-service token system, removing the need for an attendant and making water available 24/7.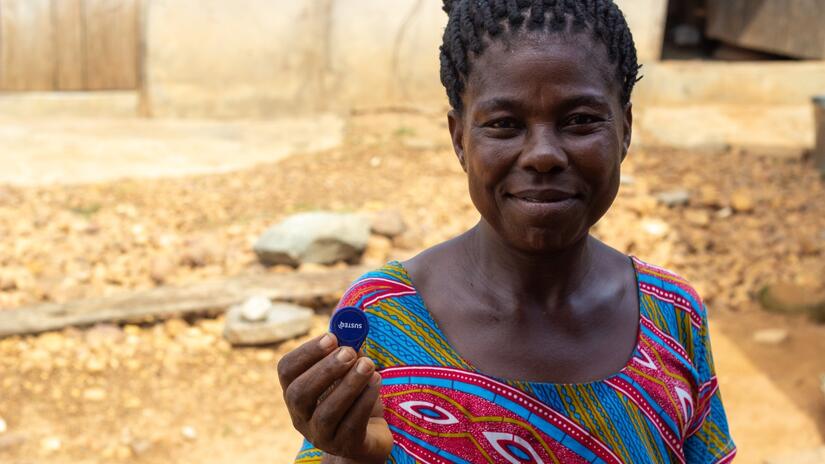 Photo: IFRC/Aduratomi Bolade
With a little as 10 pesewas (less than 1 US cent) Joyce and other members of her community can charge up their token with their local water vendor and collect 20 litres of water. Using a token, rather than coin-operated, system prevents the pump, as well as the people collecting water, from becoming a target for thieves, as no money is stored inside or needed to operate it.
Powered by solar, the water point is also an eco-friendly alternative to regular pumps and has lower operating and repair costs. And it's lit up throughout the night, making it safer and easier to use.
Local action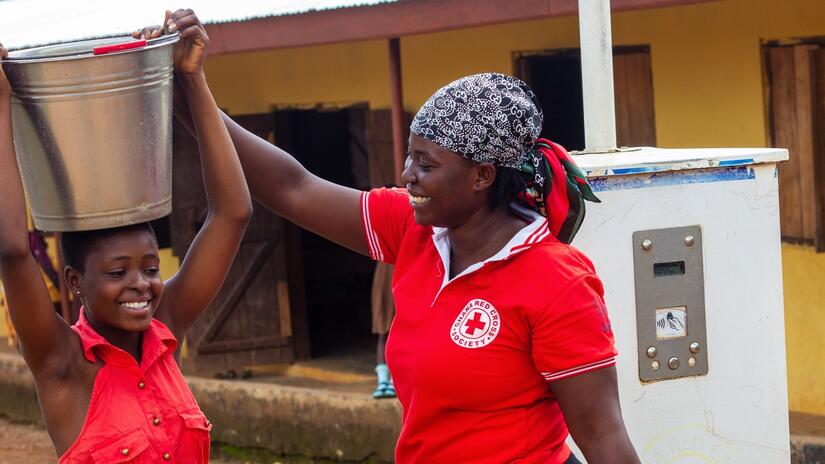 Photo: IFRC/Aduratomi Bolade
Local Ghana Red Cross volunteer, Regina Nyamevor, is the vendor overseeing the Obretema water point and says the community is delighted with the water project.
"Everyone around here now gets their water from this water point, and they can now operate it on their own," she says.
As well as managing the sale of credit and topping up people's tokens, Regina also plays an important role providing information to households on the benefits of safe drinking water so that families can avoid health problems and diseases.
"I enjoy working as a vendor and am very excited that am part of a great project which ensures that communities are empowered to collect as much water as they want and at any time of the day, this is a great change in our community," she adds.
Creating local business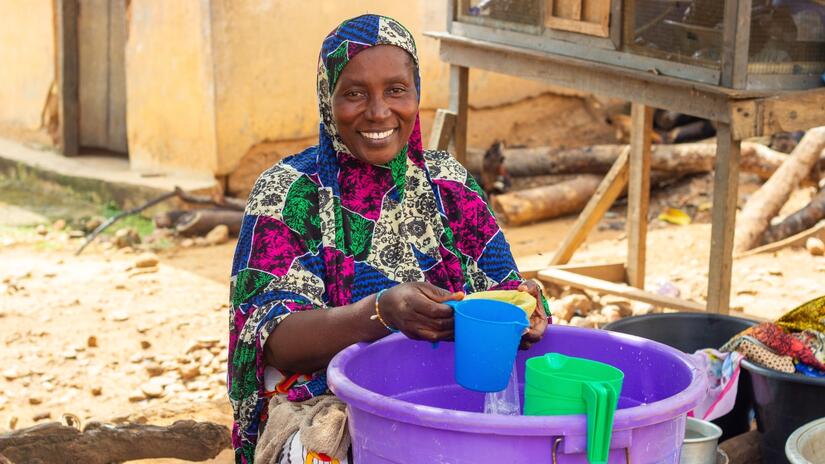 Photo: IFRC/Aduratomi Bolade
Amina Rasak, a fellow villager, has even started her own drinking water business using the water she collects from the new water point. She packages her water in conveniently sized sachets to sell on to students and others in the community. 
Amina says the water has been a huge relief for them. They have a water point close to them which saves them time and is safe to drink without the need to purify it any further.
"We thank the Ghana Red Cross Society and all those who invested in the water project as well as those managing it, we appreciate what they have done. Please keep this water project working because it has made our lives better," she tells me.
--
Our Ghana Sustainable WASH (Gha-WASH) project, in partnership with the Ghana Red Cross, Nestle and the OPEC fund, has been running since 2015. Gha-WASH aims to make sustainable water, sanitation and hygiene (WASH) services available to tens of thousands of people across the country and reduce WASH-related diseases.
Click here to learn more about our work in water, sanitation and hygiene.