Donate
Support to the IFRC is not just support to one organization, but to the world's largest humanitarian network—known and trusted in virtually every country in the world. Donate today to our global work or to support a specific emergency response.
New emergencies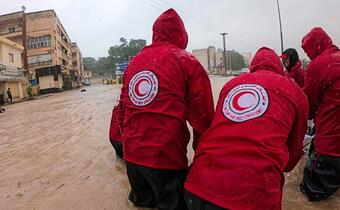 Libya: Storm Daniel
Storm Daniel hit north-eastern Libya on Sunday 10 September, bringing strong winds and sudden heavy rainfall which led to massive flooding, devastation and deaths. Libyan Red Crescent teams and volunteers were first on the ground, evacuating people and providing first aid and search and rescue efforts.
Why donate to the IFRC?
Your valuable donation will help us deliver lifesaving support and services to millions of people around the world.
Our incredible Red Cross and Red Crescent Societies are there before crises, helping communities to prepare and reduce their risks. They are first on the ground when a disaster strikes, providing lifesaving assistance and a shoulder to lean on during some of the worst times in people's lives. And they remain by the side of affected communities long after others have left to help them rebuild their lives and recover.
We've been supporting people no matter who or where they are, in times of crisis and peace, for more than 100 years. By supporting us today, you will help us continue our principled humanitarian mission in a world facing ever-increasing humanitarian needs.
We are grateful for your support and committed to spending your money in an effective, accountable and trusted way. Learn more about the strategic priorities your money will support in our Global Plan 2022. And read our latest annual report to see what we achieve with your donations.
Donate to a specific emergency response
Our banking information for direct donations