It's been almost six months since flash floods battered parts of Pakistan, and hundreds of thousands of people are still reeling from the floods' effects. 
Homes, livelihoods, and farmlands were destroyed and many parts of the country remain underwater. An estimated 33 million people have been affected, of which 20 million are still living in dire conditions. And now that the country has entered winter, many affected communities face a daunting new challenge of how to survive without housing, food, clean water, and fuel sources for warmth.
The Pakistan Red Crescent Society (PRCS), with support from the International Federation of Red Cross and Red Crescent Societies (IFRC), has been providing lifesaving relief to flood-affected families, especially those in far-flung areas, reaching nearly 600,000 people so far.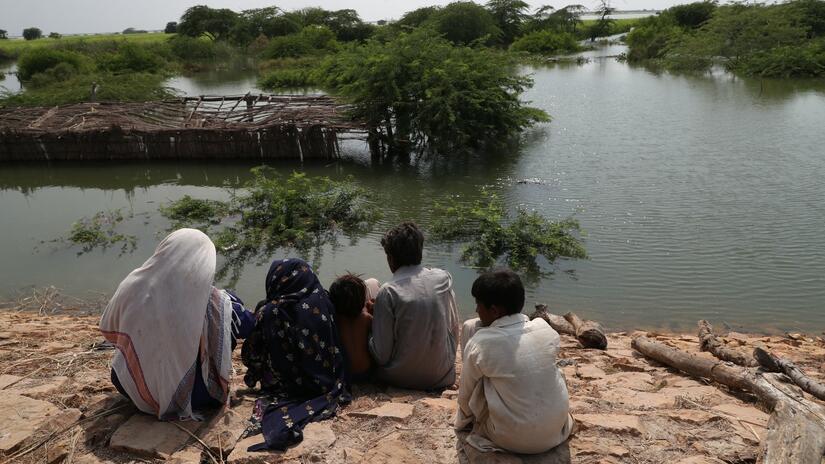 Photo: Turkish Red Crescent
The PRCS swung into action when the floods struck, delivering cooked food and food parcels to address hunger, which killed some due to starvation. Their volunteers also quickly distributed essential items such as collapsible jerry cans for storing clean water, kitchen sets and hygiene kits.
Shelter continues to be a top priority in our response. Many people were forced to leave their flooded homes and retreat to the nearest evacuation centre. Some resorted to sleeping on the roadside – unprotected and with barely any resources to build a roof over their heads. PRCS, with the support of IFRC and our partners, has been distributing tents, shelter tool kits, tarpaulins, blankets and mosquito nets in different affected regions to cater to people's immediate shelter needs.
In the areas where floods are receding, health and hygiene concerns including cholera, dengue, and malaria, pose severe threats to people's well-being. Many areas also have been reporting cases of scabies, especially in children as they play in the floodwaters.
Before the floods, poor sanitation and bad hygiene were already a concern in Balochistan, Khyber Pakhtunkhwa, and Sindh provinces. The floods and waterlogging have only worsened the overall health situation. In response, the IFRC has helped the PRCS to strengthen its health and hygiene services. For instance, volunteers are now running mobile health units in the most affected areas to provide urgent medical attention, especially for women and children.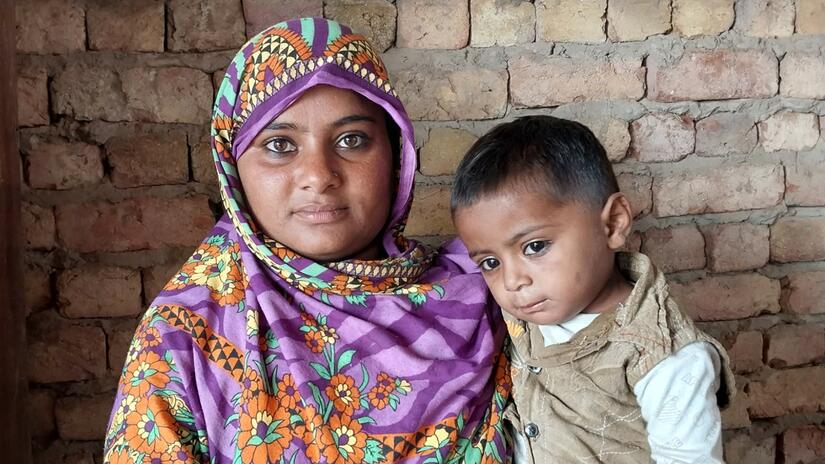 Photo: IFRC/Angbeen Sohail
"The mobile health units have been extremely beneficial for me and this community," says Jamila, a mother of four from Sindh province who's expecting her fifth child.
Both adults and children in the village where Jamila lives, Dayee Ji Wandh, have been receiving medical assistance and medication for their issues. It's been easy for Jamila and other pregnant women to reach out and get advice for common health issues, such as fever and diarrhea.
Hear more from Jamila in this video:
"Through the mobile health units, people have been bringing their sick children for treatment whenever necessary," said Sabira Solangi, a Pakistan Red Crescent volunteer from the same area.
Contaminated water is another big issue, especially in Sindh where the quality of water in the entire region is exceptionally poor. The few handpumps that existed to offer clean water were severely damaged during the floods. The IFRC's water, sanitation, and hygiene team have been working around the clock to provide clean drinking water. They also carried out extensive assessments to map out the right places to install new handpumps and dig boreholes. The IFRC also supported the Pakistan Red Crescent Society to install mobile water treatment plants and latrines in different districts to aid those in need of clean water.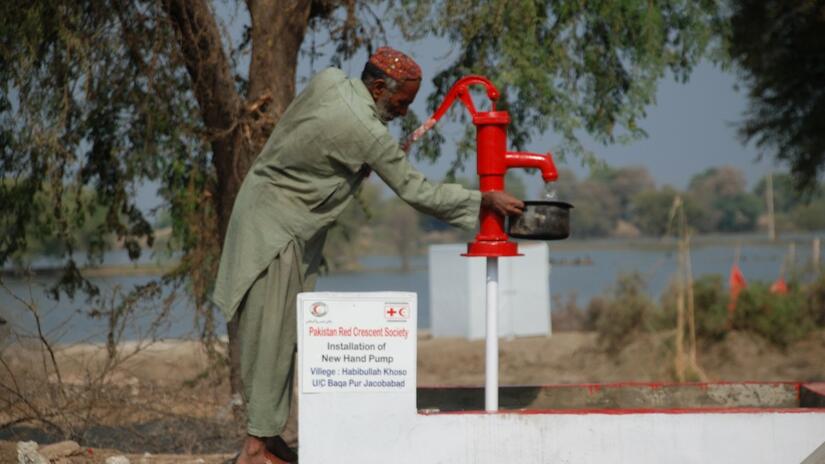 Photo: IFRC/Angbeen Sohail
"We really appreciate what the Red Crescent has set up here, especially with the drinking water. It's a basic need for all, and it was such a great relief when the treatment plants were installed," says Maula Bakhsh Khakrani, a 20-year-old man from Jacobabad in Sindh province.
Speaking about the ongoing situation in the country, Pakistan Red Crescent Society Chairman, Shahid Ahmed Laghari, said: "massive needs require massive support. Pakistan Red Crescent Society requests all potential donors to support early recovery, rehabilitation, and reconstruction efforts for the flood-affected population."
--
Click here to learn more about the IFRC's Emergency Appeal for the floods in Pakistan.