We all know that mental well-being is as important as physical health. But how often do we actively take care of our mental health? What can we do to support ourselves and others?  
Why not ask some experts? People whose job is to take care of others during and after crises and emergencies. 
We decided to ask volunteers from a Honduran Red Cross team that provides medical and mental health services to migrants at a mobile Humanitarian Service Point in Danlí, 92 km southeast of Tegucigalpa.  
To do their job, they must take care of themselves. After all, how can you support others if you're not processing your own emotions in a productive, healthy way? 
Here are 5 tips they offered that can help everyone - even if you are not a volunteer - to take care of your mental health, anywhere, at any time: 
1. A little help from close ones: Individual and team care. 
In emotionally intense situations, it is important to rely on work teams, friends and family. You don't have to face it alone. Sharing experiences and reflecting together helps us deal with the emotional impact of daily work. 
"In the team, we are always trying to fill ourselves with good energy and good attitude towards difficult situations. We always try to take care of ourselves physically, and above all to take care of our mental health.     

Because we see many cases, aggressive people, without self-control. In childhood care, we can handle a lot of stress, a lot of anxiety, and we try to understand but also to take care of ourselves." 
It is necessary to allow yourself to feel and validate all emotions in order to heal, even if they make you feel uncomfortable.   
Engaging in self-care practices that involve physical activity and moments of relaxation, as well as resting and spending time in nature, or with people you love, can also help you through painful situations. 
2. Someone to lean on: Seek professional support. 
Access to information and psychosocial support resources can save lives. Despite the fact that close to one billion people in the world suffer from a mental disorder, stigma and social difficulties make it difficult to promptly seek help and mental health care.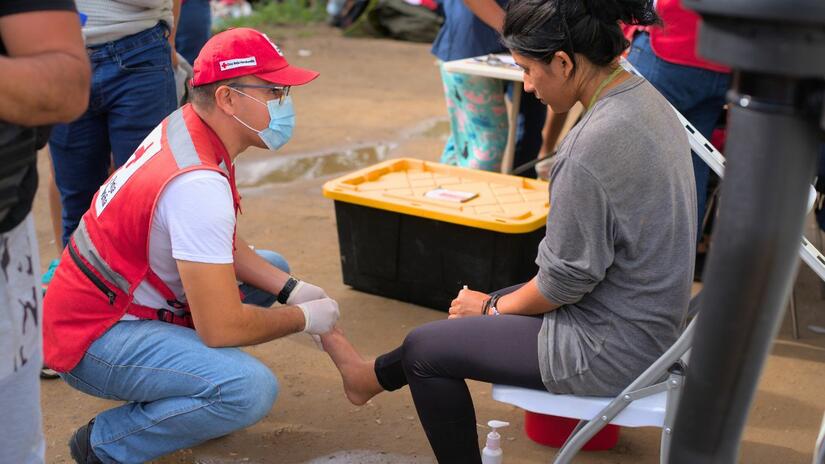 Photo: IFRC/Honduran Red Cross
"We rely on our own team, we reflect and share the experiences we have lived through, and that helps us to provide emotional support. But beyond that, there is also a team of mental health professionals that we can rely on."
Talking about your emotions is not a sign of weakness, but of strength. You may be struggling with what you feel is part of the human condition and there is no shame in doing so. You are just a person going through a difficult time and doing the best you can. 
There will always be someone who understands what is happening to you.  You can always ask for help. 
3. I hear you: Practice active listening 
Just as sharing your feelings is beneficial to your mental health. Listening to others in an attentive and respectful way, validating their experiences and emotions, can strengthen your relationships and bonds. It can also provide valuable emotional support, and even more so during crisis and emergencies.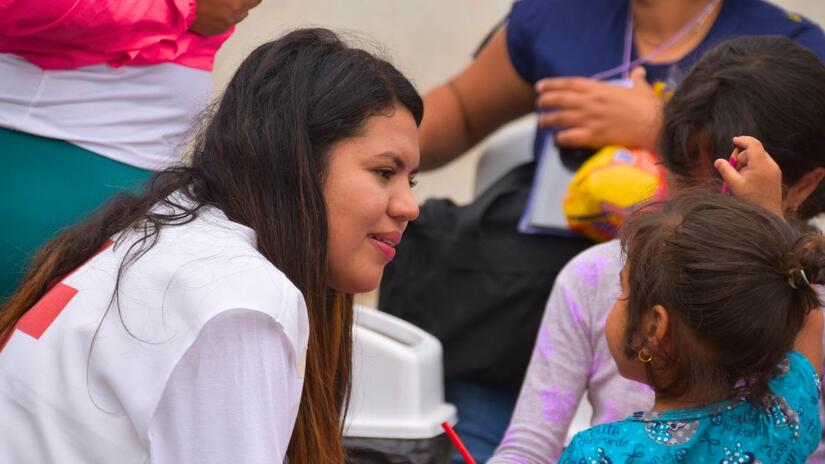 Photo: IFRC/Honduran Red Cross
"For me, this time I have being a volunteer has been very eye-opening. Getting close to different realities and learning what people live through along the migratory route, helped me grow as a mental health professional." 
By practicing active listening, you develop empathy and open yourself to know realities different from your own.   
When you see that someone is suffering and having a hard time, let's listen, validate, support and, if possible, accompany them to seek professional help. 
4. Keep learning: Look for useful resources. 
Training is a powerful tool for understanding and addressing mental health challenges and identifying symptoms and situations that can lead to stress and anxiety.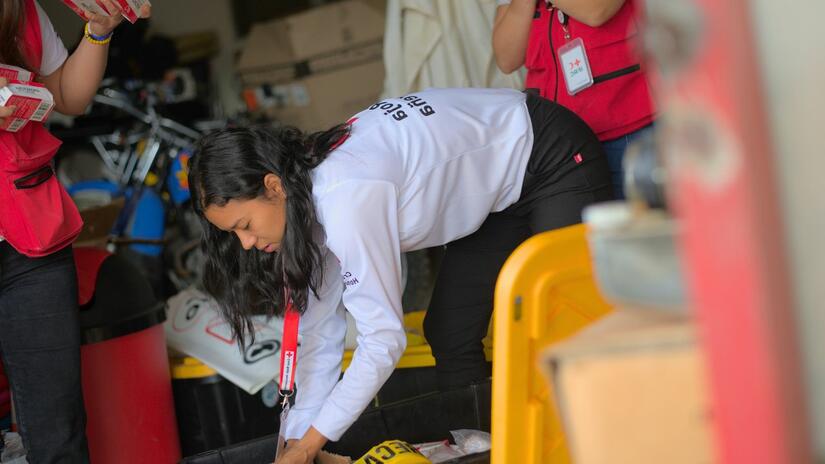 Photo: IFRC/Honduran Red Cross
"In the Red Cross, I was trained from the basics. I learned what the Red Cross was, safety measures for field work, the meaning of our uniforms. I also received training in Psychological First Aid, Restoring Family Links and Protection, Gender and Inclusion.  

"We know that in the field we need this knowledge to provide adequate care and to protect ourselves, which is part of the Red Cross training."   
Don't miss the opportunity to strengthen your mental health knowledge and learn how to help yourself and people around you.  
Visit our mental health page to find more resources.  
5. Support others - support yourself: Volunteer service 
By supporting others in times of crisis and emergencies, you not only provide support to those in need, you can also find meaning and satisfaction in your life.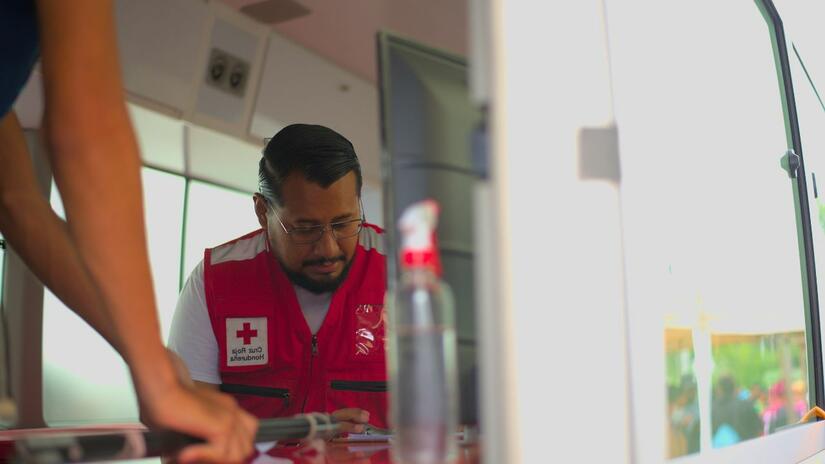 Photo: IFRC/Honduran Red Cross
"You see on the news what the people who pass through the Darien go through, they come with their complications, there are people who have even died on the way....

And to see the joy of the adults, when we take care of their children, when they have their medicines and the possibility of healing their wounds, is the most valuable thing. People always leave grateful, giving you blessings".  
The advice and practices shared by Scarlet, Angel, Yaritza and Leonardo show that taking care of our mental health is essential to facing life's challenges and providing effective support to those in need.   
Access to mental health services must go hand-in-hand with actions that guarantee basic needs for all people, whoever they are and wherever they are.   
There is no health without mental health.