"I want people to understand that when someone makes this kind of journey it's because they have no other choice." 
These are the words of Ahmed Bentalha, the IFRC Protection Team Leader on board the Ocean Viking rescue ship. Staffed by teams from SOS Méditerranée and IFRC, the ship patrols the Central Mediterranean – one of the most active and dangerous migration routes in the world – to rescue and support people who become stranded at sea. 
Between 10-12 August, Ahmed and his fellow Ocean Viking crewmembers completed the ship's largest ever rescue operation – saving 623 people from unsafe vessels within 36 hours and helping them safely disembark in Italy.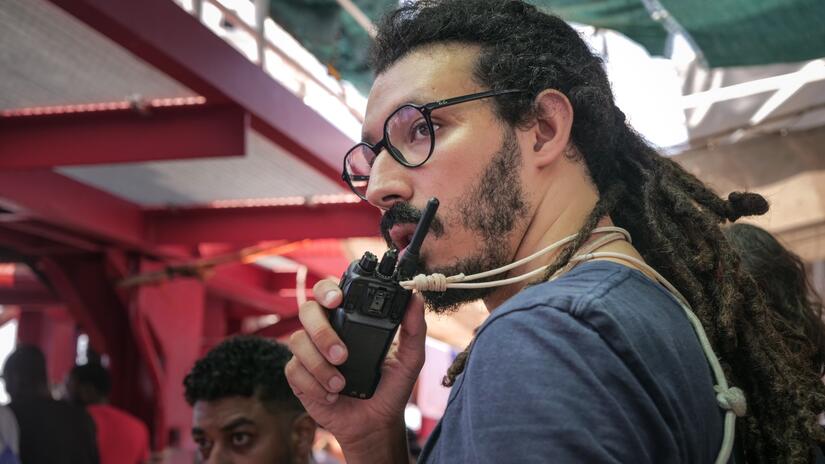 Photo: SOS MEDITERRANEE/Camille Martin Juan
"The first rescue began at around 8:00am on Thursday 10 August. The second came the following evening at midnight, and after that it was rescue after rescue for the whole day. It was a very hard and intense 36 hours. We didn't get to sleep at all," explains Ahmed. 
"None of the boats we responded to were seaworthy. The people on board were very distressed. They didn't have life jackets and were packed into the boats with no space to move. Some boats had started taking on water and people were rushing to get it out." 
The rescues were carried out by SOS Méditerranée search and rescue teams using RHIBs (Rigid Hulled Inflatable Boats) to bring survivors to the Ocean Viking.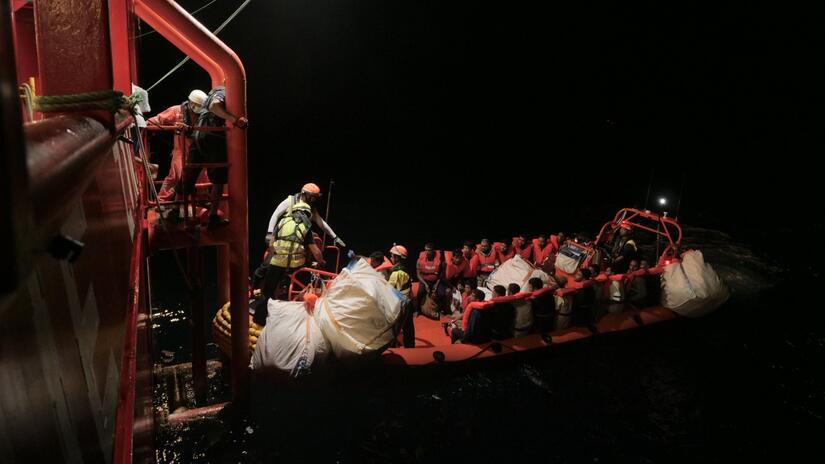 Photo: SOS MEDITERRANEE/Camille Martin Juan
"We got them all on board. There were people everywhere. Some had been at sea for a few hours, others for four to five days. We could see the difference in how tired they looked," says Ahmed. 
"Physically, most people weren't in too bad a condition. But some were suffering from fuel burns which happen when fuel leaks from the engine and mixes with sea water, causing a chemical reaction which burns the skin." 
Once on board, IFRC teams provide different humanitarian services to those rescued. The medical team, which includes a doctor, nurse and midwife, attends to people's health needs, while a logistics expert takes care of providing food and essential items.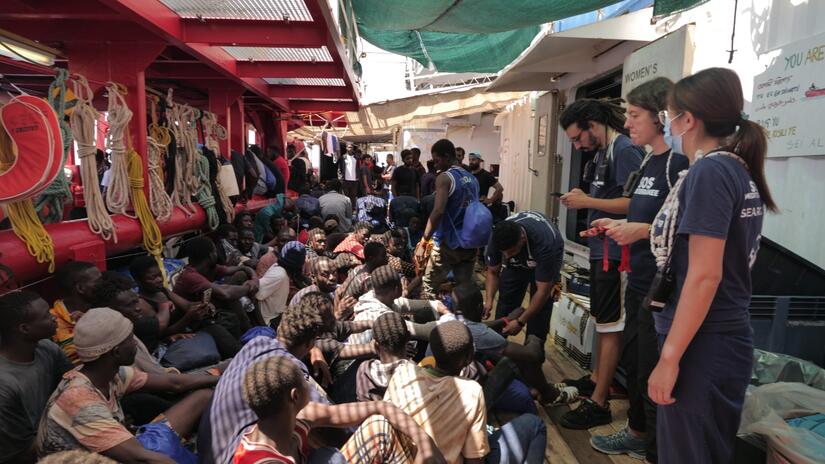 Photo: SOS MEDITERRANEE/Camille Martin Juan
The protection team, led by Ahmed, registers migrants on board the ship, completes age and family assessments and helps them get in contact with their families.  
"Most people we rescued in this operation were from Sudan, but we also had people from Guinea, Burkina Faso, Bangladesh, Pakistan and other countries. We had people of 26 different nationalities in total – mostly men and women, but also more than 100 children and ten small babies," says Ahmed. 
The protection team also talks to survivors about international protection and their rights. And for people needing specialist care, such as survivors of sexual violence or unaccompanied minors, Ahmed contacts authorities and other NGOs on land – in this case, in Italy – to arrange additional support once they disembark.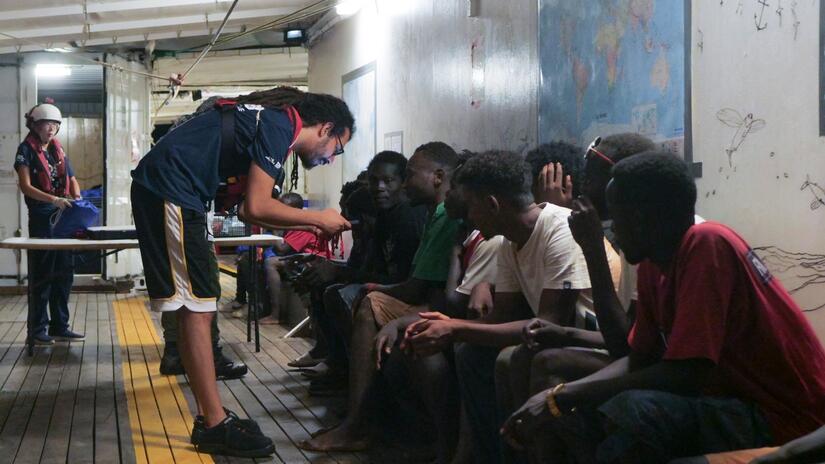 Photo: SOS MEDITERRANEE/Camille Martin Juan
It's been a trying summer so far for Ahmed and the Ocean Viking. Though winter is a more difficult season in terms of rough weather conditions, the sheer number of people needing support at sea this summer has tested crews to their limits.  
And just last month, the crew's lives were put in danger when the Libyan Coast Guard fired shots in close proximity to a rescue team – the third incident of its kind this year. 
"They started shooting – both close to us and around the boat we were trying to assist. We were instructed to leave the scene despite being in international waters. I tried to communicate with them but they only responded by shooting, so we had to leave the area for our own safety. It was scary," says Ahmed.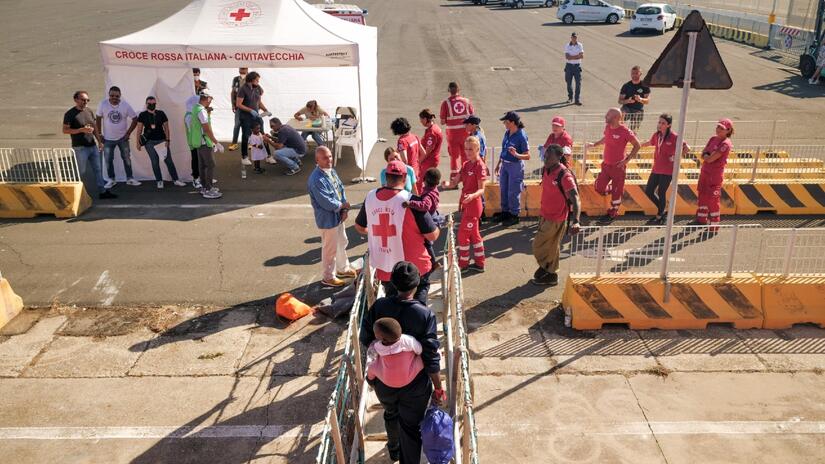 Photo: SOS MEDITERRANEE/Camille Martin Juan
Despite the challenges and dangers that crews on-board the Ocean Viking face, Ahmed remains firmly committed to saving lives at sea. 
"You reach a point where you feel that you can't take it anymore. But then each time you hear the 'ready to rescue' call from the bridge, you get that rush of adrenaline that keeps you going." 
"The best moment is when we dock at a port of safety and can disembark people because that's when we can say our rescue is done – that they finally made it to a safe place." 
"As people step onto dry land, they look into your eyes and thank you. Sometimes they hug you and cry. Some people told us 'because of you, I didn't die today'. It's very emotional." 
"Being a humanitarian, seeing people in distress and needing help. That's what keeps us going." 
-- 
The IFRC has been operating a Humanitarian Service Point onboard the Ocean Viking in partnership with SOS Mediterranée since July 2021. Together, we've rescued and provided humanitarian assistance to more than 4,000 people. 
SOS Mediterranée focuses on the search and rescue side of the operation, while IFRC teams onboard provide humanitarian assistance (such as health and psychosocial support, food, water and information) to people rescued. 
For more information: