Cristia, Winston, Yender and Belkis are four very different people, from various walks of life. But they have one thing in common. They are all Venezuelans who have traveled thousands of kilometers first through Colombia, on their way south into Ecuador.  
Their realities are very different, and their needs vary throughout their journey. At some points, they need information and a phone call; and at another point along the route, they seek medical attention, or someone to talk to who they can trust.  
The movement of people from Venezuela to Ecuador is just one of the many routes that migrants cross throughout the Americas as they search for a better future.  The IFRC network is present in 22 countries in the region, and is constantly assessing the needs of migrants to identify the best way to support those who need it most. As in many other places, along other migration routes, the Ecuador Red Cross endeavors to meet the migrants when they are most in need, wherever they are, to ensure they are safe and healthy, physically and emotionally. 
1. Crossing borders to an unknown path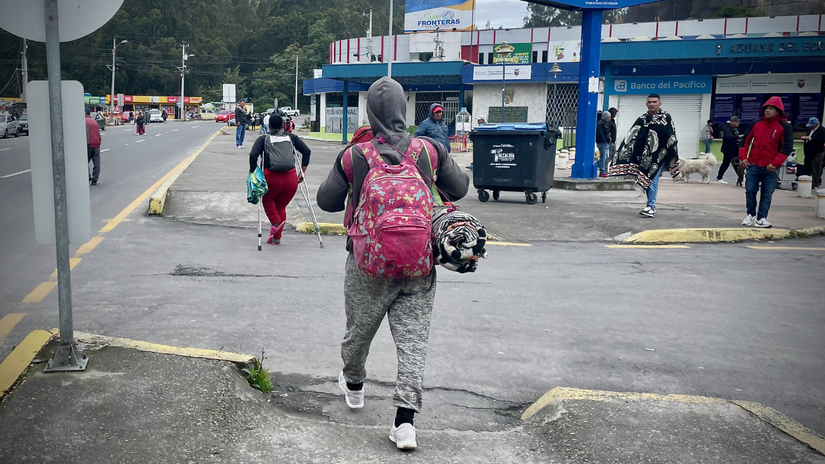 Walking with the help of two crutches, Cristia is followed by her husband Winston after crossing the Rumichaca border bridge that separates Colombia from Ecuador.  Pregnant women, children, elderly or people who are injured or disabled like Cristia cross this border to an uncertain future, without knowing where they will sleep and eat along the way. It is estimated that nearly 475,000 Venezuelan migrants and refugees live in Ecuador.  
On the way, they may face many risks: xenophobic harassment, hunger, the danger of climbing on and off of cargo trucks, spending nights in the street regardless of the weather, as well as sexual violence, robbery and extortion. 
2. Information is critical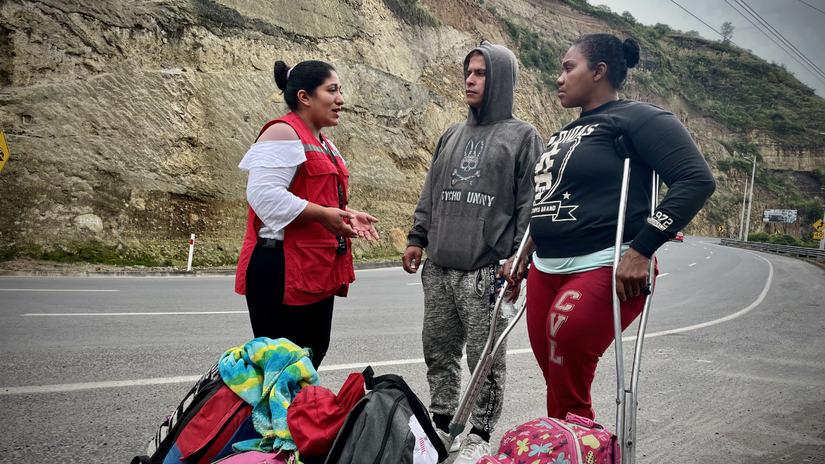 On the side of the road, Cristia waits next to the passing of noisy and fleeting tractors, while Winston looks for information on how to get to Peru.  There, family members who took the same route months ago are waiting for them. 
Cristia and Winston get much of the information they need through massive WhatsApp groups, administered by other people who have migrated before.  When crossing from one country to another, the couple lost access to mobile data, the currency changed and they do not know how to continue their journey.  
In response to these kinds of needs, the Ecuadorian Red Cross provides basic information and guidance to families; so they know where to receive support such as food kits, resting points and personal hygiene. They also share with them the location of the Mobile Health Units on the roads, where they can receive psychological first aid and primary medical assistance. 
This service is possible thanks to the Programmatic Partnership between the IFRC network and the European Union, which provides strategic, flexible, long-term and predictable funding, so that National Societies that are part of this program can provide more efficient and effective humanitarian support. 
3. Connected at every step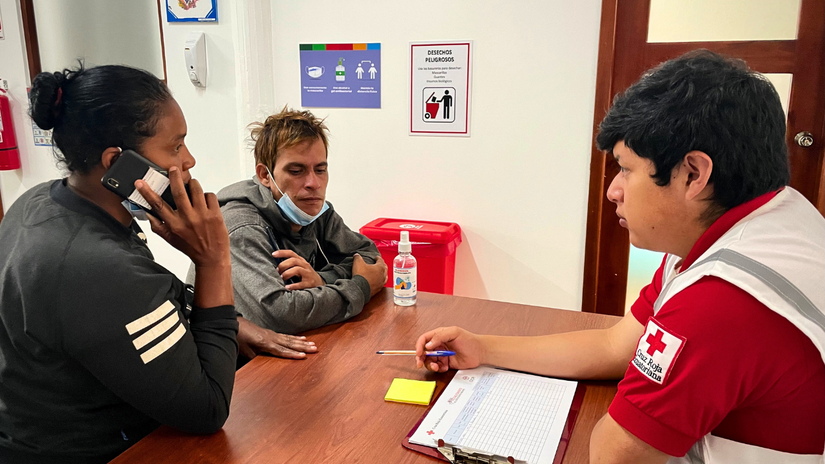 Those who still have a cell phone can keep in touch with their loved ones. But often times, phones and address books may be lost or stolen and they may have no way to call their relatives to inform them that they are still alive.   
To address this problem, the Ecuadorian Red Cross offers the Restoring Family Links service, which allows migrants to communicate with people close to them to tell them how they are doing.   
Red Cross volunteer Mateo Rios offers national and international calls, internet connection and access to social networks to 130 people per month.  
"Restoring Family Links is very emotional. Some people carry a great uncertainty as they have not been in contact with their families for weeks, and carry the weight of the dangers they have experienced.  This is how we volunteers work to maintain people's confidence, so that they can move forward", says Mateo. 
4. Recovering to move forward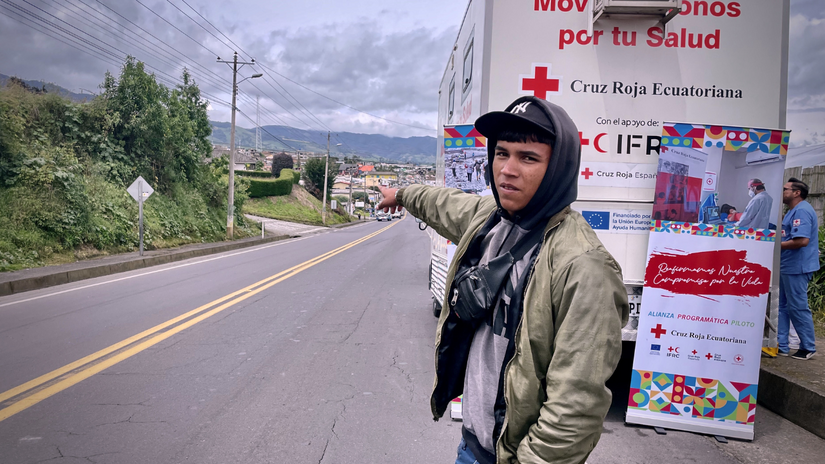 While Cristia and Winston stop to receive more information, there are those who, like 19-year-old Yender, walk down the road with companions they met on the road. Here, Yender and his group wait their turn to enter the Mobile Health Unit, where around 40 people are attended every day.  
"I have been cold, rejected and mistreated," says Yender. "Food is not ensured on the route and in some places they don't even give us a glass of water, even though we are dehydrated. The food kit given to us by the Red Cross gives us strength, and soon when the doctor sees me, I want him to tell me how my health is''.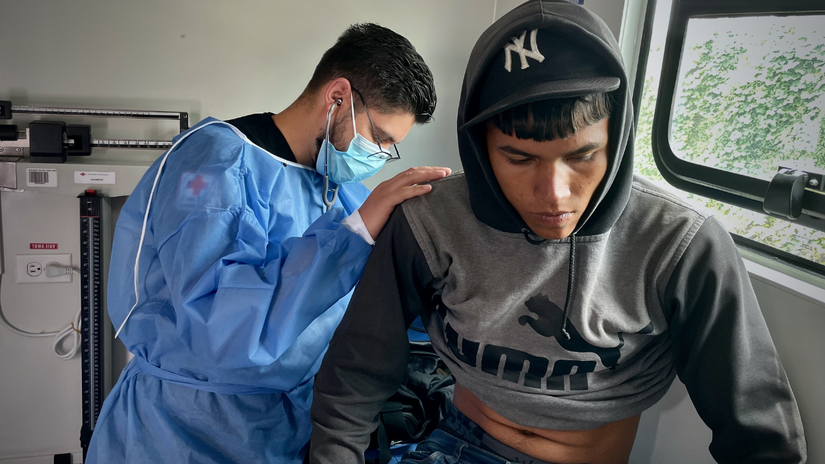 After receiving medical and psychological assistance, Yender and his friends recharge their energies, say goodbye to the humanitarian team and continue their journey south. 
5. Settling in a new home, a new country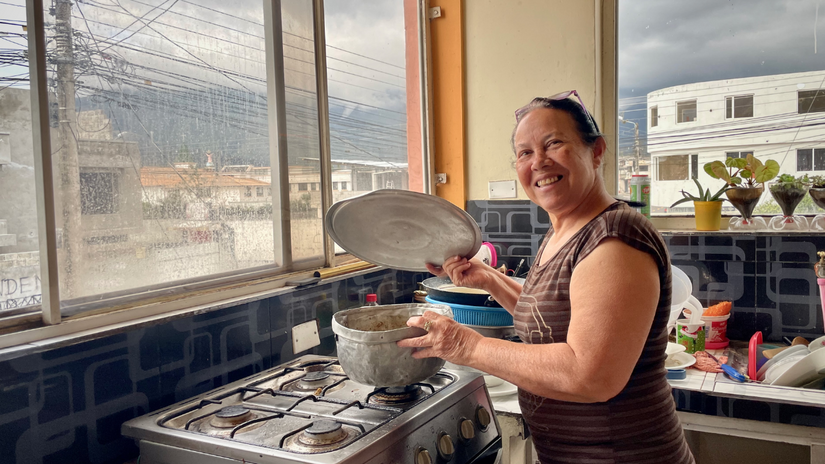 In addition to the transit cities and towns where people spend brief hours on their way to their final destination, there are places where people settle down and start a new life from scratch. Ibarra is one of those cities, surrounded by the Andean mountains. 
Those who have just arrived do not have the means to buy food, basic goods or pay rent. There, the Ecuadorian Red Cross provides cash assistance and support to migrant and host population small businesses.   
This is the case of Belkis Colmenares. She has been living in Ecuador for two years, left Venezuela three years ago and lives in a three-room apartment with twelve other people, seven of whom are children.  
"Two months ago we found out about the help being offered," says Belkis. "A girl from the Red Cross accompanied us to the ATM and they gave us the money with which I bought food, paid part of the rent and medicines for my husband, who suffers from a mobility disability. Even though the money is gone as soon as it arrives, I felt happy because it took a great weight off my shoulders."