Country Support Platform: Global Task Force on Cholera Control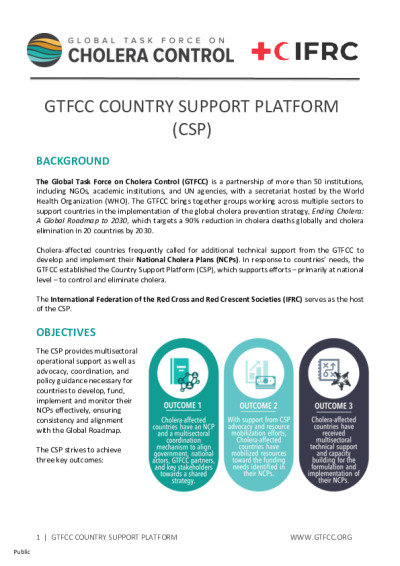 The Global Task Force on Cholera Control (GTFCC) is a partnership of more than 50 institutions, including NGOs, academic institutions, and UN agencies, with a secretariat hosted by the World Health Organization (WHO). The GTFCC brings together groups working across multiple sectors to support countries in the implementation of the global cholera prevention strategy, Ending Cholera: A Global Roadmap to 2030.
The IFRC hosts the operational arm of this partnership, the Country Support Platform (CSP), which provides cholera affected countries with technical assistance to develop National Cholera Plans, advocacy and resource mobilization support, and capacity building to help them end cholera. The CSP is funded by the Bill & Melinda Gates Foundation.
This factsheet provides an overview of the CSP's objectives, function and countries of operation. You can also scroll down to read operational highlights from the CSP from December 2021 to present.