"I was living peacefully in Khartoum before Ramadan. I'm a single mother, just with my children. I'm a director and scriptwriter, and had a new business. It was working very well and I was happy with my life until the war started," she says.
"The day of the war, our neighbour came and told us there were problems outside. We are used to riots – we get them every day. But suddenly he told us that everything was closed and no one was going out, they are bombing everywhere, it is a real war.
"We heard constant bombing outside. The noise was so big, we were just hiding. The kids had so much fear. There was nothing in the shops to buy, and nothing in the house, so things were really very hard. We stayed one week in these conditions, then they said there was a ceasefire to give people time to get themselves a hiding place."
At this point, Lia decided to travel with her children and other family members to Omdurman, a city on the west bank of the River Nile just northwest of Khartoum, to stay with father.
"We saw a lot of things on the road. There were people with guns and weapons asking you if you were going to attack them. I told them we were not their enemy while trying to calm my children down, but they were very scared.
"Omdurman was kind of safe. At first we heard some gunfire, but suddenly after two days they started to bomb really close to us and I was scared there was no safe place around Khartoum at all. I couldn't sleep. I was just looking at the sky – seeing all the shooting planes, colours in the air, and bombs."
Lia and her family stayed in Omdurman for another few days until an armed robber broke in and stole from them while they were sleeping, at which point she decided it was too unsafe and time to head to the coast. She pleaded with her father to come with her, but he refused to leave his home.
Before heading for safety, Lia needed to return to her house in Khartoum to collect her family's identity documents in case they needed to leave the country. But this proved to be another ordeal. A taxi ride that would usually take 30 minutes stretched on for hours on end, as the taxi driver tried to find safe streets in Khartoum to avoid the violence.
"We arrived at the house. It was so late. Everything was sadness and we cried altogether. We sat down in front of our house inside the gate until the morning because I couldn't find the key. No one was sleeping. I was just holding my children, all of us together.
"Morning came. The shooting stopped for a little while, and we had hope. But suddenly it started again. We broke our lock and took our papers and some of our things."
Lia and her children then began the long journey to Port Sudan, more than 800km away on the coast.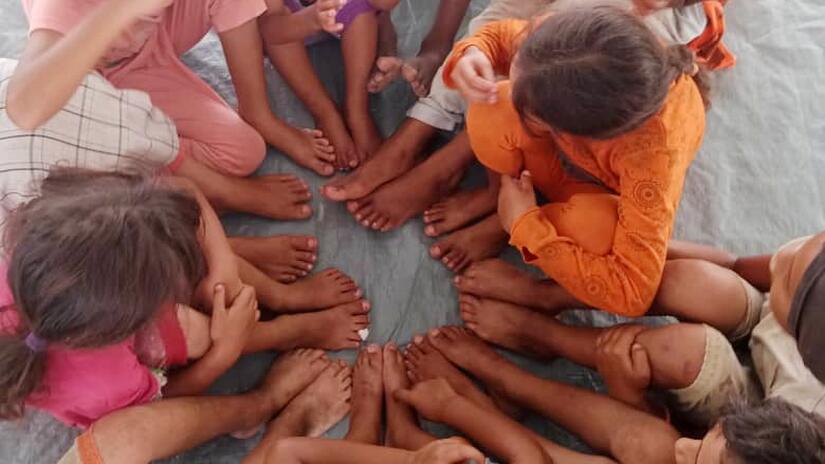 "We managed to escape to the place where buses were leaving Khartoum. We were on the road for almost four days, stopping in different cities overnight, sleeping on the ground next to the bus. We knocked on strangers' houses and they helped us because they knew in Khartoum there was war. They gave us kitchen equipment so I could cook and they let us use their bathroom.
"It was tough. It was OK for me, but my children didn't have this kind of life before. Nobody chooses to live that kind of life or chooses war, but we found ourselves in that situation."
Eventually they arrived at Port Sudan. Though less dangerous than Khartoum, Lia struggled to find a decent place for her family to stay.
"I went to the first camp and it was so bad. We stayed there for just over a week but we couldn't stay longer. My children were sick, so we moved to the beachside. I thought it would be better but in the afternoon it was hellfire. You can't stay directly under the sun. After that we were taken to another camp where we stayed for a month, then another camp. It's a bit of a relief yet things are still bad. You cannot call camp a home. But at least this one compared to others is a bit better."
When asked how the Sudanese Red Crescent Society had helped her throughout her ordeal, and what difference it had made, Lia said:
"The difference is clear. Red Crescent right from the beginning was always there to give a warm helping hand in times of need.
"They brought us doctors and medicine and some food." 
 As to the future?
"I thank god we are alive. Though we lost a lot of things, we are alive and breathing and my children are by my side. I just pray that one day things will get better again and I pray Khartoum will become safe again.
"I don't want to travel anymore. I want our lives and our country to be safe and all the worries to stop so we can continue to do the things we dream about."
--
More than 1,000 people have lost their lives since conflict broke out in Sudan on 15 April, and more than 12,000 have been injured in the fighting.
The Sudanese Red Crescent Society, supported by the IFRC network, is continuing to provide much-needed humanitarian assistance despite security challenges in the country.
To help people like Lia inside Sudan, please donate to our Emergency Appeal. You can find information about the work your donation will support here.