Amizmiz, 50km south-west of Marrakesh, is one of the towns most heavily affected by the September 8 earthquake in Morocco.
Upon entering the town on 18 September, we saw search and rescue teams packing up their equipment after a grueling ten days of pulling survivors and casualties from the wreckage.
What's striking as we entered the small town is the buzzing main street, with only a few visibly destroyed houses. An eerie semblance of normality.
But as we passed through the small side streets in the heart of the city, it's chaos. Hundreds of houses have collapsed on top of each other. All that remains is rubble and dust.
Public buildings were not spared. The local hospital, while still standing, now has severe cracks and had been declared unsafe to operate.
With nowhere else to go, several makeshift medical tents have been set up in the middle of the street to take care of injured people who continue to arrive.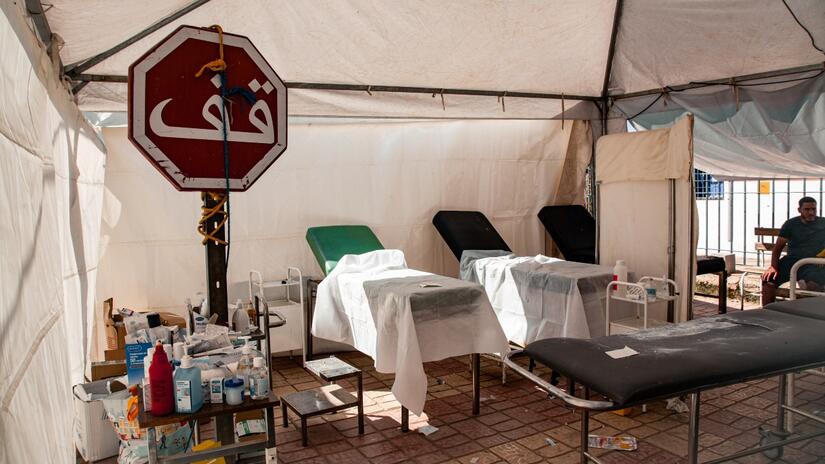 Photo: IFRC/Benoit Carpentier
It was just as we entered one of these tents, located on the edge of the main roundabout with its continuous flow of cars and trucks bringing relief supplies, that baby Anas was born.
With the sun beating down, the temperature in the tent exceeds 35 degrees Celsius. There's only one delivery table and a desk inside.
Anas is nestled safely in the arms of his mother, Nezha, blissfully unaware of the chaos surrounding him. He's Nezha's third child—her second boy—named after one of the nurses who helped her when she reached the clinic.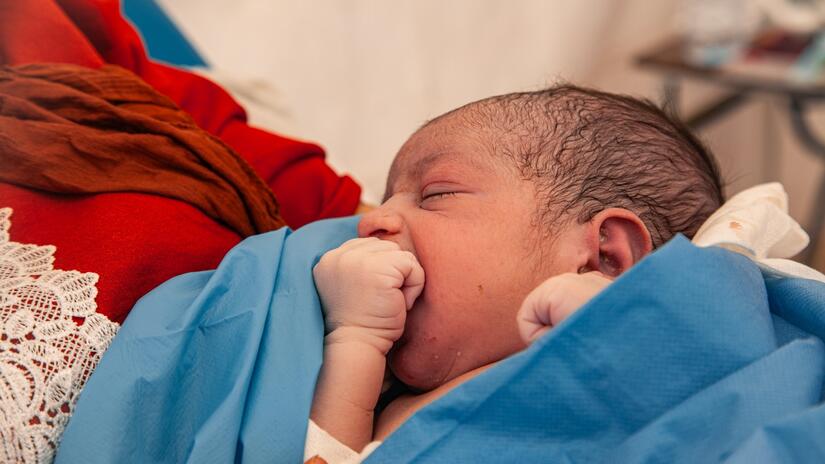 Photo: IFRC/Benoit Carpentier
Nezha's smile, and the smiles on the faces of the local nurses who cared for her, are a ray of sunshine in the difficult times Nezha and her family are going through.
By the end of the day, the local branch of the Moroccan Red Crescent had managed to find a temporary structure, with electricity and air conditioning, where they relocated the improvised maternity ward.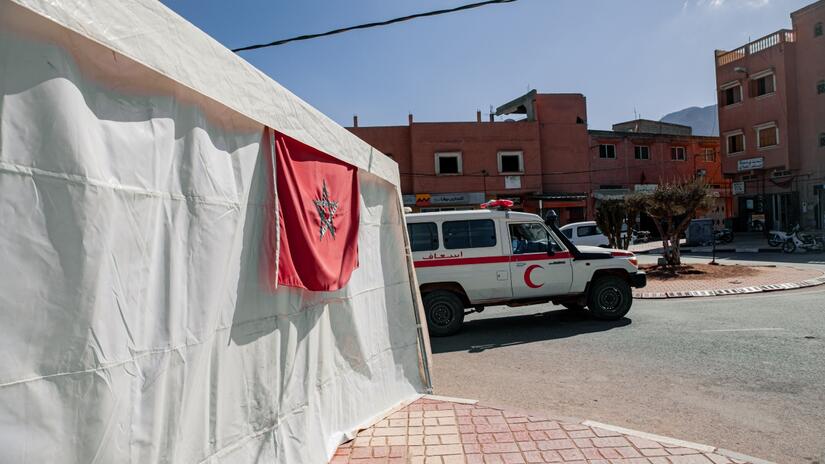 Photo: IFRC/Benoit Carpentier
As our response to the earthquake continues, it's precious moments like this—a mother cradling her healthy newborn son—that keep our volunteers and staff going amid the heartbreak and devastation.
--
Click here to learn more about our response to the Morocco earthquake.
To donate and support people like Nezha to recover from this crisis, please donate here.