Many countries in Africa are facing the worst food crisis in decades.
The consequences are greatest for women and children, with many mothers currently fighting to protect their kids from malnutrition.
In Nigeria, one of the IFRC's 12 priority countries in our hunger crisis response, the Nigerian Red Cross and IFRC are using creative ways to help parents keep their children healthy and fed. Let's take a look at three of them.
Mothers' Clubs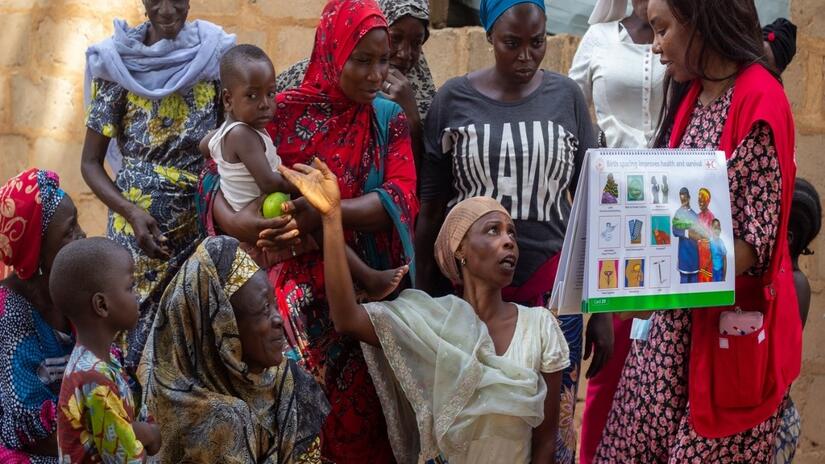 Photo: Joan Ezinne Ojukwu/IFRC
Mothers' clubs are safe spaces for women to come together and support one another through the successes and struggles of motherhood. The idea started in Ghana in the 1970s and has since spread all around the world. These days there's a growing emphasis on involving men and supporting their equally vital role in raising children.
Nigerian Red Cross volunteers have set up 140 of these Mothers' Clubs in 7 north-western states of Nigeria, allowing parents to meet and receive information on nutrition, breastfeeding, and proper infant care. They're a way of providing health education to parents on how to best look after their newborns, how to breastfeed properly, and how to improve hygiene and care—all in a friendly and supportive environment. When her child became affected by oedema, a serious manifestation of the symptoms of malnutrition, Amina, a member of one of the Mothers' Clubs, turned to the Nigerian Red Cross for help:
"My child had been sick for some time, and I didn't know it was serious, or even that he was malnourished, until they [Red Cross volunteers] came to my house to screen him. Today, thanks to the awareness-raising activities and my membership of the clubs, I can take better care of my children and advise the women in my community on good practices".
Cash and voucher assistance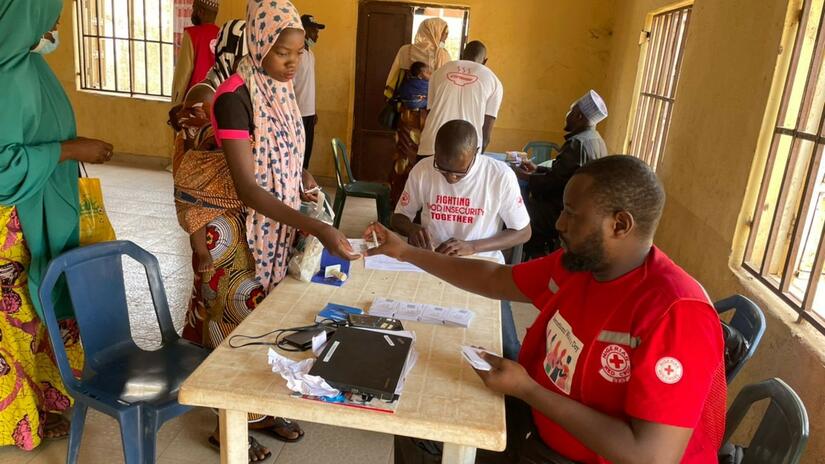 Many households in Nasarawa State are facing severe food shortages due to the drought that is ravaging the region. Sadiya, a mother of one who is struggling to feed herself and her son, says,
"I cannot eat or prepare food for my son on a regular basis because the land hardly produces anything."
Similarly, another woman in Niger State highlights how the rising cost of living, especially rising food prices, prevents her from providing a good dinner for her family:
"My child has not been breastfed properly because there are not enough nutritious meals available in the market for me. And even when they are available, they are unaffordable."
To address this, the IFRC is currently providing vouchers to breastfeeding mothers through its Cash Transfer programme. "I was one of the mothers supported by the Red Cross Society. I received 10,000 naira, which enabled me to buy food for my family." she adds.
The cash transfer programme is designed to support low-income families to cope with the pressures of inflation so that they can provide for the multiple needs of the household and therefore the children.
Giving cash to the people we support is an effective, efficient and transparent way of providing humanitarian assistance to the most vulnerable. It ensures that people have the freedom, dignity and independence to decide on their own recovery. 
Home visits to fill gaps in health services
Several health centres are understaffed, and some have been closed due to increasing insecurity, making it difficult for malnourished children to access even basic health care.
The women and members of the mothers' clubs conduct home visits and screen malnourished children by measuring the circumference of their arms. Any child suffering from malnutrition is then registered on a referral card, designed by the Nigerian Red Cross, and referred to a health centre for further treatment. These home visits are minimizing the burden on stretched health services and making sure that children are being regularly screened and supported when they need it.
___________
In response to the food crisis in the north-east and north-west of Nigeria, the IFRC launched an emergency appeal for over CHF 4,000,000 to help people cope.
Click here to donate today to support this life-saving work.