By Rita Nyaga
IFRC senior communications officer
In the early morning of Saturday, 15 April 2023, the city of Khartoum woke up to the sound of gunfire and explosions. Up to two million people fled the city and became displaced either within Sudan or in neighouring countries.
As the conflict in Sudan enters its seventh month, the Sudanese Red Crescent Society (SRCS) continues to support many impacted by the fighting through a network of more than 2,000 volunteers in 18 branches spread across the country.
Before fighting started, the socio-economic, political, and security situation in Sudan was already very tense, impacting the work of volunteers directly and indirectly. With the onset of conflict, the effort to keep them safe, secure and motivated became more critical than ever.
"Safety is the matter of life and death," says Nagat Farah Khairi, national volunteer coordinator for the SRCS.  " Ensuring the safety and security of staff and volunteers therefore is one of the SRCS' top priorities."
"Fortunately, prior to the eruption of war in April 2023, three training courses were organized and attended by more than one hundred volunteers, who received and refreshed their knowledge on safety and security," Nagat says. "That resulted in them being able to practice it and remain safe in the frontlines of crisis and to continue the provision of humanitarian support. "
These are some of the reasons that volunteer safety and security was one of twelve thematic areas of the SRCS's ongoing Transformation Process.  A total of 111 volunteers attended the training from all states, which took place in May 2022 with support from the Swedish Red Cross.
This training course also aimed to improve the quality and ensure accountability in all aspects of the SRCS's work with volunteers, strengthening its ability to mobilize, recruit, protect, maintain, and develop its volunteers network.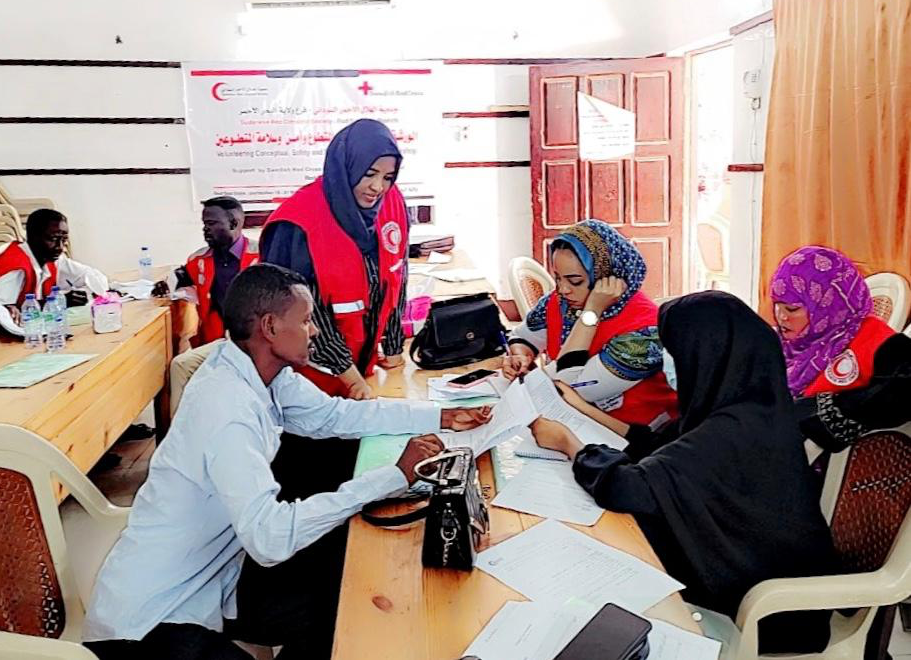 Six months on, work continues with insufficient funds
Thus, by the time fighting begun, the lessons from this training could be put into practice. Meanwhile, just over six months into the conflict, SRCS volunteers continue to work to ease the plight of people impacted by the conflict. Many of the residents who were left behind in Khartoum and could not afford to leave, have now been locked down for months in a deteriorating situation. They suffer from significant reductions in essential goods and services such as health care, power, water and food. For those who consider leaving, families sometimes must choose whether to leave the elderly behind or remain with them.
People are also being hit by the effects of erratic climate patterns that are also impacting many parts of Africa, resulting in widespread food insecurity, drought and sporadic flooding.
In response, IFRC has launched two appeals to provide support for people now in very vulnerable situations.
• An emergency appeal for CHF 60 million to support the SRCS in scaling up their life-saving activities within the country.
• A regional appeal of CHF 42 million to support the humanitarian response in neighboring countries, including Egypt, Chad, South Sudan, Central African Republic, Ethiopia, and Libya.
Currently, these appeals are largely underfunded with only nine and eight percent respectively. The funds are critical to allowing the volunteers, who are now well experienced in working in this challenging environment, to carry out their essential work supporting communities.
"The SRCS recognizes and values volunteering as a means of creating and supporting community members and who are available to offer support and work in the frontline during emergencies", says Nagat. "At the SRCS, we value all volunteers for their individual contributions, enthusiasm, and commitment, as well as for the experience and skills they bring onboard".