Mental health and psychosocial support in Asia Pacific during COVID-19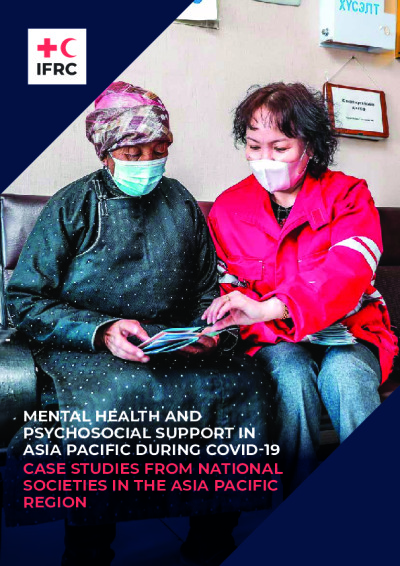 This report presents case studies from four National Societies in the Asia Pacific region on how they have improved their mental health and psychosocial support (MHPSS) services during the COVID-19 pandemic:
Hong Kong Red Cross Branch of the Red Cross Society of China - learn how informational and educational materials were developed in response to the pandemic, as well as the operation of the telephone- and internet-based intervention "Shall We Talk" service to relieve distress of the public.
Philippines Red Cross - learn about their established COVID-19 Hotline 1158, a 24/7 hotline service set up to provide psychological first aid (PFA) for people in need, run by 15-30 volunteers trained in basic psychosocial support.
Nepal Red Cross Society - learn about their mobilization of community volunteers, PFA activities, and how they were able to reach communities via virtual sessions as well as in person. This includes a focus on suicide prevention and training on enhancing skills and identifying warning signs regarding suicide.
Indonesian Red Cross Society (Palang Merah Indonesia, or PMI) - explore their strategies regarding tracing, monitoring and support activities. Their sharing also sheds light on stigma, exclusion, and the consequences that these actions could have on the mental health and psychosocial wellbeing of individuals.
The report also provides insights from a survey conducted into 'pandemic fatigue'.