Perspectives and priorities from guest and host communities in Cox's Bazar, 2019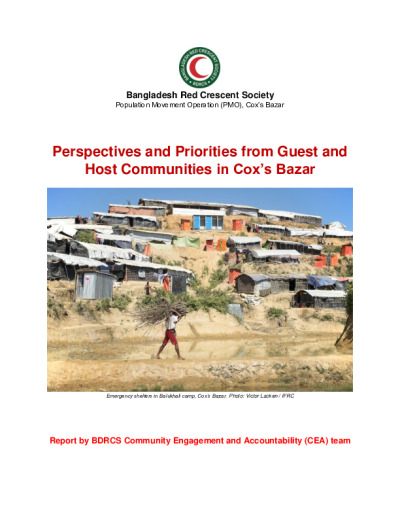 Between August 2017 and August 2019, more than 700,000 people were forced to cross the border from Rakhine State, Myanmar to Cox's Bazar, Bangladesh to seek safe shelter and flee violence.
In August 2019, the Bangladesh Red Crescent Society conducted a large-scale community engagement study to get a better understanding of the perceptions of guest and host communities. Survey topics included key concerns and demands, the security and protection situation, perspectives for the future, and the perception of the Bangladesh Red Crescent Society.
This report offers an overview of the study and its findings, as well as recommendations for humanitarian actors operating in Cox's Bazar.