World Disasters Report 2013: Focus on technology and the future of humanitarian action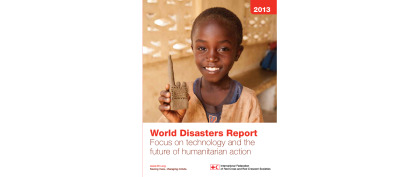 In 2012, fewer people were reported to have died or been affected as a result of disasters than any other year during the previous decade, according to figures presented in this report.
While these numbers are positive news, they also reflect the absence of major events like the 2004 Indian Ocean tsunami, Cyclone Nargis in Myanmar in 2008 or the 2010 Haiti earthquake.
We have learned from these major disasters. At the same time we must continue to improve and innovate to make disaster preparedness, mitigation, response and recovery more effective and accountable. With these objectives in mind, this year's World Disasters Report focuses on the rapid spread of technologies, especially information and communication technologies, which is changing humanitarian action and humanitarians, too.