Uniting through the power of football
About the project
Across the globe, we are seeing a worrying rise in extremism, isolation and social divides. But there are also around 1.6 billion young people globally who have the power and potential to solve the world's biggest problems and strive for peace.
With the right support and skills, this generation of young people can be a force for positive change—not in the future, but right now.
Focussing on four different countries in different contexts, Argentina, Uganda, Myanmar and Iraq, Uniting Through the Power of Football brings together:
Youth as Agents of Behavioural Change (YABC) - the IFRC's global flagship initiative on the promotion of a culture of non-violence and peace through youth empowerment and leadership.
Football for Development (F4D) - Generation Amazing's flagship programme that empowers and educates future generations to address vulnerability, health and wellbeing, and environmental sustainability.
How does the project work?
Training of facilitators
We train between 25-32 young people as YABC & F4D facilitators⁠—equipping them with the skills, knowledge, attitudes, and experiences to deliver the curriculum.
Hybrid curriculum
264 youth in each country take part in the YABC & F4D 'hybrid' curriculum, delivered over 4 to 12 weeks in the classroom and on the football pitch. The curriculum is made up of 12 YABC and 12 F4D activities that promote peace, resilience, and inclusion in communities, while developing socio-emotional life skills.
Youth-led micro-projects in the community
We provide small grants to participants to run social change projects within their communities. Young people identify risks and needs in their own communities and are taught how to design, develop, deliver, monitor and report on their micro-projects.
Peace and Sport Awards 2021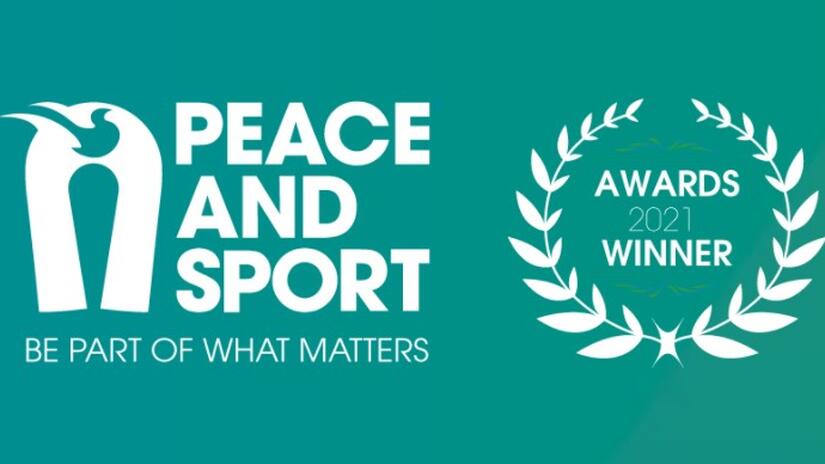 Photo: Peace And Sport Awards
We are honoured that Uniting Through the Power of Football won the 2021 Peace and Sport Award in the 'NGO of the year' category! 
The award recognizes an NGO or a humanitarian organization that invests in sport as an educational and social tool for sustainable peace and has demonstrated its capacity to involve local stakeholders.
Watch this short video to see the announcement and hear from our Under Secretary General for National Society Development and Operations Coordination, Xavier Castellanos, who accepted the award on behalf of the IFRC.
Watch: Voices from the pitch
What do we want the project to achieve?
Better social inclusion of marginalized and excluded youth⁠—particularly those from at-risk and conflict-affected communities, refugees, internally displaced young people and youth from host communities.
Participants gain socio-emotional and leadership development skills such as active listening, empathy, critical thinking, non-judgement and non-violent communication.
Youth are actively engaged and empowered to contribute to peaceful and inclusive communities. They gain increased respect for diversity, intercultural dialogue, gender equality and violence prevention.
Youth and their communities are inspired to lead healthy and active lifestyles. Participants learn how to improve their physical and psychosocial well-being through non-formal education, physical activity, football skills, sport opportunities, and psychosocial support.
Increased social entrepreneurship opportunities to young people. We will provide participants with small grants to develop and implement social change projects that address social risks and identified needs within their local communities. Young people will be taught how to carry out and report on these projects.
Red Cross and Red Crescent National Societies have improved capacity to deliver sustainable, non-formal peace education in communities through youth engagement and peer-to-peer approaches.
Get in touch
For more information about this project, or about our Youth as Agents of Behavioural Change work, please contact [email protected]