While Thai culture is relatively open in terms of gender identity, transgender people in Thailand continue to face discrimination and exclusion in many aspects of life. Health care is no exception.
"The topic of gender diversity isn't widely discussed [in Thailand]", says Piglet, a transgender woman who lives in Bangkok. "Sometimes I'm not able to talk to anyone about it because it makes me feel nervous".
Piglet (not her real name) is a client at the Thai Red Cross Anonymous Clinic, a health centre in the heart of Bangkok designed to help people get health services without fear of being identified or of feeling stigmatized because of her gender or sexual identity.
Understanding the challenges
The goal is to create an environment where transgender individuals can openly discuss hormone treatment, sexual orientation, and other related issues with healthcare providers who understand their needs and what they are going through.
Because transgender people often confront discrimination or a lack of understanding of the unique health needs, they often experience physical, mental and emotional stress when seeking out care. This is especially true during public health emergencies such as the COVID-19 pandemic, according to recent health studies. In some circumstances, this anxiety may prevent people from getting care or lead them to avoid seeking care.
The Thai Red Cross Society has long been dedicated to reaching out to marginalized communities, including transgender people and men who have sex with men, in their efforts to combat HIV and other sexually transmitted diseases.
Services for optimal health
The Anonymous Clinic offers a wide range of services, including counselling, testing for HIV and other sexually transmitted diseases, hormone monitoring, gender-affirming hormone therapy, neovagina examination, anal cancer screening, and Hepatitis A/B vaccination.
"The main mission of the Thai Red Cross AIDS Research Centre (Anonymous Clinic) is to provide effective prevention measures, widely known as PreP (pre-exposure prophylaxis), and PEP (post-exposure prophylaxis)", explains Chanin Suksom, a psychologist at the Anonymous Clinic. "The health services we provide represent an equal opportunity to everyone at a very low cost".
While the clinic was initially established in response to the HIV/AIDS epidemic, it now plays a critical role in providing gender-affirming services and improving the overall well-being of transgender individuals. "During the past year, we assisted approximately 360 transgender clients, from which over 200 of them accessed services for free", says Suksom.
By offering a comprehensive range of services and fostering a safe and inclusive environment, the Anonymous Clinic empowers transgender individuals to take control of their health and well-being.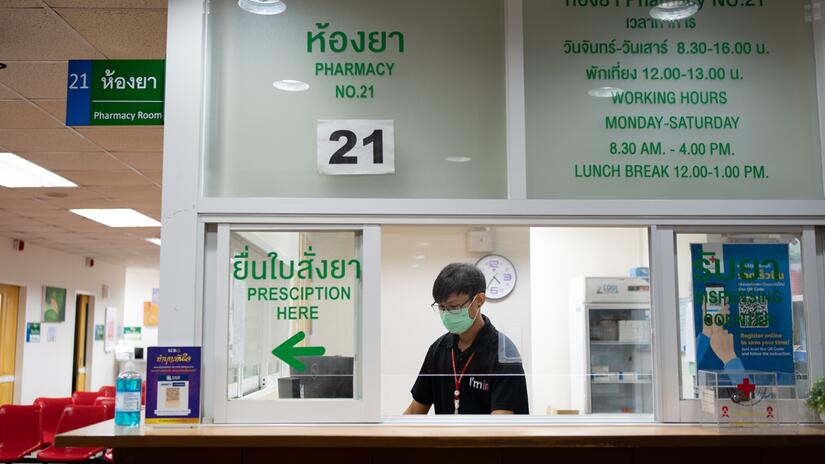 Photo: Thai Red Cross Society
"People who have come to the clinic for the first time are usually reluctant to talk about their stories. So, we ask informal open-ended questions", explains Naiyapak Chaipun, a counsellor at the Anonymous Clinic who is herself transgender.
"We sometimes chat in a very casual way. We encourage them to take things step by step without forcing them", she says.
For people like Piglet, the Anonymous Clinic has become a safe haven, where people can learn how to better take care of themselves. "I brought my friends to the Anonymous Clinic because they feel shy, and it reminds me of my own experience when I felt frustrated and didn't know where to go", she describes.
"I think the Anonymous Clinic is a great place for transgender people to access health services. A place where we can love ourselves and where we can learn how to keep ourselves healthy in the long run".
--
This story was produced and originally published by the Red Cross Red Crescent Magazine. To learn about the Magazine, and to read more stories like this, click here.