For many years, Osama considered the theatre his second home, a place where he could embody different characters, share poetic words of wisdom and see the smiles and laughter on the faces of people in his community.
"Every time I appear on the stage and see the smiles of children, I feel satisfied," says Osama, a gregarious talkative man whose passion for acting has provided some refuge from the scourge and heartaches of war.
But Osama's ability to pursue this dream suffered a serious blow when his beloved theatre was bombed and reduced to a pile of rubble.
"My dreams were shattered," says Osama, standing on the ruins of what was once a spacious, airy theatre, capable of holding hundreds of people. "My dreams were here in this very place," he says, looking out of a field of broken bricks and stone. "Here, we used to bring smiles to people's faces … before the war began."
Most of the theatre pieces his company produced were comedies and dramas that brought happiness and laughter while also sharing purposeful messages.
A new humanitarian role
After the theatre was bombed, with the accumulated pain and despair of war weighing on him, Osama started looking for a new role: something that would again bring him joy and help him to rebuild his sense of purpose. His journey led him to the doors of the Yemeni Red Crescent in Al Hudaydah.
Now Osama uses his gift for comedy and drama to educate people through interactive theatre sketches. The performances also convey important messages about how to stay healthy and safe in a context where war has shattered many of the basic food, water, health and sanitation systems that keep communities safe and well.
"I remember the first time I participated in an awareness-raising activity with the Yemeni Red Crescent Society," Osama says . "I was just giving children advice about washing hands, but in a funny way. I remember their laughter at my attempts to correct some of my mistakes.
"One time, I was doing a comedy show to teach, in a comical manner, the right ways to wash hands, but I forgot one of the important ways to rub your fingers. One of the kids got up and hit me over the head in a comedic style and said, 'The artist forgot to tell us this step.' He started explaining it like a member of a theatrical troupe. It was the first time I felt I was really helping ordinary people cope with the challenges of war."
Inspired by the work of the Yemeni Red Crescent in Al Hudaydah, Osama has not only played a role in the Red Crescent's outreach programmes, but also became an active volunteer in the provision of first aid, food distribution, emergency response, and even the transportation of wounded people and bodies. Alongside all this, the energetic father and husband works various jobs, such as tending trees around the city, to support his family.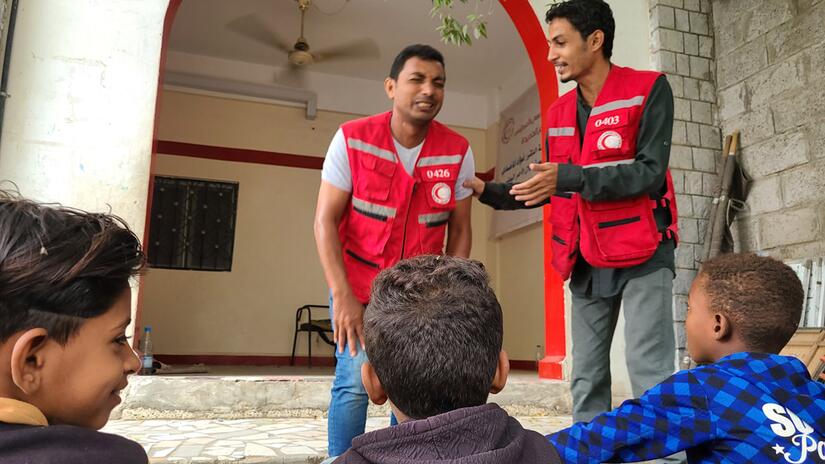 Photo: Yemen Red Crescent Society/Allawi Alhadadi
Deeper into the role
Osama remembers one situation that pushed him even deeper into his role as a volunteer: a dengue outbreak in Al Hudaydah that made an already desperate situation in the governorate even worse.
While 20 million Yemeni people lacked access to basic healthcare, half of the country's health facilities were either partially or completely damaged by war, leading to dramatic increases of endemic diseases and epidemics.
"The dengue epidemic reached our home where I live with 16 members of my family, including four children. It was difficult to access healthcare and even to purchase medicines due to the economic situation. I took my eight-year-old brother Rakan to the Health Centre of the Yemeni Red Crescent Society, hoping he would be cared for at the centre. He was treated there until the staff were certain that he had recovered and was not in danger anymore.
"This kind of assistance was not provided because of my work as a volunteer in the Red Crescent — it is available to all members of the community. The centre provides medical care services to all, and the number of beneficiaries is more than 1,700 people."
"The moment I arrived at the centre, holding my brother in my arms, was like a dream. I went there as a person in need and was received by a team that helps everyone. I realised after my brother's recovery that working with the Red Crescent was also an opportunity to give something back, to return the favour, so to speak."
In the meantime, this gregarious, outgoing volunteer can also nurture the stage actor that is always inside him, never far from the surface.
"Even if I cannot appear on stage, I can at least do this for the Yemeni Red Crescent Society as a volunteer and play around for the kids," Osama says with a smile. "That makes me happy and proud."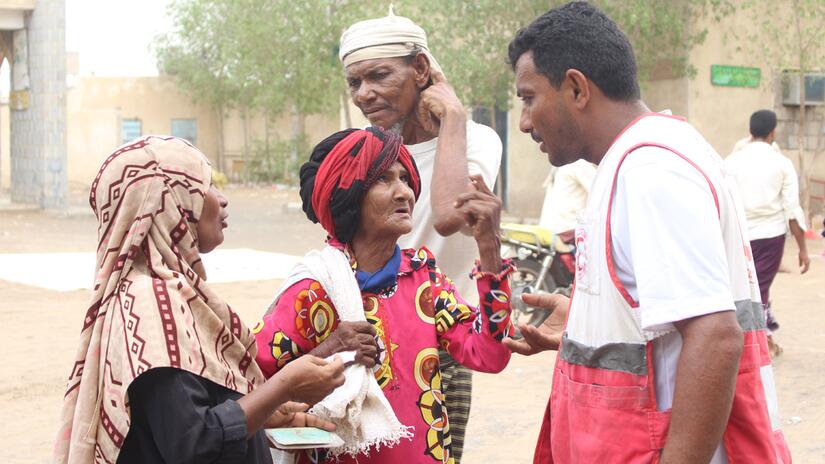 Photo: Yemen Red Crescent Society/Allawi Alhadadi
--
This story was produced and originally published by the Red Cross Red Crescent Magazine. To learn about the Magazine, and to read more stories like this, click here.