When disaster strikes, the sight of someone wearing a red vest is a sign that help has arrived. It's a powerful symbol of hope and comfort amid the chaos following an emergency, worn by members of the IFRC and its 191 member Red Cross and Red Crescent National Societies.
And now it's also a symbol of our brand new podcast.
Launching on 12 September across all major streaming services, People in the Red Vest is a twice-monthly podcast that features inspiring stories of people from across the IFRC network. They'll speak about their personal experiences of responding to the world's biggest humanitarian crises and what inspires them to keep going.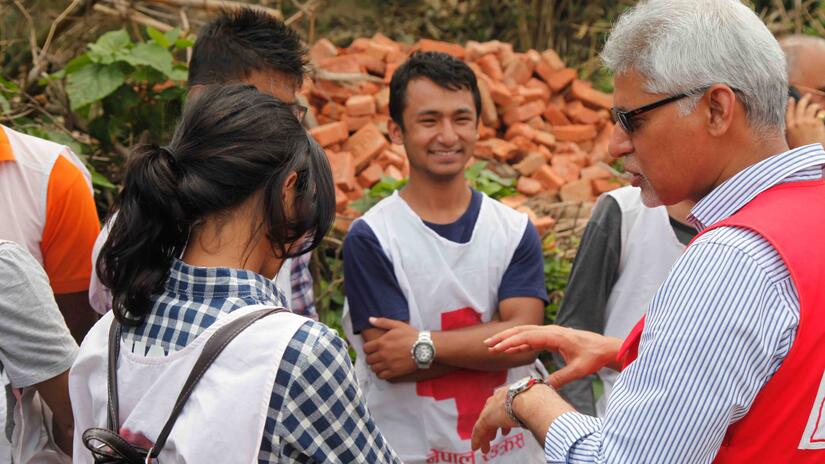 The first episode features IFRC Secretary General Jagan Chapagain, who talks about his recent missions to several countries in Africa impacted by an acute hunger crisis, and to Slovenia, hit by severe flooding. He also speaks of his upcoming trip to New York for the United Nations General Assembly and shares what inspired his own personal humanitarian journey.    
 
"One thing that always stuck into my head was something Albert Einstein said, 'You live a real life by making a difference in someone else's,'" said Chapagain, who was 14 when he became a volunteer for the Nepal Red Cross.
Keenly interested in science from a young age, Chapagain is an engineer by training. But it was his first job, helping refugees in Nepal, that steered him down the humanitarian path.
"Just listening to the refugees' stories, their dreams and plans for their families... in many ways, that cemented my belief that if you want to live a satisfied life, you should do something for others," he adds.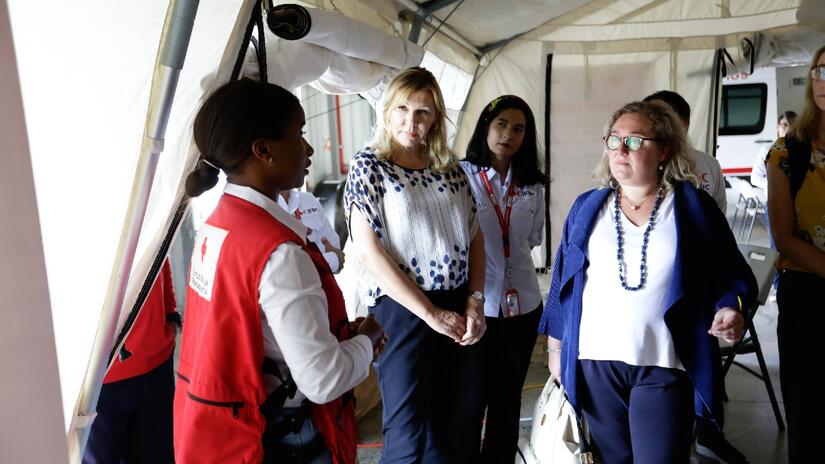 Photo: IFRC/Bienvenido Velasco
Upcoming guests include:
A regional leader in the fight against food insecurity in Africa, Ambassador Mahabub Maalim, who also serves as advisor to IFRC's response to the current hunger crisis in Africa (now impacting 23 countries). He shares his thoughts on how to break cycles of food insecurity in the face of the climate crisis, as well as his own personal experiences growing up with hunger in eastern Kenya.
Nena Stoiljkovic, a leader in the world of humanitarian and development finance who serves as IFRC's Under Secretary General for Global Relations, Diplomacy and Digitalization. She talks about her life-long passion for using innovative financing and partnerships to help people and communities bounce back from hardship, as well as her experiences as a woman leader in the still male-dominated world of finance and development.
Future episodes will also include people working at the heart of IFRC emergency and recovery operations around the world, as well as volunteers and leaders from its member National Societies.
They will share their own compelling and inspiring stories and their thoughts on new trends in technology and humanitarian response, how to make our operations more inclusive and equitable, and what makes them to keep going despite the mounting challenges.
In each episode, the guests will also tell us what the Red Vest symbolizes to them. If you're curious, subscribe and join us wherever you listen to your podcasts.