When the Kakhovka Dam in southern Ukraine collapsed in June, a torrent of water poured over downstream towns and farmlands, reducing homes to rubble and leading to the tragic loss of many lives.
The flood swept up everything in its path, washing farm animals, unexploded mines, hazardous chemicals and dangerous bacteria—such as salmonella, E. coli, and cholera—down toward the Dnipro-Buh Delta on the Black Sea.
The Ukraine Red Cross Society's (URCS) response to the dam disaster was swift. From the moment the dam collapsed, their volunteers began evacuating people from flooded areas and distributing essentials such as food, hygiene products and water purification equipment. Psychosocial support specialists were also on hand to help people cope during those difficult first days.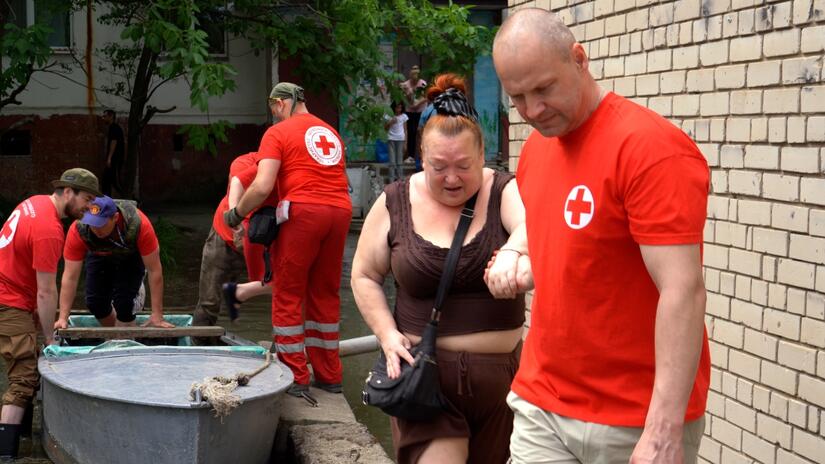 Photo: Ukraine Red Cross Society
But recovering from a disaster like this doesn't happen overnight. Three months on, URCS teams remain firmly by the side of communities to help them get their lives back on track.  
"People's needs have changed but have not disappeared," says Serhiy Moroz, a URCS volunteer. 
"In many populated areas, people are attempting to return to their previous lives in damaged housing and amidst disruptions in centralized water supply services. Often, water systems are simply non-existent, leaving people to suffer from a lack of clean water. This creates significant household challenges as well as risks to public health."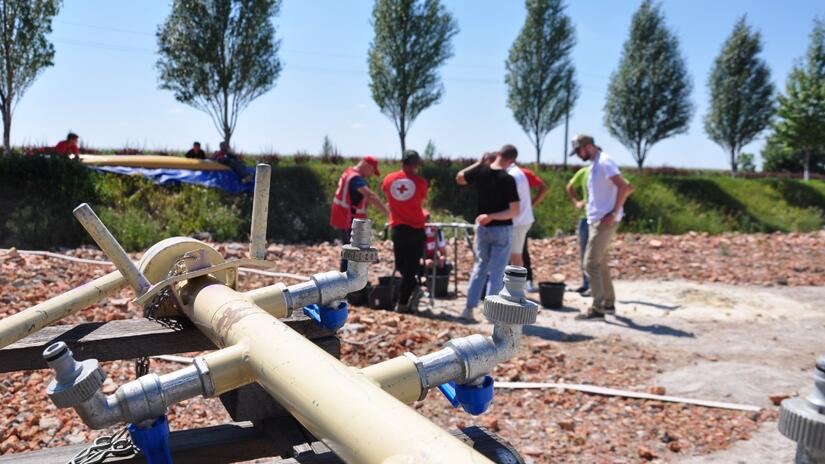 Photo: IFRC/Oksana Lysenko
The IFRC recently deployed an Emergency Response Unit or 'ERU'—a team of specialized personnel and equipment from across the IFRC network—to Kropyvnytskyi city to support the Ukraine Red Crescent Society's work restoring access to safe water.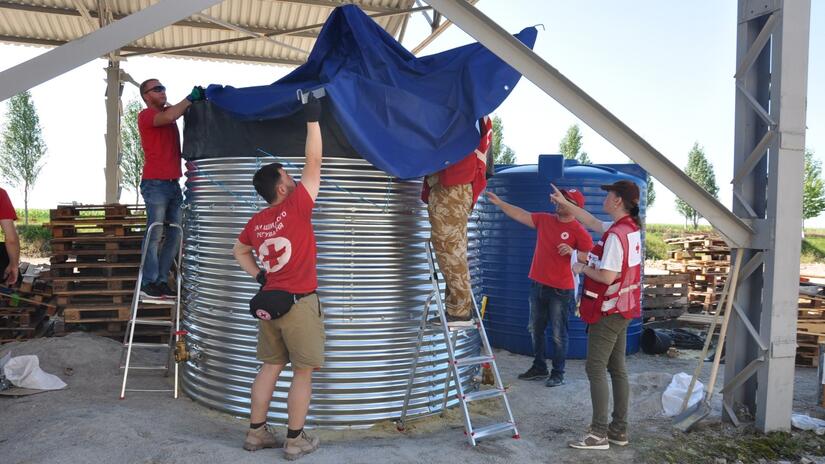 Photo: IFRC/Oksana Lysenko
 Marco Skodak, the ERU team leader, details their efforts: 
"We're launching Water, Sanitation, and Hygiene (WASH) activities in response to the dam's destruction. URCS volunteers are undergoing training to provide assistance, and, working alongside our specialists, they are already on the ground conducting needs assessments and establishing crucial water purification systems and pipelines."
By training up the Ukraine Red Cross Society in this way, the IFRC network is ensuring that communities get the long-term assistance they need to recover, and that volunteers have an even greater ability to respond should a similar disaster ever occur in future.
--
Click here to learn about how the IFRC is supporting local humanitarian action, including the different types of ERUs we can deploy.
And click here to learn more about the IFRC's work in Water, Sanitation and Hygiene.