The collapse of the Nova Kakhovka Dam in southern Ukraine on June 6 has resulted in a devastating flood, impacting numerous communities. People have already suffered the devastating impacts of the conflict and are now displaced from their homes; many have lost their houses and belongings with the flood waters. The health risks for affected people could increase in the coming weeks and there is a need for clean drinking water.
The International Federation of Red Cross and Red Crescent Societies (IFRC) network is working alongside the Ukrainian Red Cross Society to provide vital assistance to people who have been affected.
Addressing immediate humanitarian needs
Recognizing the urgency of the situation, the IFRC, together with its membership, is actively supporting the Ukrainian Red Cross Society in their response efforts. This includes operational, technical, and financial assistance to bolster its local capacity to deliver aid, distribute relief items, provide health support, promote good sanitation and hygiene practices, and address the immediate needs of the affected population.
Long-term recovery and rehabilitation
In addition to immediate relief efforts, the IFRC network remains committed to supporting communities affected by the flooding in their long-term recovery and rehabilitation. This includes facilitating projects to restore people's livelihoods, provide psychosocial support, and rehabilitate damaged infrastructure to help communities rebuild their lives.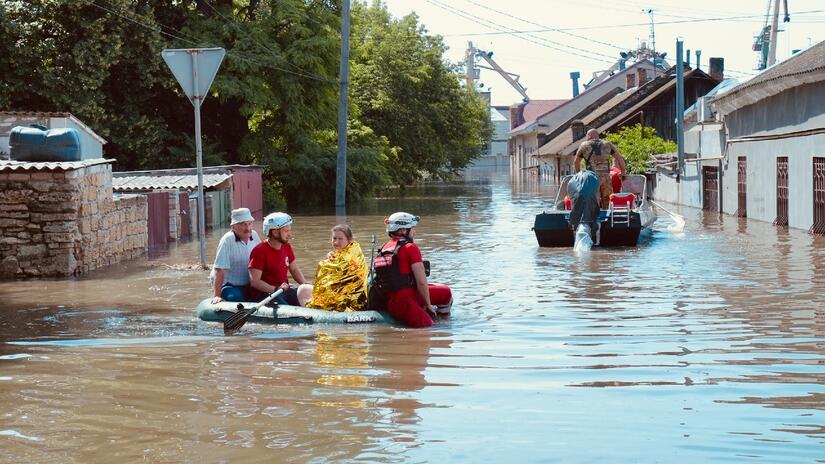 Photo: Ukrainian Red Cross Society
In the aftermath of the Nova Kakhovka Dam collapse, the IFRC network and Ukrainian Red Cross Society stand united in providing unwavering support to affected communities.
Since February 2022, the IFRC has scaled up its response with the Ukrainian Red Cross, together with National Societies from around the world. Together, we provide urgent humanitarian assistance to people in Ukraine and those who have been forced to flee to other countries.
Together, we are working tirelessly to address immediate needs, offer hope, and pave the way for long-term recovery. With the power of compassion and solidarity, we are committed to rebuilding lives and restoring resilience in the face of this devastating event.
--
Click here for more information about our work supporting people in Ukraine.