Community focus for global health risks
Community-level health volunteers and activities are vital to addressing the most pressing global health risks. Governments and international partners must provide greater funding and recognition for the role of community level health volunteers and interventions.
More than one billion people worldwide lack full access to appropriate, quality health services due to shortages in human resources and the limited availability of health facilities.
Projections estimate a potential shortfall of 18 million health workers in low- and lower-middle-income countries if we are to reach universal health coverage by 2030. To achieve the Sustainable Development Goals (SDG) and UHC, the world needs innovative solutions and a concerted effort from governments and international organizations to meet these demands.
As the COVID-19 pandemic has clearly shown, well-trained, community-based health volunteers and workers are indispensable to epidemic and pandemic response.
They have also proven to be highly effective at providing a wide range of other health needs—such as first aid, reproductive, maternal and child health, non-communicable disease prevention, and rehabilitative and palliative care services.
And they will be critical to ending cholera and to supporting the mental health and psychosocial needs of communities around the world affected by crises.
Our calls to action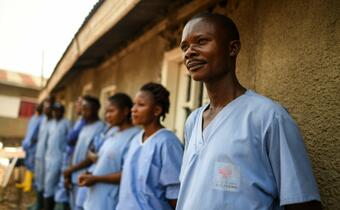 More support for community-level health volunteers and workers
Governments and international donors should recognize and support the role of both paid and volunteer community health workers.
Ending cholera
Cholera continues to threaten the lives of millions of people, yet it can so easily be prevented with the provision of safe water and sanitation.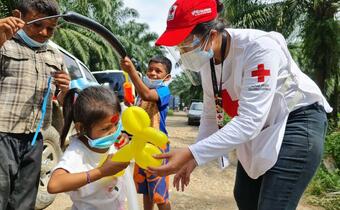 Scaling up mental health and psychosocial support
Learning from the COVID-19 pandemic to better support global mental health and well-being.
Featured document
Global Health Security
In a safe and secure world, people anticipate, respond to, and quickly recover from crisis, lead safe, healthy and dignified lives, and have ample opportunities to thrive.
The IFRC promotes community action to strengthen resilience, reduce risks and better prepare for disasters and crises such as natural hazards, epidemics, technological accidents, or population movement. The multi-hazard approach is pivotal for managing risks that are becoming more frequent and severe due to climate change, urbanisation, and emerging and re-emerging infectious diseases.
Get involved
Would you like to share your views and join us in supporting community health and community-level health volunteers and workers? If so, click here to engage with us.