National Societies Preparedness: COVID-19 Success Stories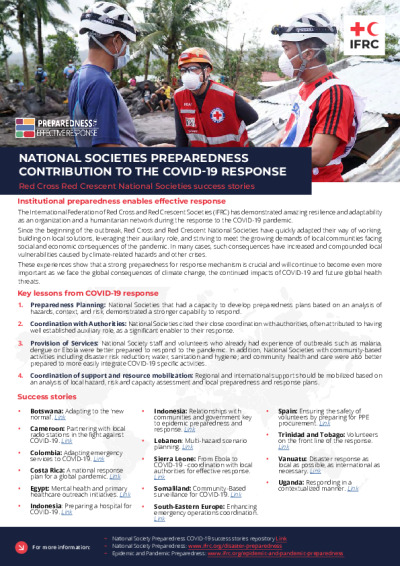 The International Federation of Red Cross and Red Crescent Societies (IFRC) has demonstrated amazing resilience and adaptability as an organization and a network during the response to the COVID-19 pandemic.
Since the beginning of the outbreak, Red Cross and Red Crescent National Societies have quickly adapted their way of working, building on local solutions, leveraging their auxiliary role, and striving to meet the growing health needs and demands of local communities facing social and economic consequences of the pandemic. In many cases, such consequences have increased and compounded local vulnerabilities caused by climate-related hazards and other crises.
These experiences show that a strong preparedness for response mechanism is crucial and will continue to become even more important as we face the global consequences of climate change, the continued impacts of COVID-19 and future global health threats.
Explore case studies below (available in English, French and Spanish) from around the world that highlight how National Society preparedness has contributed to the COVID-19 response. 
The two case studies from Indonesia are also available in Bahasa here and here.