Localization
Local humanitarian actors are the first to respond when disasters strike and often have access to areas that international actors do not. Their presence within communities before, during, and after crises means they are generally best placed to link immediate response efforts to longer term resilience-building, preparedness and recovery.
What do we mean by localization?
Photo: IFRC/Corrie Butler
Localization means increasing international investment and respect for the role of local actors, with the goal of reducing costs and increasing the reach of humanitarian action.
It is also a way of re-thinking the humanitarian sector from the ground up—recognizing that the overwhelming majority of humanitarian assistance is already provided by local actors.
An effective international humanitarian ecosystem would invest in both local and international capacities according to their areas of comparative advantage. 
Our call to action: invest in local humanitarians
Often when people hear the word 'humanitarian' they imagine a globe-trotting foreigner swooping in to a country affected by crisis and saving the day. But this image is far from the reality on the ground.
Local humanitarians—such as Red Cross and Red Crescent volunteers—are the ones actually doing most of the work of humanitarian assistance, often invisibly. Yet, the overwhelming bulk of international investment, attention and authority still flows to international organizations.
In 2016, a number of major donors and humanitarian organizations made important commitments on localization as part of the Grand Bargain. This included a global target of at least 25% of humanitarian funding to local and national responders as directly as possible by 2020.
It is critical that we ensure these good intentions are carried out. This will require:
Investing in a sustainable way, prior to disasters, in a strong fundamental organizational core of local organizations (e.g. finance and oversight mechanisms, leadership and institutional identity and purpose) rather than focusing narrowly on "response capacities".
Ensuring that international humanitarian coordination mechanisms are welcoming, contextual and relevant to local humanitarian actors.
Shifting from a sub-contracting to a partnership approach between international humanitarian actors and local civil society counterparts to avoid the potential for simply checking "donor quota" boxes. Where intermediaries (such as UN agencies, the IFRC and international NGOs) are used by donors, they too should act like donors and incubators, rather than as project managers.
What should local actors do?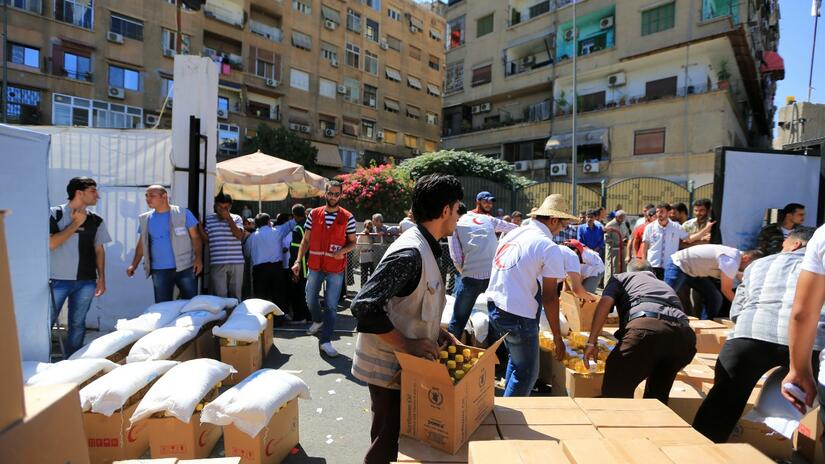 Photo: IFRC/Ibrahim Malla
It is equally important that local actors take responsibility to strengthen their own capacity and preparedness to lead.
This includes governments developing appropriate laws, procedures and institutional mechanisms related to international disaster response law (IDRL).
All local actors (governmental and non-governmental) interested in accessing these international funds must also ensure that they have adequately strong mechanisms to use them in a responsible and transparent way. 
Get involved
Would you like to share your views and join us in working toward a more localized humanitarian eco-system? If so, click here to engage with us.