By Hanifi Kınacı
"My dear son Fuad is my day and night, my life. He wakes up at 4 in the morning, and says: 'Mom, take me on your lap'. I rest a little bit and prepare breakfast, as my daughters have to follow online lessons due to the COVID-19 pandemic."
Şiriyeva Rəxşəndə is one of the nearly 1,000 people who have received financial assistance from the Azerbaijan Red Crescent Society through a project to help vulnerable families heavily affected by the COVID-19 pandemic meet their basic needs.
It has been a historic milestone, the first time the organization has provided humanitarian aid through cash and vouchers. This has been possible thanks to the emergency appeal the International Federation of Red Cross and Red Crescent Societies (IFRC) launched to support those most affected by the COVID-19 pandemic.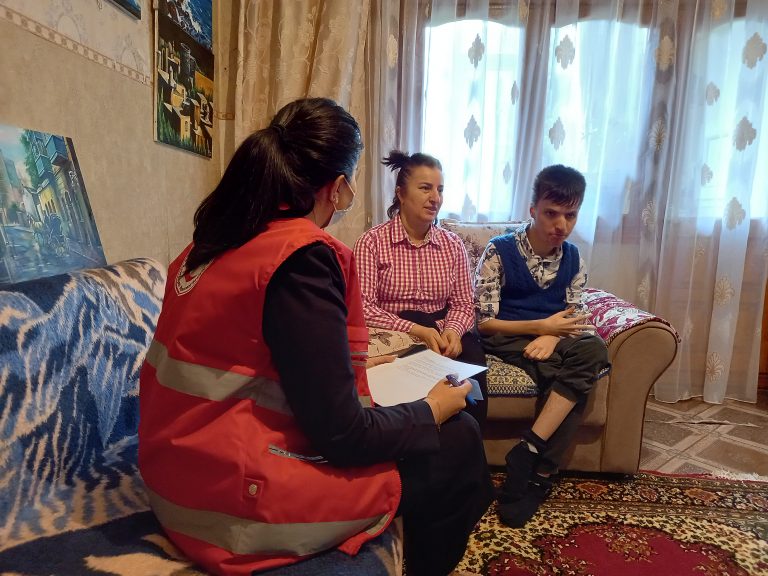 Very strong, full of compassion and energy, Rəxşəndə welcomed us into their home. It was almost impossible not to be captivated after entering the house, as all the walls were covered in colourful paintings. Amid lockdowns and confinements, one felt in a different land in each of those images.
When asked who the author was, she pointed proudly to the gentleman sitting quietly in the corner: "My husband." "These pieces of art and his imagination are our source of income," she added.
Rəxşəndə underlined that she is "a happy, hopeful mother of three children regardless of the hardships that life brings." She has two daughters who are currently studying and a son, Fuad, who is disabled. He needs adult diapers, and she had to go into debt to be able to buy them at the market.
The COVID-19 pandemic made the situation worse. Like millions of people around the world, Rəxşəndə, her husband and one of their daughters got infected by the virus. They recovered quickly, but were confronted with more problems.
"Our social relations were naturally affected: no visitors, no passers-by. And I have hernia, gained weight and couldn't carry Fuad anymore, so he could only take my arm. Restrictions and curfew were another challenge, especially for shopping," she said.
Her main concern were adult diapers, vital for her son and a great ease for her. The constantly increasing price of these essential items worried her. Furthermore, she and her husband had take a loan to get a computer so that one of their daughters could attend her virtual classes.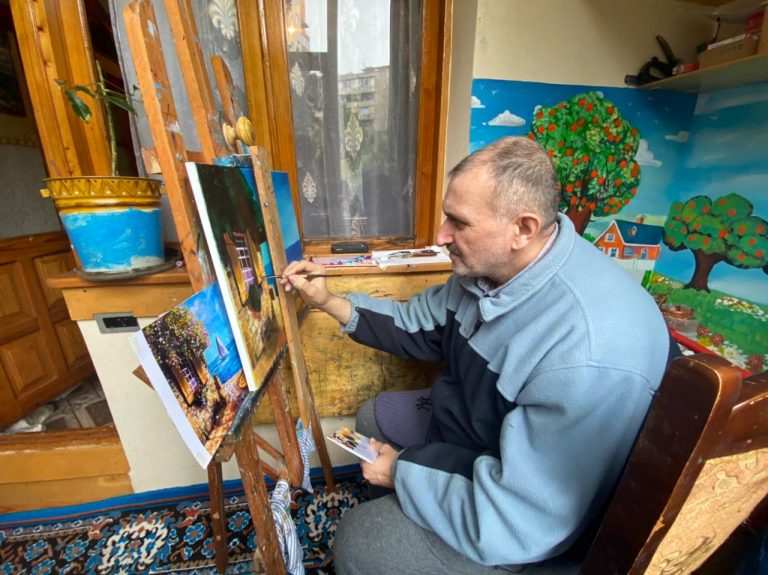 In normal times, they could earn a living and make ends meet even if Fuad's special needs were demanding. With the COVID-19 pandemic, they faced additional difficulties and new expenses. "As we only had Fuad's disability pension and my husband's, we were not able to pay off the bank credit," she explained.
The cash assistance provided by the Azerbaijan Red Crescent Society came right in time: Rəxşəndə was able to close all her debts in the market and buy diapers, purchase other necessities and even take care of the installments of the loan they had requested and which they used to get her daughter's computer.
While we were talking, her husband got up and took his canvas. Mother and son hugged each other.
Despite all the challenges of life, of time, they are firmly together and blissful.
Rəxşəndə's story underlines the importance of cash and voucher assistance in the humanitarian sphere, as this aid modality offers a dignified way for people to prioritize their needs and spend money accordingly.
"When Fuad has diapers and his favourite oat-flakes, I am the happiest person in this world and I don't need anything else," highlighted Rəxşəndə.
Photo credit: Hüseyin Salimov, volunteer of the Azerbaijan Red Crescent Society