It's one of those stories that even those involved find hard to swallow. "I think if someone told me this story, I wouldn't believe it…but it happened to me," says Hassan Al Kontar, a 38-year-old Syrian refugee currently living in British Columbia, Canada
For several months in 2018, Al Kontar was known as "the man at the airport" in the news, after he was stranded at the Kuala Lumpur airport for 7 months.
His story began in 2011 when conflict broke out in Syria while he was living in the United Arab Emirates (UAE). Not wanting to go back to Syria — to face civil war and likely conscription into the army — he stayed in UAE until his visa expired. Ultimately deported to Malaysia, he sought asylum in numerous countries, including Canada.
In the meantime, he waited in the airport. And waited.
He slept in airport chairs and in a small enclave under an escalator. He made friends with the cleaning staff who brought him food and coffee (the coffee shops were in a part of the airport he couldn't access).
Boredom and incessant boarding announcements were constant companions as the days ticked slowly by. He missed important family events, like his brother's wedding, which he watched via Skype.
Desperate and frustrated, he turned to social media, quickly becoming an internet and media phenomenon. News reports referred to him as a real-life version of Tom Hanks's character in the film, The Terminal.
"It's the small things — taking a shower, washing your clothes, getting medicine — things you do all the time that suddenly become impossible", explained Hassan.
"I remember day 122. I felt something strange. I could not tell what it was until I discovered that someone had opened a door to the outside. It was the first time in 120 days that I smelled fresh air."
Finally, in November 2018, a private group of Canadians succeeded in sponsoring Hassan's request for residency and he boarded a plane to British Columbia. Canada was the first country in the world to introduce a private sponsorship programme, which allows five individual Canadians or permanent residents to collectively sponsor a refugee. "Ordinary individuals are directly involved in saving lives," says Hassan. "If that's not being a hero, what is?"
Photo: Canadian Red Cross/Luc Alary
From limbo to inclusion
Hassan's airport experience was just one example of the legal limbo in which refugees often find themselves: stuck at borders, unable to move forward or back, as they try to make asylum claims and wait for some sign of hope.
Today, Hassan's story is an example of what can happen when refugees are given the chance to make a life for themselves and give back to their new communities. In Hassan's case, part of giving back means putting on the well-known red vest worn by volunteers and staff of the Canadian Red Cross.
Inspired by the work of the International Red Cross and Red Crescent Movement in Syria and in many other conflict and emergency zones around the world, Hassan decided to help others as his adopted country coped with a worsening COVID-19 pandemic.
"Working with the Red Cross is a dream come true," he says. "It's my way of giving back to the community that accepted me and gave me a chance. It's my way of showing the Canadian people that they were not wrong in giving me a chance."
Afraid of forgetting
Still, life is not always easy for a refugee half-way around the world from his family. "It's my destiny and the destiny of every refugee to live between two worlds," he says.
It's the little things — the aroma of coffee or fresh rain on a hot street — that bring back memories of his home in Syria, where his family has a small farm. "I am afraid of forgetting," says Hassan, as he prepares a Syrian style coffee in his flat in Vancouver. "I have not seen my mother, my siblings, for 12 years. I do not want to lose the connection."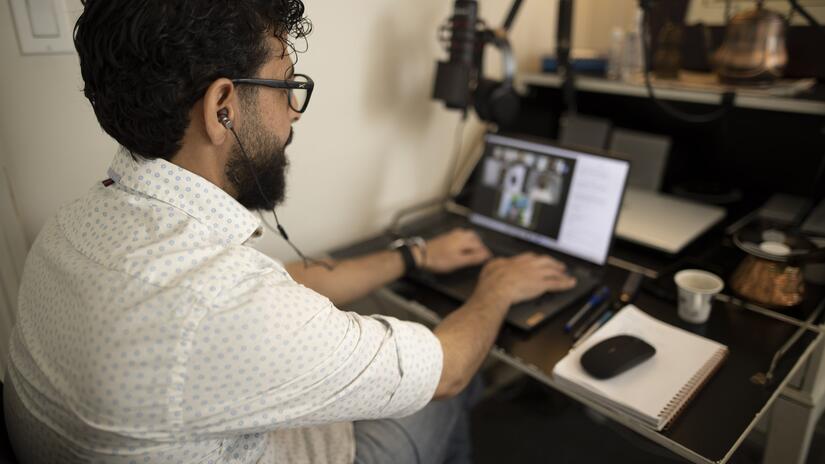 Photo: Canadian Red Cross/Luc Alary
What does it mean to be Syrian?
Now Hassan's mission is to help his family and other refugees find a similar sense of safety. He works with a group that helps sponsor other refugees and he continues posting on social media to raise awareness about the plight of refugees. He even wrote a book called Man @ The Airport.
"I want the western world to understand [Syrian refugees] more," he says. "To bring the gap closer between our two cultures. What does it mean to be Syrian? To be powerless? To be voiceless?"
But Hassan is hopeful. Ironically, he says the restrictions imposed due to the COVID-19 pandemic has helped many people better understand the plight of refugees. "During the pandemic, when all the borders were closed, people could begin to understand how it has always been for refugees. When all airports were forbidden areas, when all our passports, regardless of the color, were equally useless. This is still is the situation for most refugees in the world today."
--
This story was produced and originally published by the Red Cross Red Crescent Magazine. To learn about the Magazine, and to read more stories like this, click here.