Combining both learning and entertainment, mobile cinema has, over the years, become a prominent way of engaging remote communities around the world on a wide range of important topics—everything from how to stay healthy, to how to prepare for disasters.
Each mobile cinema kit contains a projection screen and tripod, laptop, microphones and speakers and a generator so they can still run even in the face of power cuts.
Since receiving the kits, the Cameroon Red Cross has been using mobile cinema to share life-saving messages about COVID-19, cholera, and any others relevant topics, which will help people to prepare and stay safe. All in an exciting and effective way, and within a community's own environment.
"Mobile cinema allows us to provide the right information that communities need in the fight against epidemics and disasters of all forms. This fun and useful tool is undoubtedly allowing us to improve our humanitarian response across the country,"
President of the Cameroon Red Cross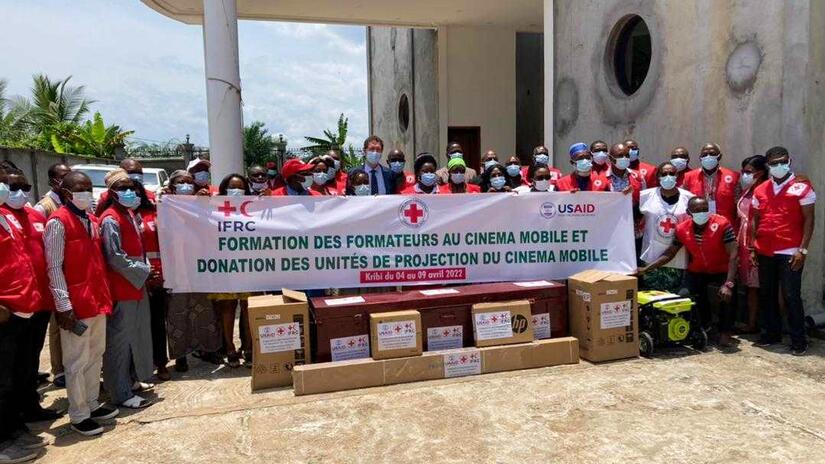 Photo: Muriel Atsama / IFRC
Mobile cinema screenings aren't just about sitting back and watching. They're also a great way to engage communities through question-and-answer sessions and to gather people's valuable feedback.
Each screening is facilitated by Cameroonian Red Cross volunteers—many of whom were recently trained in communication, community engagement and feedback collection. Listening to people's questions, concerns, thoughts and fears helps volunteers to understand communities' needs better, and tailor their work accordingly. Marlyse, a 15-year-old student in the southern city of Kribi who attended a recent screening, said:
"This is the first time I have taken part in this type of activity and I have learned a lot. We watched a video on COVID-19 and this reinforced our knowledge on preventive measures. Also the talk with the people from the Red Cross helped us to know more about the vaccine."
Mobile Cinema attendee in Kribi
You can watch the video Marlyse refers to below (in French): 
At the IFRC, we know that epidemics begin and end in communities. And that with the right information and support, everyone can play an important role in detecting diseases, responding effectively, and preparing for future health risks.
Take Mr Biyong, for example, a community leader in Kribi who is excited about the Cameroonian Red Cross project and the potential of mobile cinema:
"We are currently experiencing a cholera epidemic in our community and in the whole region. I think this tool is very timely! Through the broadcasting of the video on cholera, the modes of transmission and how to prevent this disease, my community members were able to see with their own eyes what we try to explain to them every day. This is really a tool that will help stop the spread of the disease."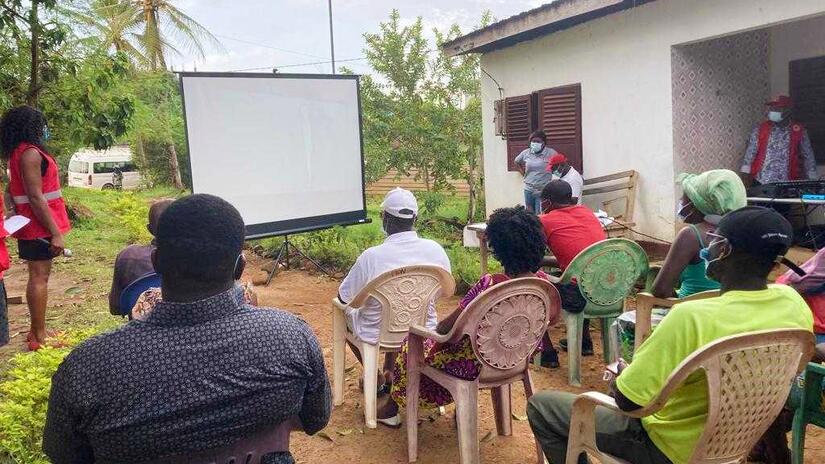 Photo: Muriel Atsama/IFRC
Together, the IFRC and Cameroonian Red Cross hope to expand mobile cinema screenings across the country in the coming months, listening to and learning from the people we support as we go.
"In addition to things like food, water and shelter, we know that information is, in itself, aid. The IFRC is working hard to help National Societies like the Cameroonian Red Cross take ownership of the opportunities and benefits of this exciting mobile cinema approach to making communities more resilient," ​​​​​​
IFRC Head of Country Cluster Delegation for Central Africa
--
This work in Cameroon is part of the IFRC's multi-country Community Epidemic and Pandemic Preparedness Programme (CP3), funded by USAID. Click here to learn more about the project and our work in this area.
And if you enjoyed this story, you may also be interested in our new case studies showing how Red Cross and Red Crescent Societies have helped prepare communities for, and protect them from, COVID-19.