Immunization is the foundation of healthy communities. And right now, in the continued fight against COVID-19, vaccines are one of many important tools we have to keep communities around the world safe and healthy.
The International Red Cross and Red Crescent Movement is supporting COVID-19 vaccination efforts in 172 countries. And, together, our National Societies have supported more than 325 million people to access COVID-19 vaccination globally.
Since the start of the pandemic, we've made special efforts to reach vulnerable, marginalized and hard-to-reach communities worldwide. To go what we call the 'last mile'—because all people, no matter who or where they are, deserve access to health services, vaccines, testing and lifesaving treatment. And because we know that no one is safe until everyone is safe.
So, what does this work actually look like? Scroll down to discover photos and examples from five different countries: Papua New Guinea, Libya, Zambia, Kyrgyzstan and Canada.
And if you like what you read, sign up to the IFRC's immunization newsletter for a monthly round-up of immunization activities in response to COVID-19 and other diseases.
Papua New Guinea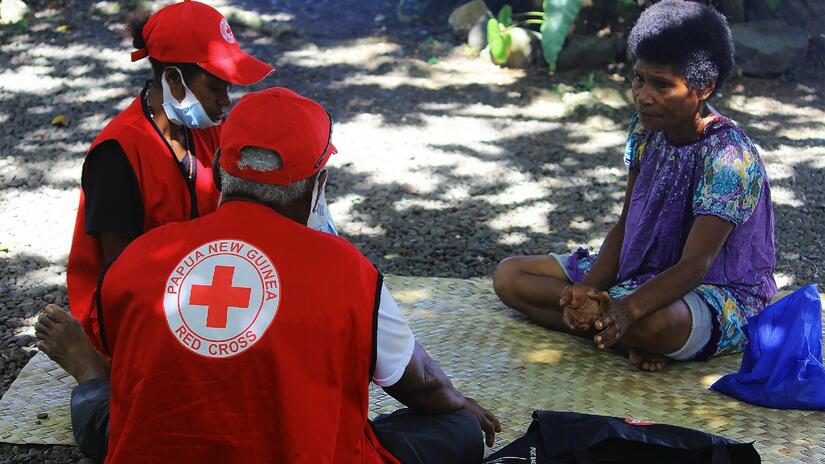 Photo: Papua New Guinea Red Cross Society
Papua New Guinea has one of the lowest vaccination coverage rates in the world. The Papua New Guinea Red Cross is working closely with provincial health authorities in the rollout of COVID-19 vaccines, and a crucial part of this work involves building public confidence in vaccination.
Volunteers are providing accurate, reliable and trusted public health information about COVID-19 vaccination. In many cases, they work in partnership with local community groups—such as the Country Women Association in Madang province—to reach people in spaces they already feel comfortable in. By listening and responding to people's concerns about the vaccines, they are dispelling people's fears and encouraging more and more people to come forward for their jab.
Libya
Photo: Libyan Red Crescent
The Libyan Red Crescent Society is partnering with the Libyan National Centre for Disease Control to support the rollout of COVID-19 vaccination—with a focus on community engagement and logistical support.
More than 600 volunteers have been going out and about in their communities to engage with local people and answer their questions about vaccines. Volunteers have been helping with vaccine registration and data entry, so people can sign up for their jabs, and several Libyan Red Crescent health clinics in the south of the country are currently being used as vaccination centres.
Zambia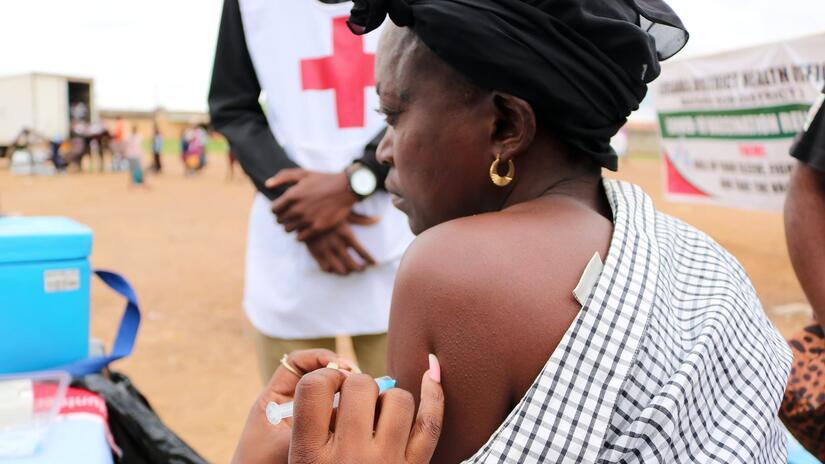 Photo: Zambia Red Cross Society
Zambia Red Cross Society volunteers are running a mobile COVID-19 vaccination campaign to take vaccines out to remote and hard-to-reach communities across the country. They're working with trusted local community leaders, helping them to be advocates for COVID-19 vaccines so that their communities feel confident coming forward.
Volunteers are also working hard to continue routine immunization activities across the country so that all Zambian children are fully immunized before the age of 5.
Kyrgyzstan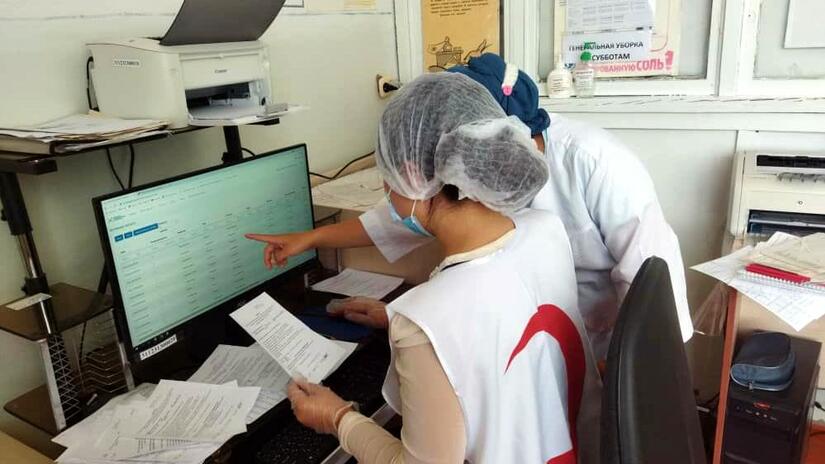 Photo: Kyrgyzstan Red Crescent Society
Hundreds of Kyrgyzstan Red Crescent Society volunteers across the country have dedicated their time to supporting the Ministry of Health and Social Development's rollout of COVID-19 vaccines.
They set up a special COVID-19 vaccination hotline to answer the public's questions and address rumours and misinformation about vaccines. And they've been deployed to vaccination centres to lead vaccine registration and data entry so people can easily schedule their appointments.
Canada
Photo: Canadian Red Cross
In Canada, the Canadian Red Cross has been supporting provincial, territorial and Indigenous health authorities in vaccination efforts among remote and Indigenous communities.
For instance, in Northern Alberta, CRC's Indigenous staff have been embedded into mobile vaccination teams to help understand and address the roots of vaccine hesitancy. They've been supported virtually by an Indigenous People's Help Desk, set up to respond to the unique needs of Indigenous leadership during the pandemic.
--
For more information, visit our immunization page or sign up to the IFRC's monthly immunization newsletter.