World Disasters Report 2015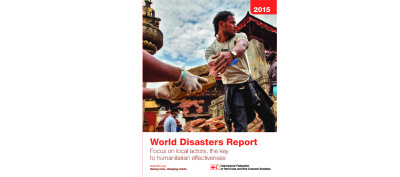 Our 2015 World Disasters Report focused on local actors as the key to humanitarian effectiveness.
The Ebola crisis in West Africa, the Nepal earthquake, the conflict in Syria, floods in Germany and Hurricane Sandy in the United States mobilized our humanitarian response. They were all very different crises, but they shared one common feature. Each of them highlighted the critical yet often undervalued role of local actors.
Local actors are always the first to respond. In Nepal, local volunteers and emergency workers were responding even as the dust from the earthquake still hung in the air. In West Africa, well before the world woke up to the true nature of the Ebola threat, local health workers and affected communities were treating and isolating the sick and burying the dead.
Their effectiveness goes beyond their proximity. They are also effective because of the perspective they bring. Because they are present in communities before a crisis hits, they see it not as an event in and of itself, but as something that is linked to the past, to unaddressed risks, vulnerabilities and inequalities. Emergencies – disasters, health crises, even conflicts – are not beginnings or ends, no matter how severe. They are moments that need to be overcome; simply overcoming them, however, will not put an end to the challenges faced by communities.