It's 8am on a peaceful Sunday morning in Copán Ruinas, a small, picturesque town in western Honduras that was formerly one of the most powerful cities in the Mayan empire.
Shopkeepers are starting to open their doors. A scattering of women and children play in the main square. And many locals – wearing their signature wide-brimmed hats – are heading out on their morning walks.
But one man stands out in his bright red vest and cap. A large Red Cross emblem and the words Cruz Roja Hondureña proudly emblazoned on the back. I watch for a moment as he chats to people in the village, who all seem to greet him warmly with a handshake or fist bump.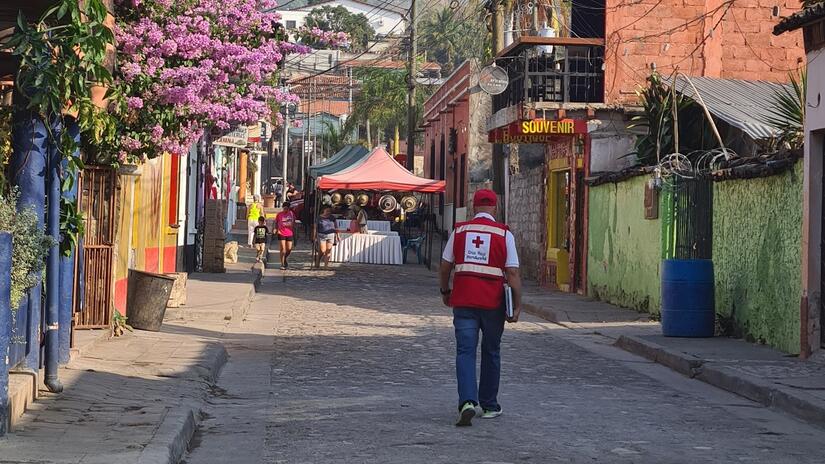 I catch up to him, say a friendly "¡Hola, amigo!" and learn his name is Stanley. A Red Cross volunteer for more than 22 years, he's on his way to a meeting with fellow volunteers and staff from around their region. He invites me to visit the local branch later that afternoon to learn about what they do.
And so I did! And the welcome couldn't have been warmer.
Over lunch, I learned that everyone had come together from across the region to share their stories, knowledge, and experiences of supporting their local communities through various crises and day-to-day challenges.
Let me tell you about three of the people I met: Mirian, Napoleón and Loany.
Mirian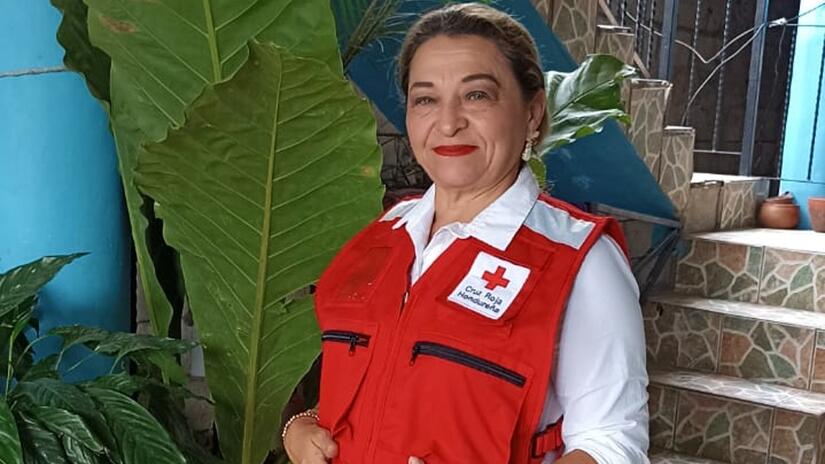 Photo: Honduran Red Cross
Mirian is the proud President of the Copán branch and has been volunteering for more than 10 years. Her branch runs the only two ambulances in the whole town, meaning that when someone gets into trouble, it's her team that answers the call.
She oversees far more than emergency health services, though. Her branch does a lot of work helping local people, including indigenous groups living in the surrounding hills and schoolchildren, to be prepared for crises – such as hurricanes and floods.
Her branch is also supporting the growing number of migrants passing through Honduras on their way northwards, including, amongst other things, through Humanitarian Service Points: strategically located spaces where migrants can access safe and reliable support on their journeys.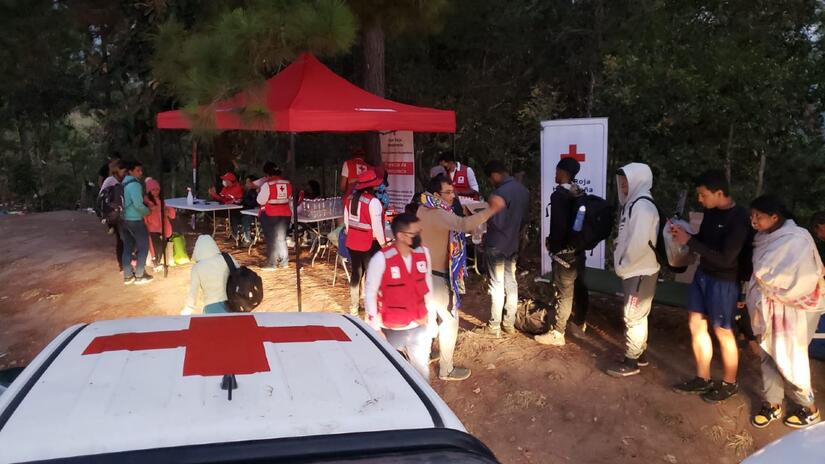 Photo: Honduran Red Cross
"I am motivated by humanitarianism, by seeing how the Red Cross is an organization full of love for others. That we are people willing to give everything. For me, it's the best thing that ever happened to me – being a member of the Red Cross family," says Mirian.
Napoleón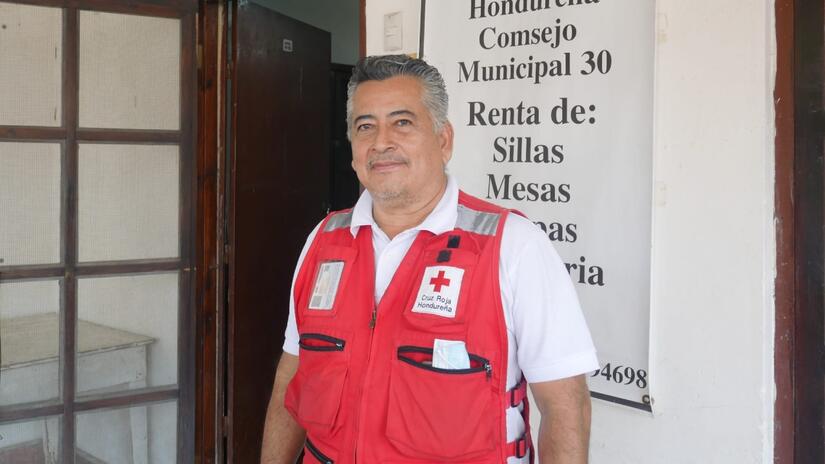 Napoleón is based in San Pedro Sula, Honduras' second largest city. He's a former cameraman who has been volunteering as a driver for the Honduran Red Cross for five years.
A couple of years ago, Napoleón was one of many Honduran Red Cross volunteers who responded to devastating hurricanes Eta and Iota that ravaged the region.
He describes driving a large rescue truck through flood water so deep his vehicle nearly washed away. Despite treacherous conditions, he was able to reach and help rescue many stranded people, their belongings, and pets. He also assisted with the massive recovery and reconstruction effort, helping to put people's lives and homes back together again.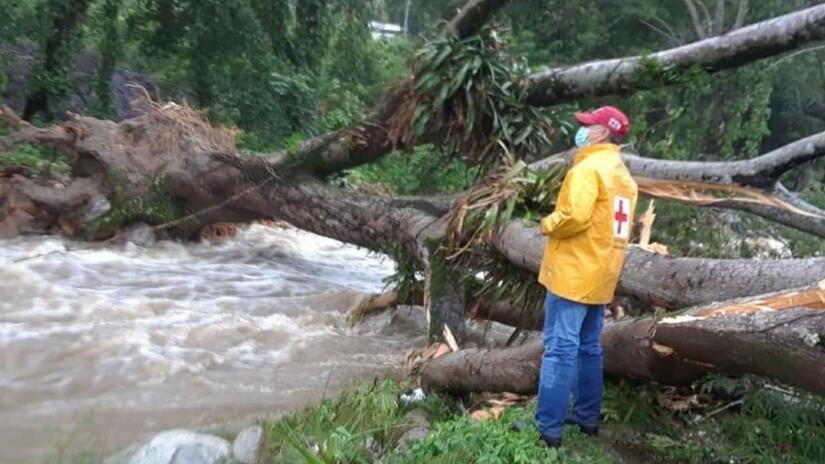 Photo: Honduran Red Cross
The pride Napoleón takes in volunteering is written all over his face. His smile beams from ear to ear as he talks about supporting his fellow volunteers and rallying them together during a crisis.
"I like being a volunteer because you donate part of your life and you share feelings in helping humanity. It makes you feel good, feel satisfied, to be able to help," says Napoleón.
Loany
Loany is also based in San Pedro Sula, but her role is a little different. She's not a volunteer, instead she's employed by the Honduran Red Cross to help volunteers.
She works with local branches, like the one in Copán, to improve their governance, financial management, and resource mobilization, so that their volunteers can provide better care and support to their communities.
While it might not sound as impressive as wading through flood waters to rescue survivors, Loany's work is no less important. Strong local branches are the bedrock of the IFRC network. Without them, we can't provide the fast, effective and local support that communities in crisis really need.
With one year's experience, Loany is a relative newcomer to the Red Cross family. I asked her what working for the Red Cross means to her and whether she plans to continue:
"For me it means love, because wanting to do things well, wanting to help other people who are vulnerable or at risk, makes us give the best of ourselves as people. Now that I've entered the world of the Red Cross, I don't know if I'll ever leave!," she says.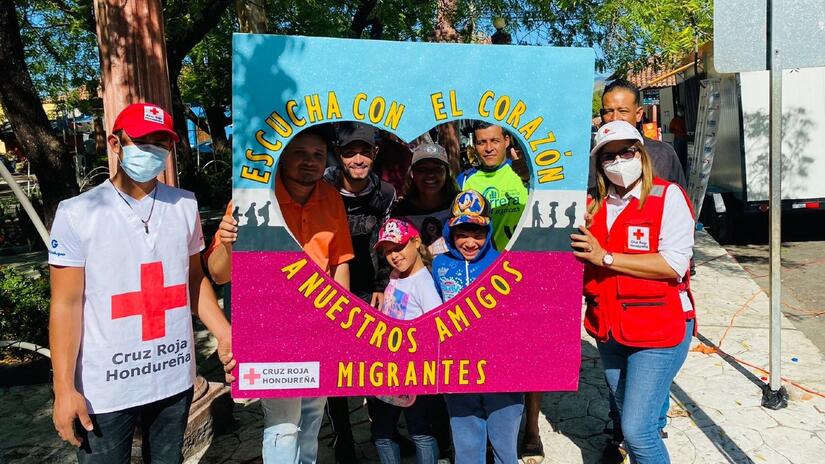 Photo: Honduran Red Cross
At the end of the volunteer meeting, the group disbands, bidding each other fond farewells.
I walk back to the main square in Copán, thinking about a word we often use in the humanitarian sector: 'localization'.
It's a jargon term. But what does it really mean?
I realise that, to me, it means Mirian, Napoleón and Loany: three people working hard within their local communities to make life better, safer, and brighter for those around them.
And it means Stanley: a man treading the same familiar streets for years in his hometown wearing his Red Cross vest. A man known, trusted, and respected by his local community, there for them through good times and bad.