Food has always a central part of Houda Al-Fadil's life. Some of her fondest childhood memories center around preparing dishes such as makdous (pickled or oil-cured, stuffed eggplant) with her mother in her home town on the outskirts of Damascus.
"We sat around our mom when she prepared it," she recalls. "We did the same when she prepared mulukhiyah," she adds, referring to a leafy plant from the region used like spinach in stews or with lamb and rice. "These were happy times and wonderful get-togethers with my mom and sisters."
Then war broke out and the happy days ended. Houda's husband lost his job and the family faced tremendous hardships. That's when her cooking skills came in handy. "I cooked kibbah (croquettes filled with lamb or chicken) and I prepared hacked parsley, stuffed zucchinis and grape leaves," she says. "For those celebrating the arrival of a baby, I supplied wrapped candies. I made pancakes."
The key ingredient
Today when Houda cooks mulukhiyah or uzi (pastry stuffed with peas, sautéed nuts, vegetables, meat and rice ), it has an entirely different meaning. Houda now lives in Türkiye, a country that welcomed her after she and her family fled Syria, terrified and weary after years of indiscriminate shelling, random abductions, and a lack of opportunity and future for her children.
In her new home of Kahramanmaras, in central southern Türkiye, Houda's cooking skills are the now key ingredient in her quest for a new life. They not only provide a small income and meaningful employment, they offer a way to connect with people in her new community.
Her new culinary adventure began when Houda enrolled in a traditional Turkish cooking course offered at a community center run by the Turkish Red Crescent, supported in part with funds from the European Union and operated as part of a partnership with the International Federation of Red Cross and Red Crescent Societies (IFRC).
There are 16 such centres in Türkiye and they are open to people from both Syrian refugee and Turkish communities. They help connect people with lost loved ones, provide child-friendly spaces, and offer a range of services from vocational training to business development, psychosocial support, health referrals, among many other things.
"I signed up in a cooking course, a sport class and a course in agriculture," Houda says. "We grew pepper and tomatoes. The experience was great. I enjoyed all the courses, but I found great pleasure in the cooking course."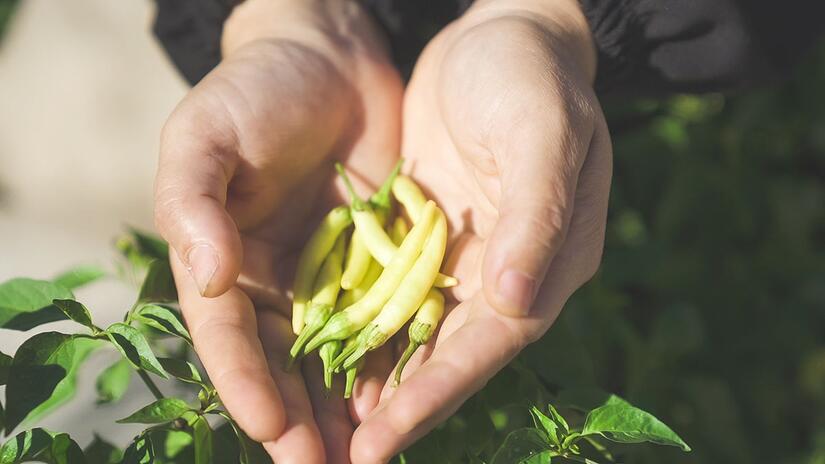 Sharing recipes, sharing friendship 
Now she is able to make a living much as she did before the war by cooking uzi and mulukhiyah in the Turkish style. "There were Turkish and Syrian women with us. The Turkish women learned from us the Syrian style of cooking and they taught us the Turkish way."  
"I learned how to cook manti (traditional Turkish dumplings) and tarhana [a spicy Turkish soup]. I also learned that we had many things in common with the Turkish way." 
Now Houda has a small but growing list of customers who use Facebook, Instagram and WhatsApp to place their orders, which the customers then picked up or or wait for them to be hand delivered by the chef herself. Houda also sells her dishes at small events called kermes. "This activity has served me well. It directed me to the right path."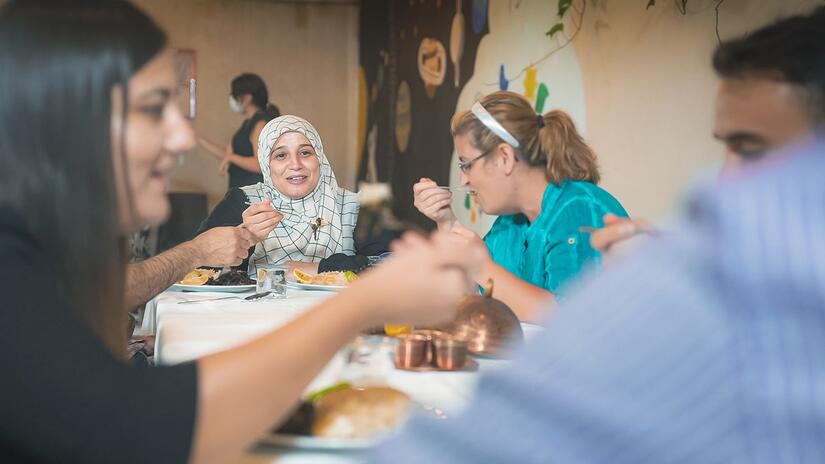 Still, fitting in to a country with a different language and culture is not always easy. Fatma Beyaz, an interpreter at the Turkish Red Crescent Community Centre in Kahramanmaras, says Houda's growing culinary skills will help her and her family find a seat at the table in their new Turkish community. 
"Houda is a very happy and positive person when she came to the Community Center, but still she needed some support,"says Beyaz, who has served as a kind of a personal mentor to Houda. "Now her confidence and her social skills increased. She found a community and started to make in income for herself." 
Meanwhile, Houda is already thinking long-term. "I have a dream; I have a dream to open a little restaurant," she says. "A restaurant that offers all kind of dishes: Turkish, Syrian or from elsewhere. I hope I could open such restaurant, in which people from Syria, Türkiye and other places can come together and strengthen the ties between them." 
--
This story was produced and originally published by the Red Cross Red Crescent Magazine. To learn about the Magazine, and to read more stories like this, click here.
We caught up again with Houda in 2023 following the devastating 6 February earthquake that affected hundreds of thousands people in Türkiye and Syria. You can read that story here.