Three months into the ongoing conflict in Ukraine, the International Federation of Red Cross and Red Crescent Societies (IFRC) has distributed financial assistance totalling more than 4.3 million Swiss francs to thousands of people on the move.
IFRC Head of Emergency Operations for the Ukraine response, Anne Katherine Moore, said:
"The longer the conflict continues, the greater the needs become. The cost of basic necessities, such as fresh fruit and vegetables, is rising. Increases in the cost of fuel and apartment rentals are also being reported. Millions of people have lost their jobs and their savings are dwindling. Through a new mobile app, we have been able to ramp up our support to help people facing these financial challenges."
The new technology makes it possible for the IFRC and responding National Societies to reach people at scale and to deliver cash assistance digitally. Successfully introduced in Romania, the mobile app allows refugees to self-register for assistance online, negating the need and cost involved of having to travel to a central location.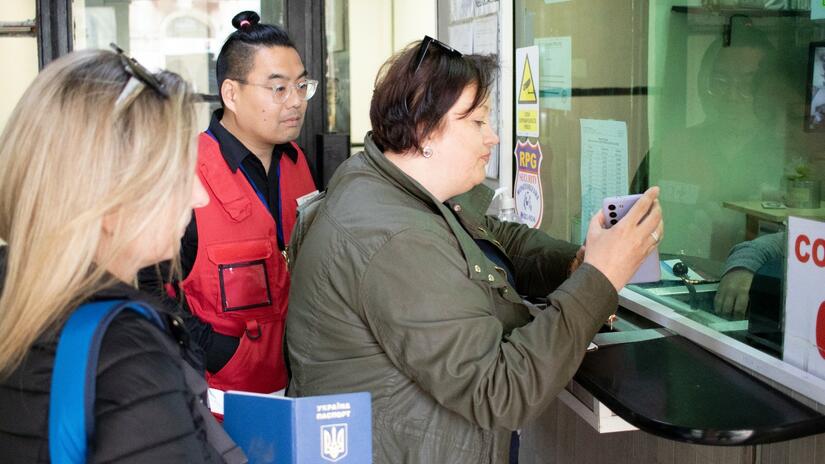 The app will soon be expanded to Poland and Slovakia, where cash assistance is already being provided through more traditional methods such as in-person registration, as well as Ukraine and other neighbouring countries.
"This is the fastest we have ever delivered cash at this scale. It has the potential to be a game-changer for our work not just in this response, but also in future operations," Moore continued.
Cash assistance is a dignified and efficient way to support people impacted by the conflict, allowing them to purchase items specific to their individual needs, while also supporting local economies. It is one part of our integrated and wide-ranging Red Cross and Red Crescent response to the conflict that also includes the provision of health care, first aid, psychosocial support and the distribution of basic household necessities.
Speaking about next steps, Moore said: "There is no short-term solution to the needs of the more than 14 million people who have been forced to flee their homes. We know that even if the conflict was to end tomorrow, rebuilding and recovery will take years. People have lost their homes, their livelihoods, and access to timely healthcare. The IFRC, in support of local National Red Cross Societies in the region, will be there helping people now, and in the months and years to come."
--
Watch: our response 3 months on
During the past three months:
Together, we have reached more than 2.1 million people with life-saving aid within Ukraine and in surrounding countries. This is 1 in 10 people who had to flee their homes because of the conflict.
Along the travel routes within and outside Ukraine, we've set up 142 Humanitarian Service Points in 15 countries to provide those fleeing with a safe environment. There, they receive essential services like food, hygiene items, blankets, clothing water, first aid, psychosocial support, information, and financial assistance.
In total, we distributed 2.3 million kilograms of aid.
71,000 Red Cross and Red Crescent volunteers are responding to the crisis.