The two women in the back of the ambulance held each other's hands tightly as the vehicle rushed through the night on the rough road to Than Phyu Zayat, Myanmar.
Late in the afternoon, the Myanmar Red Cross ambulance crew had collected a young pregnant woman from her home in Kyaik Kha Me Township, taking her to the local hospital as her contractions intensified. But with no doctor available they were directed to the regional hospital some 70 kilometers away.
With the baby in a breech position, it was going to be a difficult delivery for the 27-year-old first time mother, Moe Thuzar. 
Public services had been drastically disrupted following the military intervention of February 2021. The combination of the political crisis and COVID-19 had put healthcare services – including maternal and new-born health – under severe strain.
Recently divorced and living with her widowed mother, Moe worked late into the pregnancy doing "Kya" jobs  (random tasks at people's houses) to make ends meet, and was often forced to skip meals as food prices increased sharply.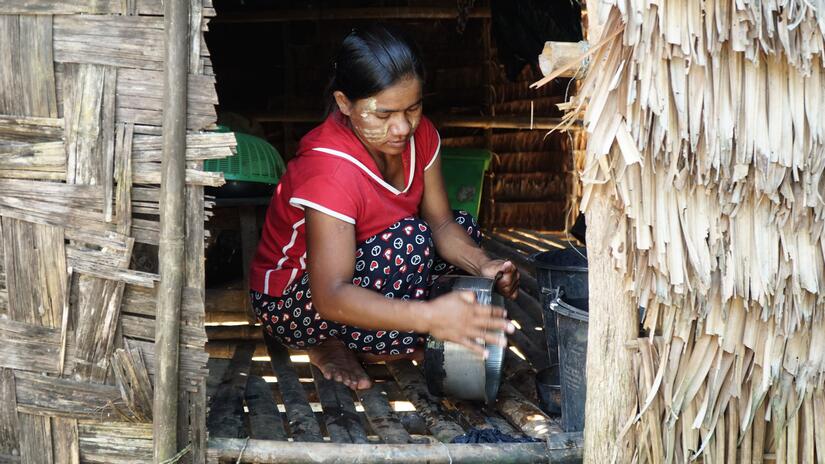 Photo: Myanmar Red Cross Society/Swe Zin
That afternoon when her contractions began, a Myanmar Red Cross volunteer in the neighbourhood took her to the local hospital. When they found there was no doctor there, a call for help was sent to take Moe to the next town. 
As night was falling, Myanmar Red Cross ambulance volunteer Thi Thi Mon received the emergency call to transport the young expectant mother.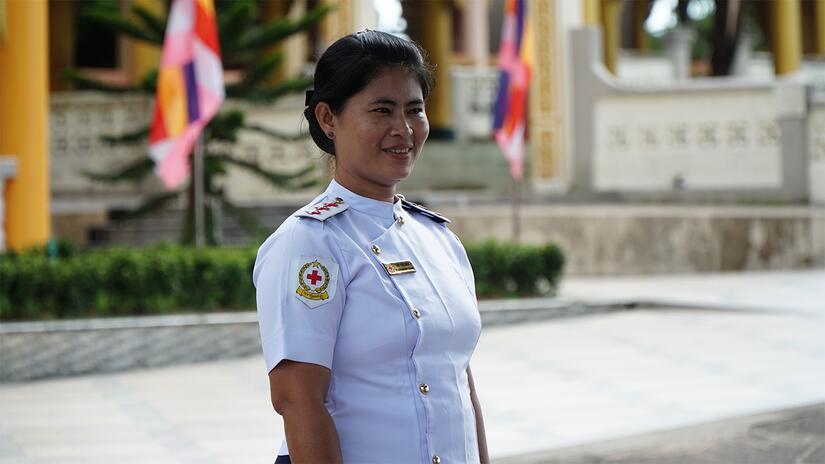 Photo: Myanmar Red Cross Society/Swe Zin
As a Red Cross veteran of 25 years, Thi Thi Mon quickly jumped into an ambulance to collect Moe from the local hospital.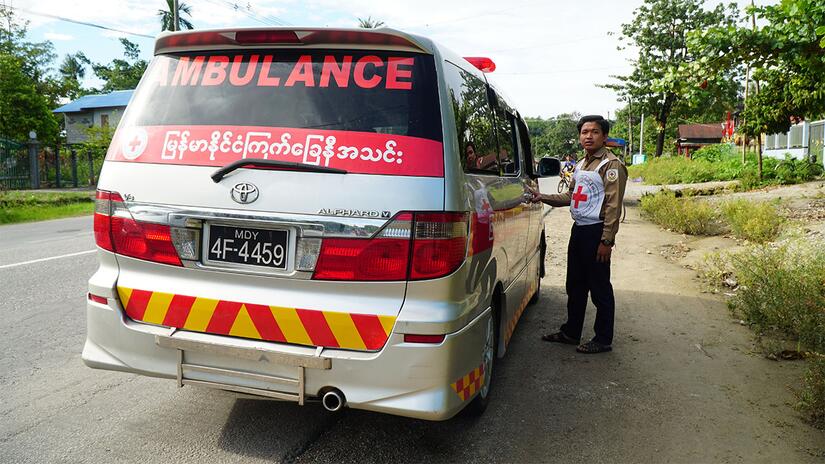 Photo: Myanmar Red Cross Society/Swe Zin
The team rushed to the regional hospital but the doctor there didn't have the facilities to deliver the baby, which was now blocking the birth canal.
He urged the ambulance to drive to Than Phyu Zayat township, Mon State. But, halfway between hospitals, Moe Thu Zar said that she could not cope anymore and begged Thi Thi Mon to help. The former midwife made the choice to deliver the baby there and then.
The baby was born in the back of the ambulance, his umbilical cord wrapped dangerously around his neck, but breathing.
"The baby did not make any sound at first, so I had to shake him a little before he cried out loud," Thi Thi Mon recalls. 
The team resumed their journey at top speed reaching the hospital in Than Phyu Zayat township in ten minutes. They provided oxygen to the baby and transferred the mother and child to a state hospital for intensive care.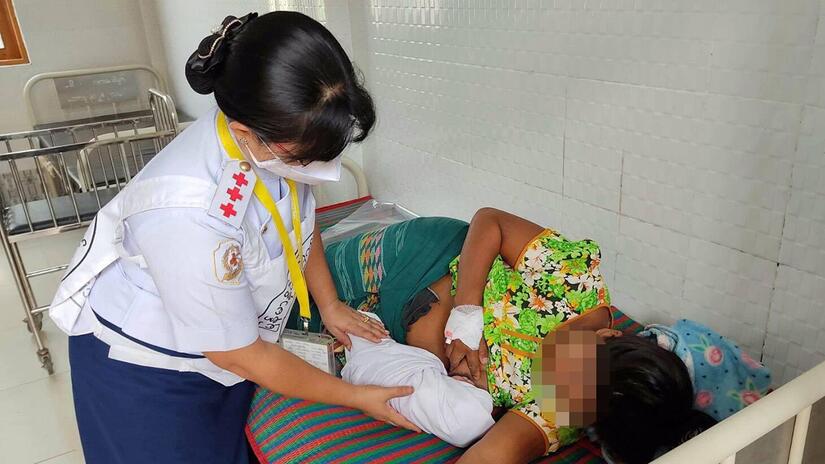 "She named my boy as "Maung Kan Kaung" (Burmese translation: Lucky boy). I am grateful towards the Red Cross members who helped us. We are alive only because of them," says Moe Thuzar.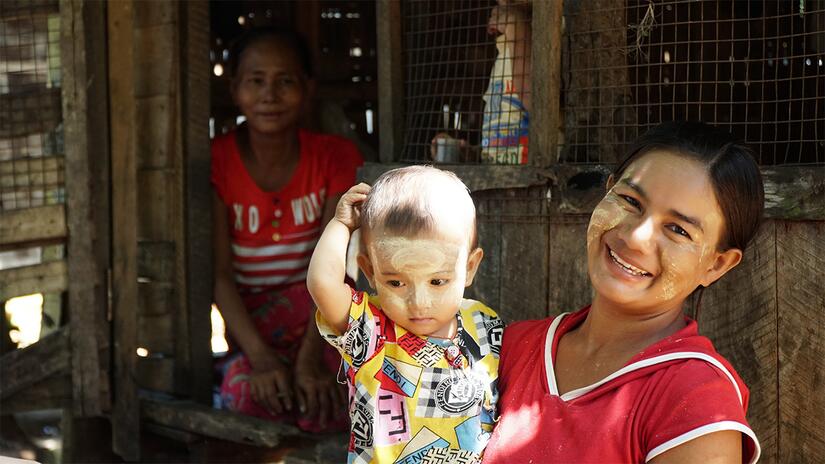 Photo: Myanmar Red Cross Society/Swe Zin
"Since I was a child, I loved one of the Red Cross' seven fundamental principles: humanity"
"I will never forget this memorable night. I believe if everyone gets First Aid training like I did, there will be fewer helpless people, " says Thi Thi Mon.
--
From February 2021 to December 2022, Myanmar Red Cross First Aid teams have helped with the referral of around 12,833 patients. The ambulance service has helped more than 300 pregnant women and newborn babies to access emergency treatment. In areas where local communities lack access to medical facilities, the Red Cross has established First Aid Posts and community clinics where volunteer doctors and medical staff provide basic healthcare. 
These volunteers keep the spirit of humanity alive.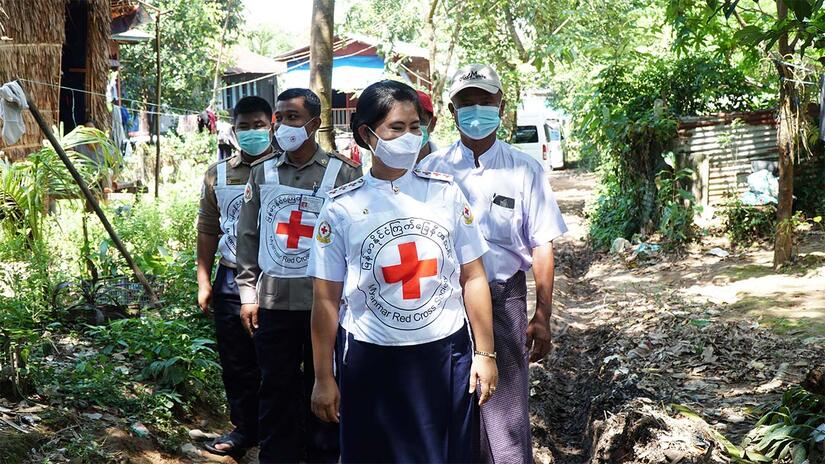 Photo: Myanmar Red Cross Society/Swe Zin
--
To read a longer version of this story, click here.