It is early in the morning on a hot day of July 2022. Long queues of people are seen in the courtyard of the primary school of Gorou Kirey, in a remote suburb of Niamey, the capital of Niger. The site is hosting a Niger Red Cross cash distribution operation for communities affected by the hunger crisis in the country. Boubacar Alzouma, a 76-year-old farmer, was among the first people to arrive.
"I was not going to miss this, as there was nothing to prepare at home today," says Boubacar, leaning on his walking stick for support. "It's embarrassing to say this, but there are days when we have nothing to eat at home," he continues.
Photo: IFRC/Moustapha Diallo
Last year's poor harvests due to erratic rainfall have brought Boubacar's family to the brink of starvation. He was only able to harvest two bags of food from his 2-hectare field of millet, sorghum and cowpeas—insufficient to feed his 21 children. To cope with the hunger situation, Boubacar had made the difficult decision to sell all his livestock.
"Our biggest hope is to have good rainfall this year. Otherwise, it will be a disaster again," he says.
After receiving cash from the Niger Red Cross, Boubacar rushed to buy food. Had it not been for this assistance, his family would have gone to bed hungry.
The hunger crisis has affected 4.4 million people in Niger and is a result of the combined effects of climate shocks and insecurity. Boubacar's story speaks for many.
To help people cope, the Niger Red Cross has provided nearly 6,000 affected households across the country with cash assistance since May, supported by the IFRC and other partners from the International Red Cross and Red Crescent Movement. Assistance also includes food parcels in some areas and livestock feed to help farming families protect their livelihoods.
The Niger Red Cross is also setting up community nutrition centres to screen and refer malnourished children to health centres. But more needs to be done to prevent the situation from worsening.
"A rapid and strengthened response is needed to save lives, as the early lean season has pushed many families to the breaking point," says Thierry Balloy, Head of IFRC Cluster Delegation in Niger.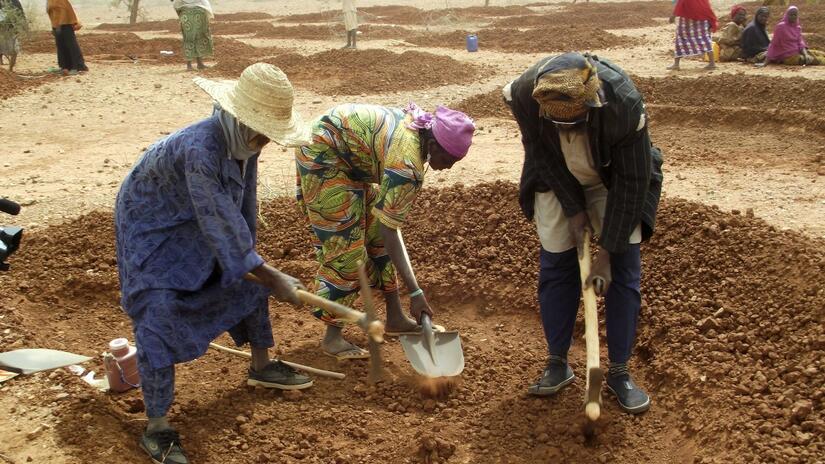 The scale of the hunger crisis prompted the IFRC to launch an emergency appeal for five million Swiss francs in May to support the Niger Red Cross in assisting 283,000 people (40,547 families). Money raised will be used to provide cash, nutrition and livelihoods support to the most vulnerable people, as well as long term resilience-building solutions. But as of July 2022, the appeal is only 30% funded.
Boubacar's future, and the futures of many other farmers like him in Niger, remains uncertain. But despite the challenges he and his family face, he remains hopeful:
"If I receive a second grant and the next harvests are good, I will buy cattle. This will help us cope with the next difficult lean season," says Boubacar.