Kenya is one of many countries in Sub-Saharan Africa currently experiencing one of the most alarming food crises in decades.
Severe drought, due to the failure of four consecutive rainy seasons, means millions of people in the country are facing hunger and thirst.
But drought isn't the only problem. High inflation, climate-related disasters, conflicts and displacement are just a handful of the other local and global factors at play that are putting people's lives across the country at serious risk.
And as a result of the hunger crisis, we're also seeing higher rates of child marriage, increased school drop outs and escalating conflicts as people try to cope and access precious resources.
The Kenya Red Cross Society, supported by the IFRC, has been helping affected communities to protect their lives and livelihoods through this crisis. Their local volunteers are distributing food, rehabilitating water sources, providing cash transfers and supporting people's nutrition—reaching more than 100,000 households so far.
In this article, hear from some of the people we've supported as they talk about how this historical drought is affecting their and their families' lives.
Scolastica Esekon, Aukot Village, Ngaremara, Isiolo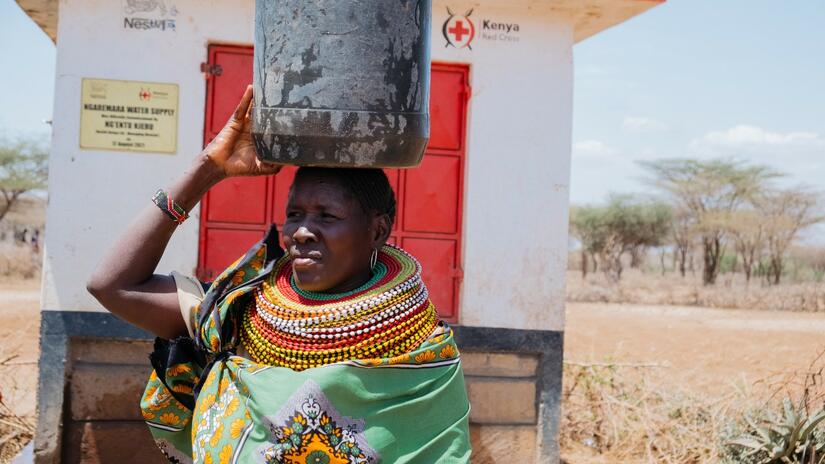 "I have been blessed with eight children. Now that it is dry and the cattle have left to find pasture elsewhere, we may be without food all afternoon and evening. Livestock has died and at the same time prices have risen. I might get 200 or 500 shillings a day for manual work, but that's enough for one meal, and we are hungry again in the evening.
Life is hard for women. The young people have gone with the animals to look for grass. It may take several days, and then you hear that cattle raiders have killed the men. And some even commit suicide. The water has helped a lot, and we can thank God that he has brought us helpers who have dug wells.
When I come back from work in the night, I can get water from nearby. Before, I had to walk several hours away, and I could still come home without water, because the elephants could drive us away. Now that's not a problem."
Ebenyo Muya, Aukot Village, Ngaremara, Isiolo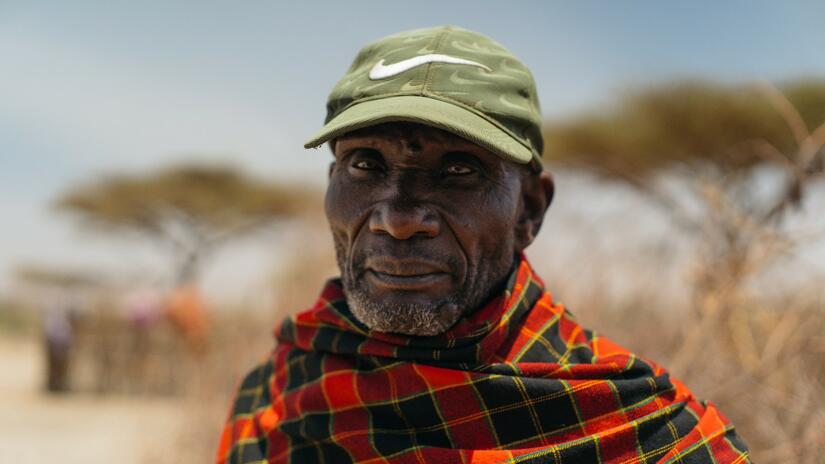 "The drought has come over us all. We receive aid, but it does not come often and does not last long. We are really grateful for the water project that the Kenya Red Cross has given us. We would also need piping for irrigation, so that we could start farming.
Our biggest problem is the drought. The trees are dry and the animals are gone. Without the Red Cross water, we would really be in trouble. The children are weak, and we have nothing to give them. Some people have livestock left, but they cannot sell them, because the animals are too thin.
My cattle of 48 cows was stolen a couple of years ago. The drought has made conflicts worse. I believe that agriculture could be a good option for us. If the children can go to school, they will be able to change the future."
Farhiya Abdi Ali, Abakaile location, Garissa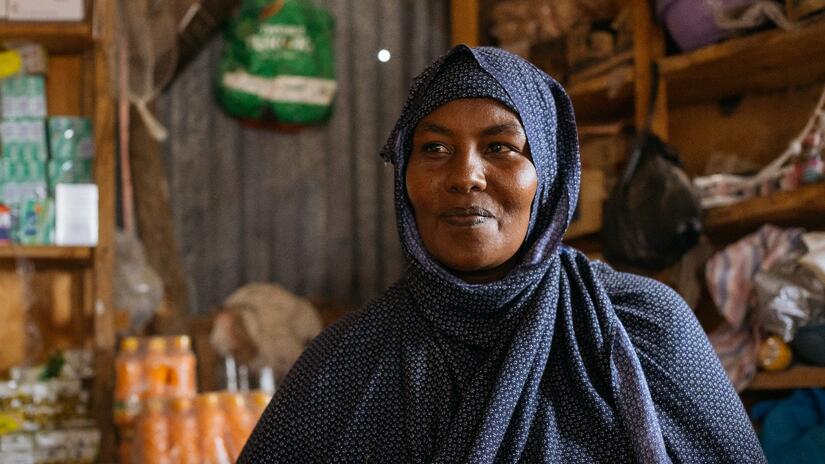 "In the past, life was normal and business was good. We got milk and meat from the animals. Now there is no milk. and the animals are too thin for slaughter.
My shop has not been doing well, because people have no money to buy goods. I have been told by the wholesale markets that I cannot get anything. But when the Red Cross came and gave people cash assistance, I got money from people and I could buy things in the store again.
I got a grant myself and used some to buy things for the shop and used some money to pay my children's school fees, they are in high school. Life is better now and people are relieved."
Abdi Buke Tinisa, Sericho Location, Isiolo
"The Red Cross has dug a well for us, and the cows are allowed to drink, even though there is no pasture here. The drought has been really bad. The animals used to eat and return home early in the evening because they had had enough. Now the animals are looking for food and stay up all night looking for grass. Some stay here near the water and are killed by wild animals at night.
This drought has brought with it a lot of fear. I used to have 50 cows, but only 12 are still alive. I don't think they will survive until the next rains either, they are in poor condition.
The children have usually gone to school, but now the problem is school fees. We don't always have enough money to buy food for the children, how could we have money for school fees?"
--
Click here to learn more about the hunger crisis in Africa and to donate to our Emergency Appeal.