Written by Farjana Sultana, IFRC. Photos by Matthew Carter, IFRC

Many of the children growing up in the sprawling camp surrounding Cox's Bazar, Bangladesh, have no access to formal education. On the cusp of adulthood, they face an uncertain future.

For some of the luckier youngsters, Red Cross Red Crescent community centers provide some structure to their days and a safe space to play and learn with their friends.

I visited one such center in early February and was struck by how well it brought people of different age groups together to share, learn and connect with each other.

In one room, old men sat around a speaker listening to a radio programme about the recent chickenpox outbreak here. In another, a line of Singer sewing machines sat waiting for a women's group later that day.

And in the far room, with the midday sunlight streaming in through bamboo walls, I saw a group of children playing with Red Crescent volunteers who are themselves members of their exiled community.

Twelve-year-old Faisal (far left in the main pic) comes every day to the community safe space run by Bangladesh Red Crescent Society.

"There's more to do in the camp than there used to be," he said. "But I still miss my life back in Myanmar. Our life used to be quite different. My favorite dish is rice with beef, but my family cannot afford the meat here."

A year and half have passed since his family came to Bangladesh across the Myanmar border. He wants to be a teacher.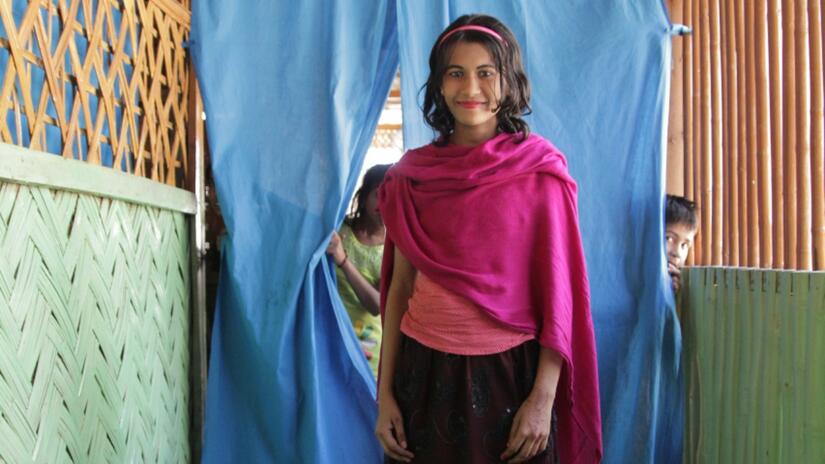 Photo: IFRC/Matthew Carter

In the adjoining corridor Assia tells me how she loves to embroider clothes and hopes to become a tailor when she grows up. She likes to sing and act with her friends here. She lives in a nearby shelter with her four brothers, three sisters and their parents. Their shelter will need upgrading before the monsoon rains come.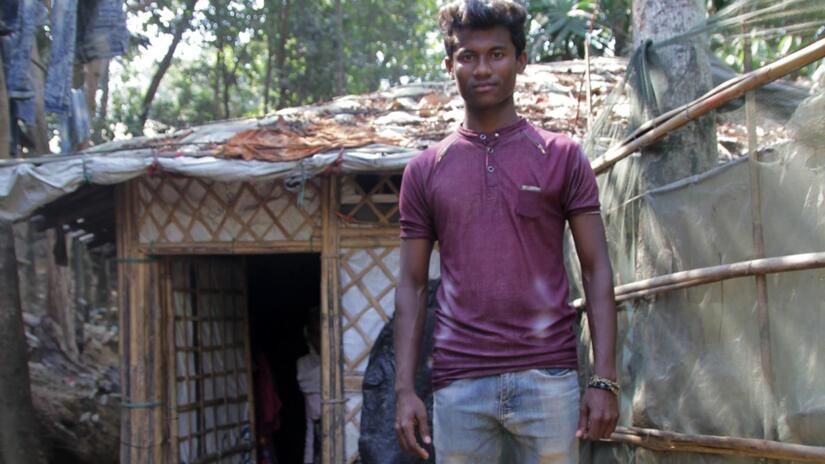 Photo: IFRC/Matthew Carter

Tares is Assia's older brother. Seventeen is an awkward age here as he is too old to attend many of the youth groups and he instead hangs around with his friends of a similar age. He is paying for private tuition in Kutupalong camp where he is learning English and Burmese.

"My brother and I used to run a computer shop in Myanmar," he said. "We used to do very well in it but here I found that there is no hope for us to exercise those skills and that is quite frustrating for me."

Syed Ahammod is another of the young men who comes every day to the community safe space. One of his brothers is a shopkeeper in the camp. Occasionally, Syed will sell snacks for him. Despite being in Bangladesh for a year and half, he is yet to fully come to terms with the conditions in the camp. "My family used to have fish ponds and livestock back in Myanmar," he said. "Life used to be different."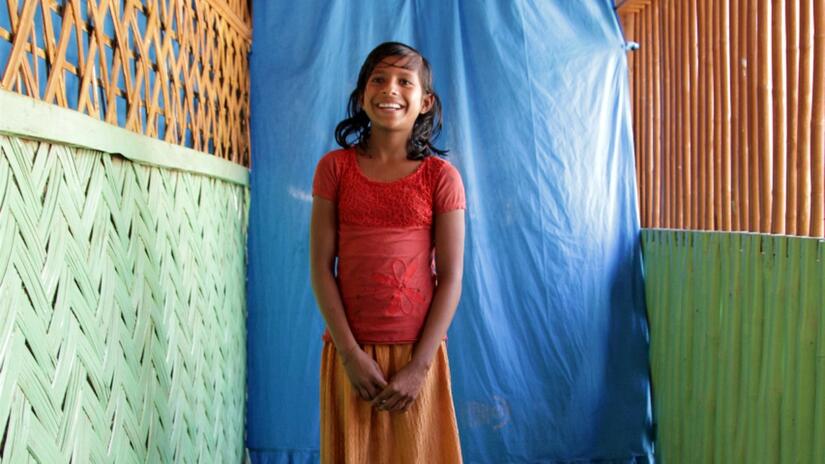 Photo: IFRC/Matthew Carter

Eleven-year-old Minara comes to the community center to play, read and embroider with her friends. After finishing here, she goes back home to have lunch, eating mostly fish and vegetables. Later she goes to the madrasa before playing with her friends in the evening.

Minara's father also comes to the community center where he weaves fish nets and socializes with other men.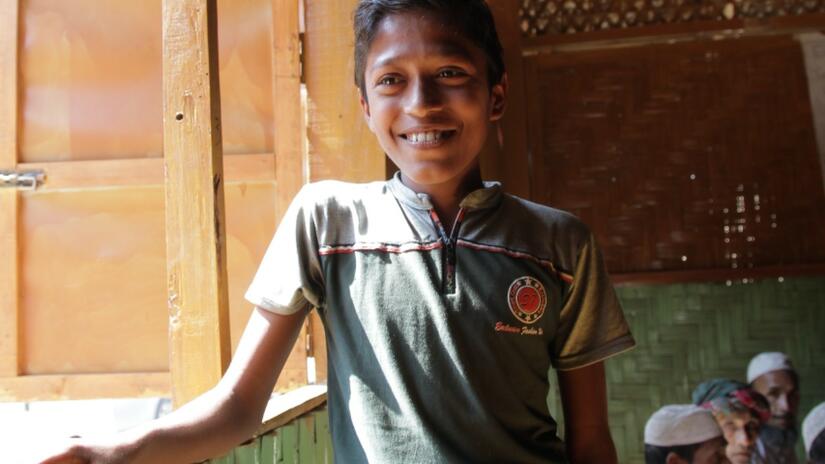 Photo: IFRC/Matthew Carter

The popular Anwar told me how he feels restless and uncomfortable inside his shelter.

"We used to have big rooms in our house in Myanmar," he said. "The space inside the shelter here is not enough for my entire family. It doesn't feel good here."

His brothers and father renovated their shelter to make it feel like home a few months ago. But it is very cramped space for seven people.

"My father used to have a shop back in Myanmar and I want to own a shop just like him when I grow up," he said.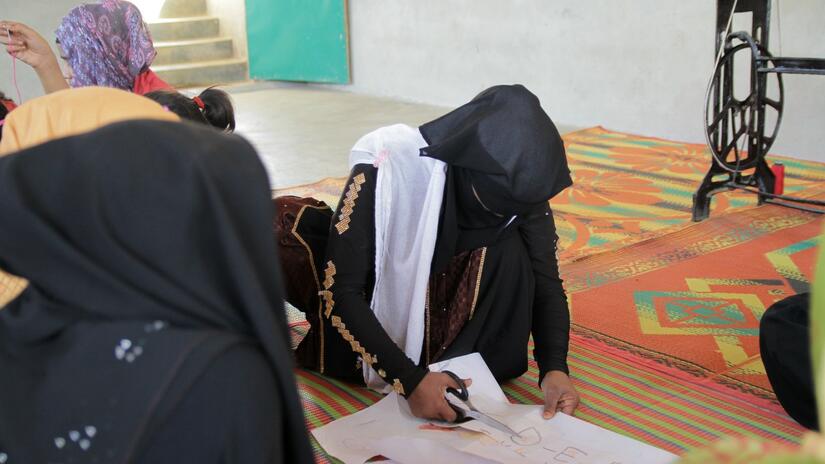 Photo: IFRC/Matthew Carter

Sixteen-year-old Taslima has a great interest in embroidery and tailoring work which she gets to practice at the community safe space. In her leisure time she likes to talk with her neighbors and discuss how life used to be back in Myanmar.

For her, feeling at home is an important issue.

"During my period I lose my appetite," she said. "I don't feel comfortable inside the shelter as there is no separate facility for me to go to. Our shelter was rebuilt eight or nine months ago and my family made a separate shower space inside."

Eighteen months after a wave of violence uprooted families from their homes in Rakhine state, Myanmar, over 700,000 people are living in unsuitable accommodation made from bamboo and tarpaulin.

Among them 350,000 children still trying to adjust to life here. Community safe spaces like this go a little way to restoring a sense of normality and routine for children in the sprawling camps of Cox's Bazar. Coming away, you can't help thinking that while eighteen months would feel like a long time for anyone, for a child it must feel like a lifetime.