Since the onset of the conflict in Ukraine, Kuwait Red Crescent Society and Egyptian Red Crescent Society teams have rushed to provide humanitarian relief to the neighbouring countries of Ukraine. The Kuwaiti Red Crescent has provided food, medical aid, and necessary supplies to fleeing people affected by the conflict. While the Egyptian Red Crescent has assisted and evacuated Egyptians from Poland and Romania, and provided humanitarian support to others affected alike, including Arabic-speaking people.
Dr. Hilal Al Sayer, President of the Kuwait Red Crescent Society (KRCS) said after meeting his Polish counterpart, Jery Bisek: "Kuwaiti aid includes medicines, medical supplies, food, milk for children and other necessities, and it reflects the Kuwaiti leadership and people's solidarity with affected people living under such difficult circumstances."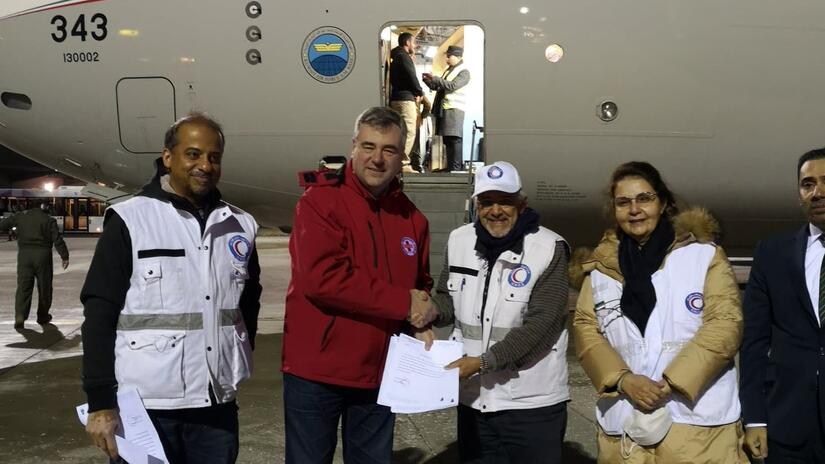 Photo: Kuwaiti Red Crescent Society
Al-Sayer affirmed his country's keenness to participate in humanitarian relief in all parts of the world, in line with the Kuwaiti humanitarian obligations. He stressed the need to further explore all ways to enhance cooperation and joint coordination to help alleviate the suffering of refugees from Ukraine, with partner organizations in the humanitarian field and with the Polish Red Cross.
In turn, the President of the Polish Red Cross expressed his appreciation and gratitude after a Kuwaiti military aid plane loaded with relief materials and medical aid, estimated at 33.5 tons, arrived at Warsaw Airport in Poland.
Bisek said: "The Kuwaiti Red Crescent is one of the first National Society responders that stepped in to provide the necessary support and assistance for those fleeing Ukraine", adding that "the needs are still massive".
In parallel, the Egyptian Red Crescent Society continues to provide aid and support to the Egyptian students and families it helped evacuate safely home after they had fled to Poland and Romania.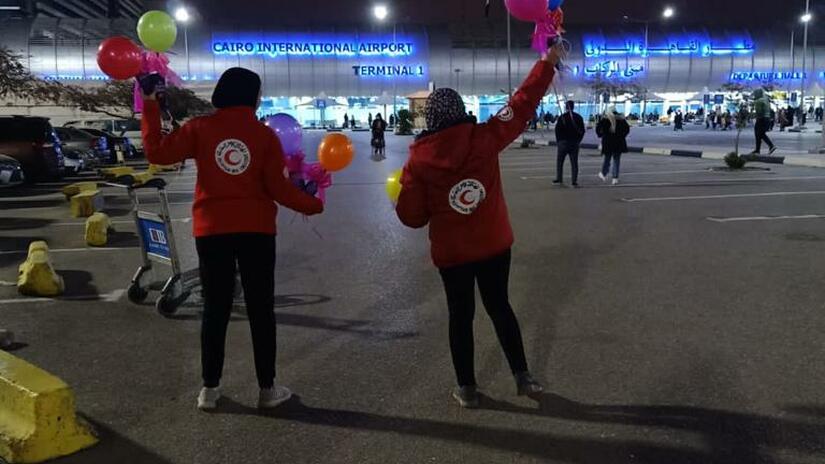 Photo: Egyptian Red Crescent Society
Volunteers have worked tirelessly to ensure transportation for Egyptians fleeing from Ukraine across the borders of Poland and Romania to the airport. They also provided them with free hotel accommodation and food, travel documents, cash assistance, medical services, and psychological support.
Students and their families expressed deep gratitude to the Egyptian Red Crescent Society for standing by their side in this ordeal, meeting their needs, and ensuring their safe return to their home country.
The Egyptian Red Crescent Society, in collaboration with Polish and Romanian Red Cross Societies, has also established two relief centres at the Ukrainian-Romanian and Ukrainian-Polish borders to provide aid to Egyptians, Arabic speakers and others fleeing the conflict in Ukraine, especially women and children.
The Egyptian Red Crescent Society also published a slogan on its Facebook page "Safety and Relief Without Discrimination'.    
Prior to the conflict, 6000 Egyptians lived in Ukraine, 3,000 of whom are students enrolled in the country's universities.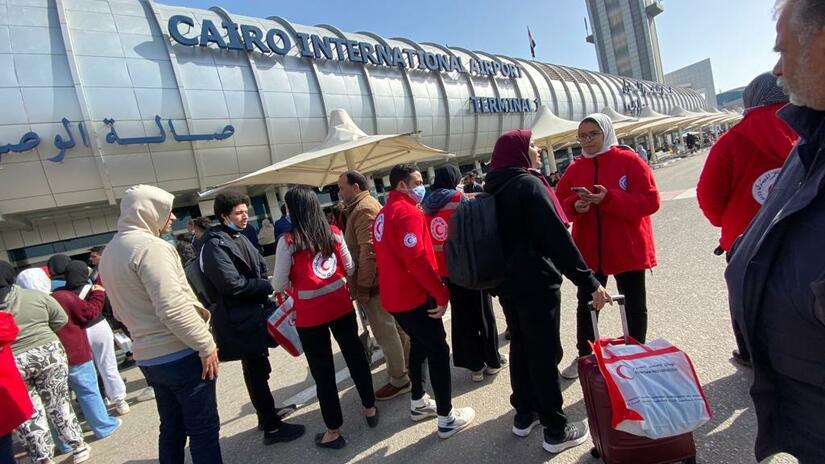 Photo: Egyptian Red Crescent Society