It was 4:17 AM on February 6, 2023 when two powerful earthquakes wreaked havoc across southeast Türkiye and northern Syria, killing more than 50,000 people and instantly destroying livelihoods.  
Those fortunate enough to walk out of their buildings woke up to absolute devastation. The only thing more frightening than the sight of collapsed buildings was the deafening silence.
While the Syrian Arab Red Crescent and Turkish Red Crescent were very quick to respond, it was clear from the immense scale of the disaster that additional support was urgently needed.
Thankfully, regional and global support from the IFRC network was swift, with Red Cross and Red Crescent societies from all over the world sending aid within 24 hours.
National Societies from the Middle East and North Africa (MENA) region were some of the first to arrive on the scene. Red Crescent and Red Cross emergency teams from Algeria, Egypt, Iran, Iraq, Kuwait, Lebanon, Libya, Palestine, Tunisia, Saudi Arabia, Qatar and the UAE were all dispatched immediately to support search and rescue missions and provide urgent relief. 
Let's hear from some of them about how they responded, and hear their perspectives on the crisis: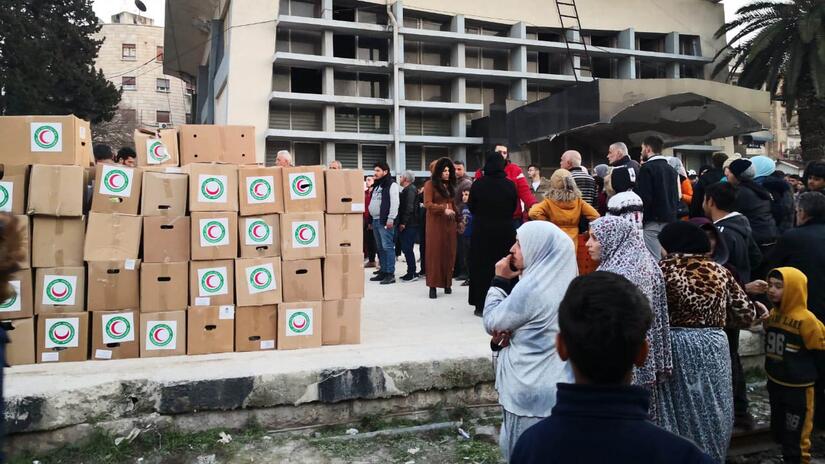 Photo: Iraqi Red Crescent Society
The Iraqi Red Crescent Society was quick to act, with emergency teams and shipments of relief items by air and land. Their President, Dr. Yassin Ahmed Abbas, said:
"Two Iraqi airplanes carrying tons of relief items landed in Syria approximately 8 hours after the earthquake. We also dispatched a team of 150 volunteers - supported by ambulances and mobile clinics - to Türkiye to assist with search and rescue and first aid. We've managed to provide more than 300 tons of relief supplies so far - to both Syria and Türkiye - and there's more coming."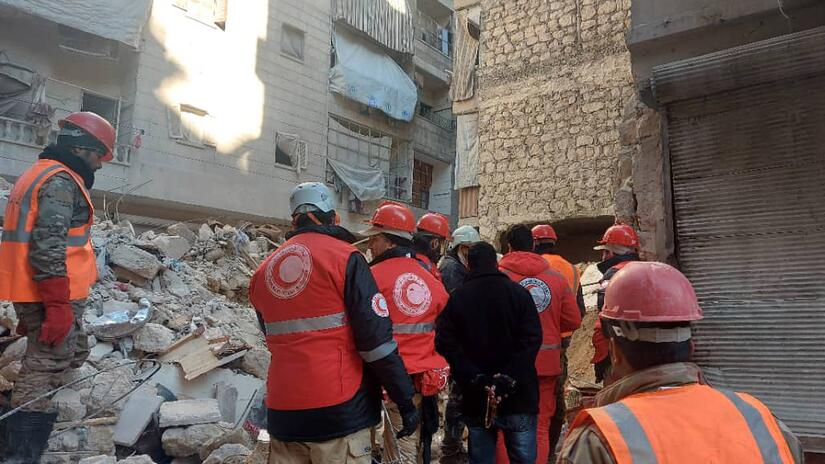 Photo: Algerian Red Crescent
At the same time, the Algerian Red Crescent quickly mobilized its resources, deploying an emergency team and sending out two shipments totaling 185 tons of relief items that included food, water, clothes, blankets, mattresses, tents and generators.
Nabyl Daas, Emergency Response Team Coordinator for the Algerian Red Crescent, said:
"We formed a team of 26 volunteers that included two orthopedic surgeons and a team of Mental Health & Psychosocial Support specialists. We served in 4 different areas in Aleppo, but the conditions were extremely difficult as most buildings were in danger of collapse, which made our work extremely challenging."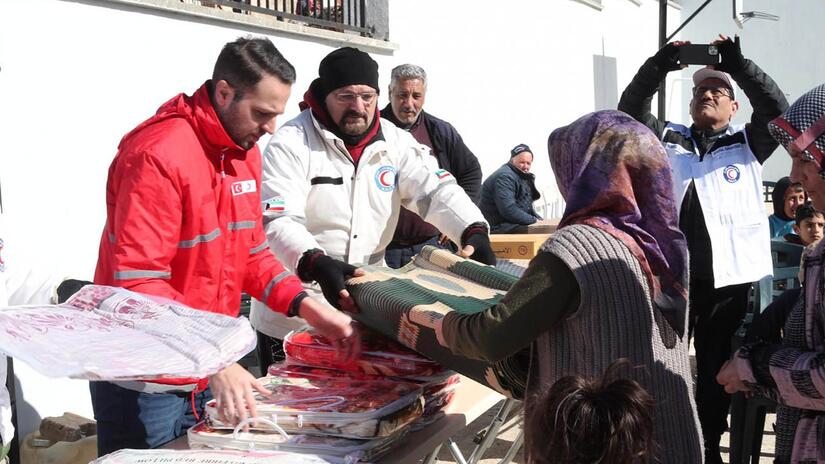 Photo: Kuwait Red Crescent Society
It was a similar story for the Kuwait Red Crescent Society volunteer team, who were unaware of the immense challenges ahead.
"We felt so many aftershocks during our search and rescue missions, which made our job more difficult than it already was. The most intense aftershock was a 6.4-magnitude, and it caused more deaths and destruction." said Adnan Haidar, a Kuwait Red Crescent volunteer.
 "There was nowhere to sleep as everything was destroyed, homes, hotels, everything. People were lining up in fuel stations to get fuel for their cars, which were turned into temporary homes. It was extremely cold, so people used the heaters in their cars for warmth. They would then turn off the cars to sleep because either they were too scared to go back into a building or because their homes were completely destroyed," Adnan added.
As well as sending much-needed support crews, the Kuwait Red Crescent Society signed an international cooperation agreement for 5 million USD to provide urgent aid in affected areas in Syria, which included food, medical supplies, blankets, tents, electrical appliances and prefabricated homes.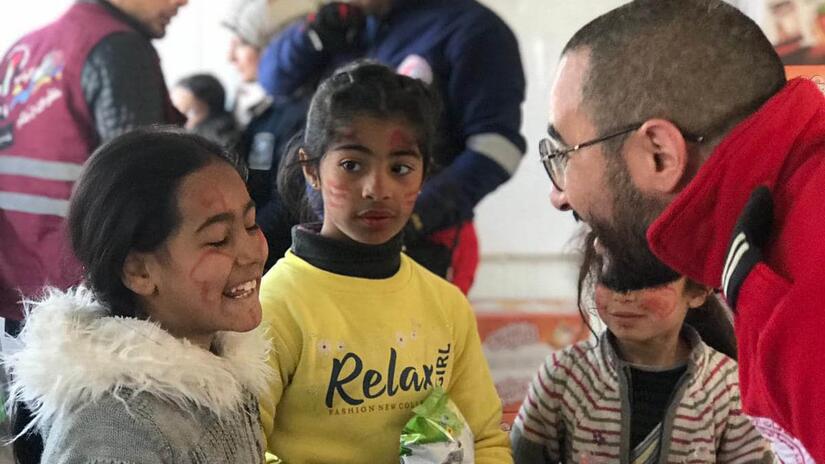 Photo: Palestine Red Crescent Society
However, there is a need for more support despite the ongoing efforts, according to the Palestine Red Crescent Society (PRCS), which dispatched a team of 14 specialized in Disaster Risk Management, Mental Health & Psychosocial Support, and First Aid.
The PRCS assessed the situation in Syria and were able to identify several gaps, including a shortage in particular relief items.
Rana Faqih, Disaster Risk Management Coordinator for the Palestine Red Crescent, said:
"We were able to assist thousands of people through our different services; however, there is a desperate need for more support."
"There's plenty of aid coming in, but it's not enough. There are plenty of food parcels and hot meals, and they're enough for everyone, but we noticed an insufficiency in other relief items such as baby formula, children's clothes, hygiene kits and dignity kits. We need to do more."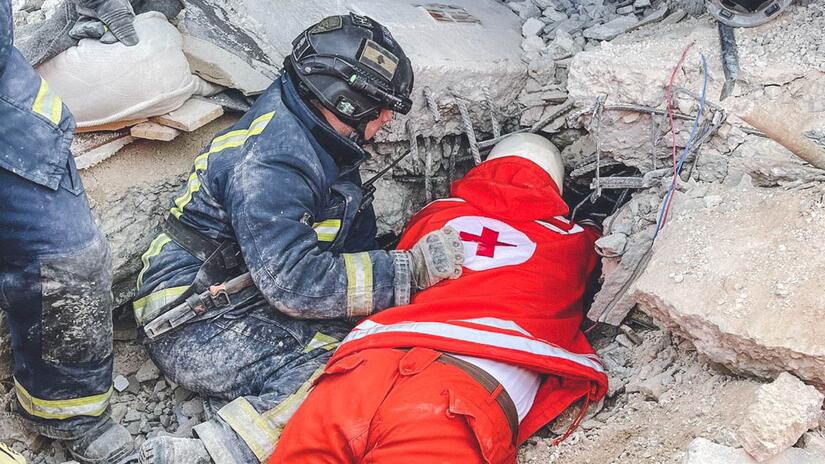 Photo: Lebanese Red Cross
There is, nevertheless, light at the end of the tunnel, as Abdallah Zgheib - who was part of the Lebanese Red Cross search and rescue team - says:
"I cannot describe the feeling we had when we rescued a pregnant woman and her child from under the rubble. I never imagined I would feel so joyous and thankful amid such devastation. Everyone who witnessed this moment erupted in celebration. We celebrated hope."
"The power of humanity is what gave us hope and kept us going, non-stop; it kept us going in sub-freezing temperatures and it kept us full despite barely eating anything for 4 days straight."
One month into this heartbreaking crisis, MENA Red Cross and Red Crescent teams continue to support one another in the face of challenging and evolving circumstances.
While much uncertainty remains for those affected by the earthquakes, our volunteers are a constant and will be there for people as long as they're needed.
This crisis has shown, more than ever, that there is strength in numbers. Strength in working together. And strength in our IFRC network.