1. Millions of refugees are still adjusting to life in a new country
Since 24 February 2022, more than 8 million people have fled Ukraine to seek safety abroad. Forced to leave everything behind, and unable to safely return to their homes, they're still trying to adapt to their new "normality".
That's one year of fear, sorrow, uncertainty, separation from friends and family, and worrying about the people and homes left behind.
For the past 12 months, the IFRC, along with 58 Red Cross and Red Crescent Societies, has been working in Ukraine and the wider region to provide essential aid to people fleeing the country—including women, children, older people, and people with disabilities—and to help them integrate in their new communities.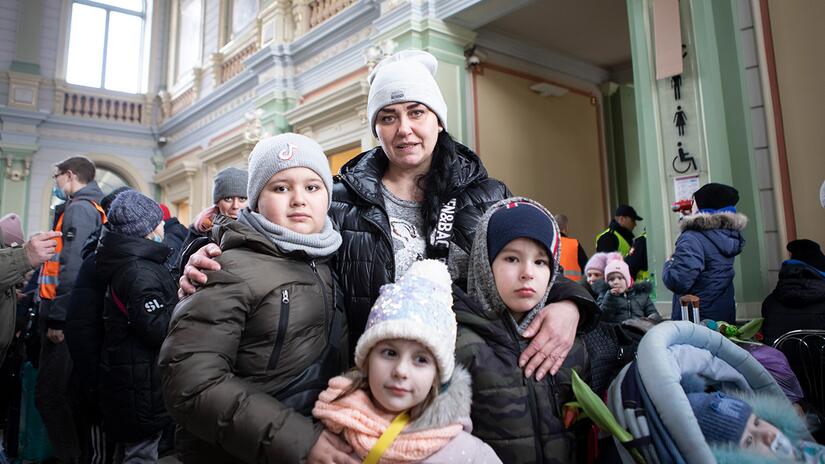 Photo: IFRC/Anette Selmer-Andresen
2. Millions of internally displaced persons (IDPs) in Ukraine are still in need of basic assistance
The displacement of more than 5.3 million people within Ukraine remains a staggering humanitarian crisis. Many of these people fled their homes with only the clothes they were wearing and are still staying with relatives or host families, in collective shelters or rented apartments.
Working together with the Ukrainian Red Cross Society, the IFRC network has been there from the very beginning, providing crucial relief items to those who need them.
While the initial shock of displacement may have subsided, the need for ongoing support and assistance remains critical.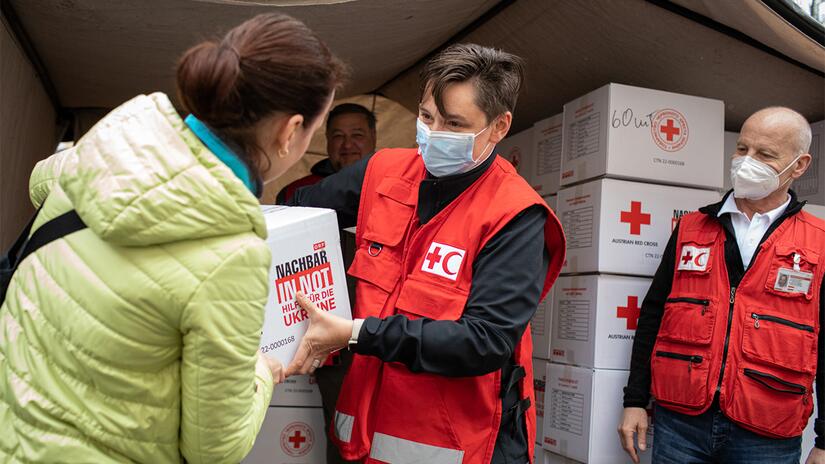 3. Some people have returned to their homes, but rebuilding their former lives is a daunting challenge
Despite ongoing hostilities, more than 5.5 million people have chosen to return to their homes—whether from abroad or within Ukraine. Many of their houses, however, have been damaged or destroyed. The cost of rebuilding or repairing them can be prohibitively expensive, and many families simply cannot afford the materials or labour needed to make their homes habitable again.
Members of the International Red Cross and Red Crescent Movement are providing vital support to people in Ukraine, including assistance with rent and utility payments, refurbishment of collective centres hosting IDPs and of individual housing, and providing building materials for home restoration. However, many people, particularly those in frontline areas, are still suffering.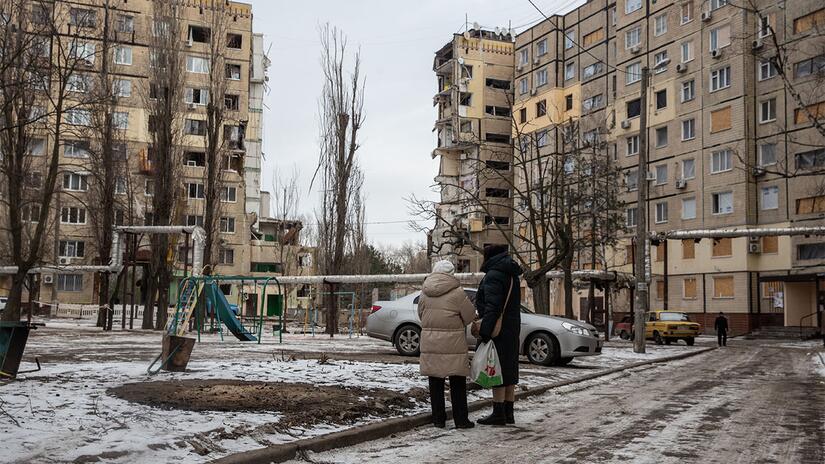 Photo: Oleksandr Ratushniak 
4. The significant toll on people's mental health remains
The ongoing conflict has had a devastating impact on the mental well-being of people inside and outside of the country.
Many have lost loved ones, homes and livelihoods. People—including children—have been uprooted from their communities. The long-term uncertainty and instability are weighing heavy on so many people's minds.
The International Red Cross and Red Crescent Movement has provided psychosocial support to more than 328,000 people this past year. While this is a significant achievement, there are still so many more people who need a listening ear and professional support for their mental health.
Photo: Oleksandr Ratushniak
5. For many, access to medical services is limited
The World Health Organization (WHO) has reported more than 700 attacks targeting health facilities in Ukraine since February 2022. Many hospitals and medical facilities have been either destroyed or severely damaged, leaving people—especially those living near the front lines—with little or no access to medical services when they need it most.
The International Red Cross and Red Crescent Movement continues to provide basic medicines and medical equipment to health facilities across Ukraine. Together, we've launched nearly 100 mobile medical units, providing vital medical care to people living in hard-to-reach areas throughout the country.
The IFRC is funding a health centre in the city of Uzhhorod, run by the Ukrainian Red Cross, which provides essential healthcare services to vulnerable people and IDPs. And funding from our Emergency Appeal is also helping the Ukrainian Red Cross to provide home-based care and rehabilitation services to older people, those with disabilities, and wounded veterans.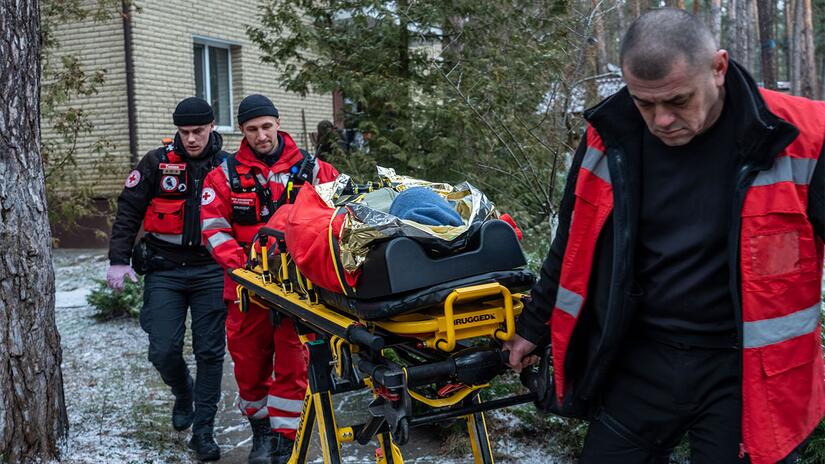 6. The country's energy infrastructure has been severely damaged
While the cold season has now ended, and the energy provision within Ukraine somewhat restored, social and health institutions across Ukraine continue to face the threat of recurrent power shortages. These facilities, particularly those in frontline areas, often suffer from electricity cuts, depriving the local population of basic services.
The IFRC has already delivered 130 high-power generators to Ukraine over the course of the last winter. However, the country still needs further support to ensure the basic delivery of public services for millions of people affected by the conflict.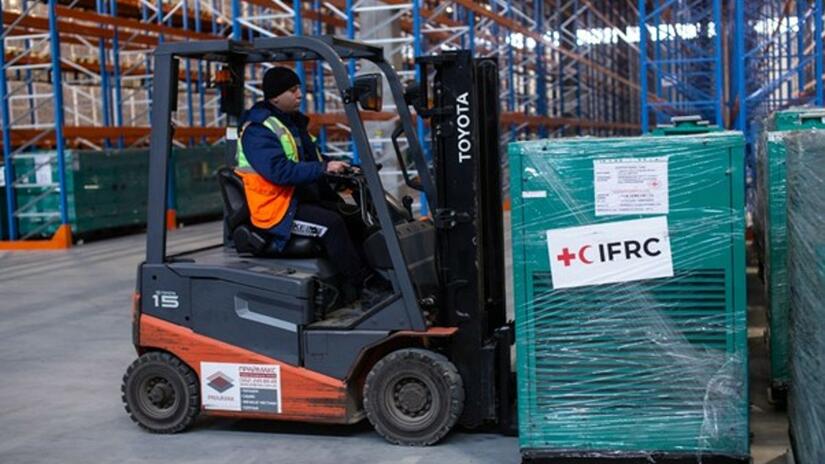 Photo: IFRC/Oleksandr Ratushniak
7. The country's economy has been severely affected
In 2022, Ukraine experienced a staggering 35% decrease in GDP and a shocking 30% annual inflation rate. This means that families across the country are struggling with skyrocketing food and rent costs. For many households, savings have been all but depleted, leaving people in a state of financial hardship and uncertainty.
National Societies in Ukraine and the surrounding region, supported by the IFRC, have been running several cash assistance programmes to help the most vulnerable get by.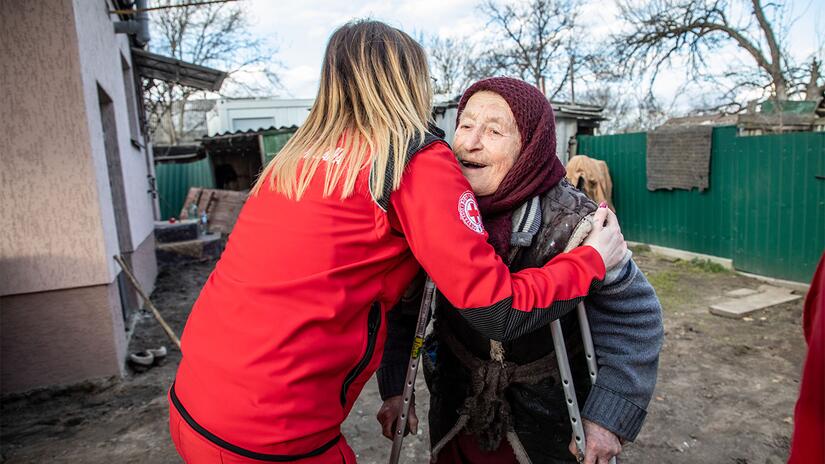 The crisis is ongoing: what comes next?
Though this crisis has slipped from the headlines, the world cannot forget what's happening in Ukraine.
This past year, our Movement has worked tirelessly to support people affected in Ukraine and beyond. But despite our efforts, the scale of this crisis demands more, and continued, support and attention.
Thanks to its auxiliary role and permanent presence in Ukraine, the Ukrainian Red Cross is best positioned to support affected people now and long into the future.
The IFRC network will continue to support the Ukrainian Red Cross and the people affected, as long they need us.
--
Click here to access the IFRC's recently revised emergency appeal for Ukraine and impacted countries.
And if you would like to support our life-saving work, please donate to our appeal here.